There is a reason that products like
Vaseline
and
Q-tips
stand the test of time. They are classic products that are incredibly useful for a wide variety of purposes. I mean, they just work! I know I don't even need to explain to anyone what these products are. I am sure you all have both Vaseline and Q-tips in your homes.
I always have a tub of Vaseline in my medicine cabinet to soothe onto dry lips, dry cuticles, and skin irritations. It seems that no matter what the cause is of the irriation, if I smooth some on before bed, I will wake up to improved skin. Mostly, I use it for dry lips. I just dab a Q-tip into the container (I try to refrain from sticking my actual fingers in the jar) and smooth onto my lips.
As far as Q-tips, my primary use besides being a great Vaseline applicator, is to remove eye makeup. Every evening I dip 2 Q-tips into my Neutrogena liquid makeup remover (my current fave) and smooth over my eye makeup. I use the side that is wet with remover first. Then I clean up any remaining remover with the dry side. I use one Q-tip for each eye.
So, when Vaseline and Q-tips contacted me with some great beauty tips, I just knew that I had to share the tips with you! Some of these I have heard of and forgotten and some are new to me. Either way, its always great to get tips for items that you already always have on hand!
If you want to read more tips and see some of my beauty experimentation with Vaseline and Q-tips, please keep reading!
Have ya'll seen these cute little new Vaseline Lip Therapy Pots? OMG! They are so cute. Essentially, they are just mini Vaseline that you can take with you to apply on your lips. I am a lover of all things small and cute. So, of course, I thought these were just adorable. :)
Beauty Tips for Classic Products:
I know that ya'll probably have Vaseline and Q-tips at your houses. Interested in hearing some unique and fun beauty uses for these classic products? Check out these tips straight from the source: Vaseline and Q-tips!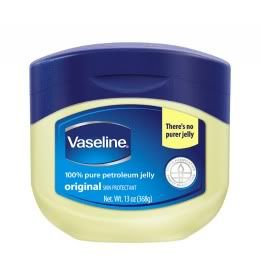 Vaseline Beauty Uses:
(here are some of many!)
Lips:
Turn old lipsticks into fun, new glosses by mixing remnants with a dab of Vaseline (I tried this one! See below!!!)
Apply Vaseline to your teeth to keep you smiling (isn't this an old beauty-pagent trick?)
Smear a thin coat of Vaseline along your teeth to before applying lipstick to prevent the color from sticking to them.
Exfoliate lips by applying Vaseline and lightly brushing with a toothpick
Eyes:
Mix a dab of Vaseline with loose eye shadow to creat an eye shadow that moisturizes (I tried this one too! fun fun!)
Moisturize eyelids by coating them with a layer of Vaseline before bed
When you are plucking your eyebrows, rub Vaseline on the area you plucked to soothe the skin (just tried this too, it works nicely)
Use Vaseline as an overnight eye cream (I have done this in the past! If you ever experience any irriation from trying a new eye cream. Give your eyes a break for a couple days and apply Vaseline instead).
Face:
Mix a dab of Vaseline with loose eye shadow to create a creamy blush that moisturizes (oh, how fun is this one! I tried this too! See below)
Vaseline can be used as a makeup highlighter-applyjust beneath the brow bone for a dewy look that shimmers and catches the light. (you could even mix in some shimmery mineral pigment for more glow!)
Hands and Feet:
Apply Vaseline on your feet before putting on socks and wear overnight to help achieve smooth feet and toes.
Hair:
Rub a bit of Vaseline into the ends of your hair to hide the appearance of split ends
Q-tips Beauty Uses:
(here are some of many!)
A Fantastic Alternative to the Makeup Brush: Q-tips swabs are an excellent alternative to using a makeup brush or sponge. They provide precise makeup application, are great for softening the bright colors, and safe for delicate skin around the eyes.
Fix the Makeup "Oops"! To fix makeup mistakes, just dip a dot of makeup remover on Q-tips cotton swabs to rease it. Perfect for fixing a smudge without having to re-do your wole look.
For Longer Lasting Mascara: To dramatize eyes and keep mascara lasting all night long, apply extra coats of mascara. First apply one coat of mascara, then dip a Q-tip in translucent powder and sweep over lashes. Finally, cover with a second coat of mascara. (Interesting! I will have to try this!)
Remove Puffiness and Soothe Skin: Help remove puffiness under the eyes with Q-tips. Place in the freezer and small bag of Q-tips cotton swabs that have been dampened with water. Once chilled, roll under the eyes to aleviate any puffiness and soothe swollen skin.
What I tried recently:
Making Lipgloss, Making Eyeshadow, and Making Blush
This was so fun to do!!!
Supplies Used:
Lipstick
Loose mineral eyeshadows:
Bella Pierre
Plastic containers
Vaseline
Q-tips
Making a Moisturizing Lipgloss/Making a Creamy Blush:
Just mix a small amount of Vaseline with some loose minerals! Mix with Q-tip (and can apply gloss with Qtip). I used my Shimmer Stack from
Bella Pierre Cosmetics.
Just mix up and put in a small jar. This makes such a pretty lipgloss or blush! Beautiful and moisturizing.
Making a Glitter Cream:
Just mix a small amount of Vaseline with some loose glitter pigment. I used glitter from my Glitter Shimmer Stack from Bella Pierre. Mix it up with a Q-tip. Apply anywhere you want glitter!
I hope you enjoyed reading these tips and seeing my experimentation. I sure had fun "creating" my own makeup! I know that I learned some fun and inventive new uses. :)
If you have any other tips, please leave them in the comments below! Or, if you have tried any of these, let me know how it worked out for you! I would love to hear about some unique beauty uses for mineral pigments, Vaseline, and Q-tips! :)

from Vaseline, Q-tips, and from
SFR Beauty.
I was provided with Vaseline® Petroleum Jelly, Vaseline® Lip Therapy Original®, Q-tips® Precision Tips™, a $25 gift card and information about the products by RocketXL. All opinions are 100% my own.
The Bella Pierre products are available from SFRbeauty.com in San Francisco. They sell products to more than 100 countries