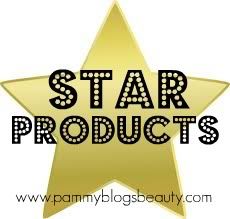 Hey Dolls!
Can you believe it is October (my fav month!) already!?!? Time is just flying by! My life has been so super busy as I am preparing for my first baby, working full time as a speech-language pathologist, and just enjoying life along the way. With my busy schedule, I have really paired down my beauty routine. My current goal is to streamline my routine and get ready quickly.
So, its time for my monthly
Star Products
post! I realize that I didn't do a favorites post last month. It just seemed like I had a lot of duplicate favorites. This month I got lucky, a lot of products that I tested for review were just fabulous and have turned into daily staples for me!
If you want to find out what made this month's Star Products list, please keep reading!
I have been very into skincare lately (lol, but aren't I always?). My skin is in such fluctuation with pregnancy. I am so glad that I have found some great products that work well with my temperamental skin.
So, what made the list??? These are the products that I have been reaching for continuously over the past month...
September Star Products:
Belli Acne Cleansing Facial Wash: This cleanser contains lactic acid (a pregnancy-safe hydroxy acid) and has kept my temperamental preggie skin clean and fresh. Be sure to check out my recent Belli Skincare review!
Belli Elasticity Belly Oil: This product is just such a treat to use. I apply it every night to my expanding belly to keep it soft and moisturized. The lavender scent is so soothing at bedtime.
CVS brand Cocoa Butter Gel Body Oil: This is CVS's generic version of Vaseline's Cocoa Butter Gel Body Oil. Funny, I have never had Oils on my Star Products lists. But, I have 2 oils that I love this month! I had intended to buy Vaseline's version...but, I stumbled upon the CVS generic version while it was BOGO. I use this after my shower in the mornings on my very dry body parts. I also like how this looks on my arms. It gives a nice soft "glowy" look without making you look greasy. The gel texture is really cool! I have never tried a gel oil before this and I think I am hooked! Works great on dry cuticles too!
Your Best Face (YBF) Defend Wrinkle Protection: Another great product from one of my fav skincare brands! I realized as I was completely using this product up this week that I must review this soon. This amazing antioxidant-based lotion hydrates and tones your skin while also keeping it clear. I totally love this product! Check out a previous YBF review of mine here: YBF Boost.
Dior Addict Lip Glow:

I love using this all-in-one lip product. I just swipe and go...super easy look for my lips! It gives moisture, shine, SPF, and a slight tint to your lips. It lives in my purse and I reach for this often. Be sure to click on the link to read my recent review!
Hard Candy World Balmination in Good Girl: Another great lip product! This new lipbalm from Hard Candy's Fall 2011 lineup gives a great sheer color and smells like vanilla lemon (yummy!!!). The soft peachy color goes very well with my fair skin. My lips feel very smooth when I use this. No need for an additional lip moisturizer!
Napoleon Perdis Blush Patrol: The more I use this blush, the more I like it! It is just so unique. It is HIGHLY pigmented...actually, the most pigmented blush that I own. Once I got the hang of application, it gives the most beautiful rosey-bronze blush look! Really brings out my cheekbones and gives me great color. It has become one of my fav blushes for sure! I like using a huge blush brush to apply it so the color dosn't go on too heavy.
So, that is about it for this month! I really adore all of the items I mentioned. What are ya'll loving this month? Thanks for reading dears! xoxo

and some I got as samples.