Hey Dolls!
Any pregnant ladies out there? I have a skincare line review for you today!
Pregnancy can bring about so many wonderful changes. But whats not so wonderful? The many changes in your skin! You skin type can change, you might have an increase in sensitivity and discolorations, and your tendancy to breakout is increased. Whew! When you combine this with the limited list of pregnancy-safe active skincare ingredients, then you are really presented with a delimma! What's safe to use? What can calm that sensitive skin yet still battle breakouts? What do do about new-found oiliness? With all these questions, I was thrilled to find an entire line dedicated to pregnant womens' skin:
Belli Skincare
.
As I mentioned, there are many skincare ingredients that are not considered safe in pregancy (or ingredients with limited pregnancy-related research). Som common active skincare ingredients on the "not safe" list include: Salicylic Acid, Benzol Peroxide, and Retin-A (includes all Vitamin A derivatives such as Accutane, Retinols, and any Vit A related product). Rather than go into a detailed discussion here about the list of safe and not-safe pregnancy skincare ingredinents, I am going to direct you to a fabulous post by my friend and fellow blogger Christine from 15 Minute Beauty Fanatic:
Pregnancy Skincare
. Curious as to my evolving pregnancy skincare routine? Check out my post about my
Pregancy Skincare Routine
.
So, now on to the review! For reviews on Belli's best sellers from their Pregnancy Skincare line keep reading!
Belli's Pregnancy Skincare Line
Best Sellers: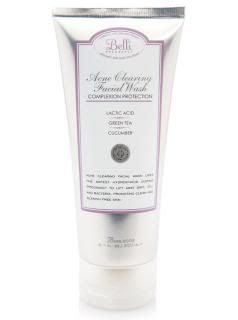 Cleanser: Acne Clearning Facial Wash
I am thrilled to have found this amazing cleanser!!! This has, no question, become my go-to cleanser for pregnancy. I use it in the am and pm when not testing out other cleansers (because of the nature of this blog, I am constantly testing new products. Otherwise, this would be all that I use during pregnancy.).
While most hydroxy acids are not allowed in pregnancy, Lactic Acid (the "active" ingredient in this Belli Cleanser) is considered safe to use. Lactic Acid is the saftest of all hydroxy acids. It helps to
lift away dirt, oil, and bacteria, promoting clean and blemish-free skin.
The Skinny:
This cleanser smells so yummy! Ya'll know I don't usually go for scented cleansers, but this scent is super mild and refreshing. I did not get any irritation from the addition of scent to this product. The cleanser has a very fresh and light green tea/lemon type scent.
Key Ingredients: Lactic Acid, Green Tea, lemon peel, and Cucumber.
Can be used as a cleanser or a "mask". As a cleanser: Wet face with tepid water and apply product. Rinse. As a mask: Leave on for a few minutes before rinsing off. I like doing the "mask" method as I feel that it gives the active ingredients more time to work and penetrate before you rinse off.
I love how my skin feels after using this! It cleanses throuroughly without stripping the skin nor overdrying. Skin is left feeling clean and fresh without feeling tight or irritated. Unlike other gentle cleansers that I had been using, this really cuts through the pregnancy oiliness and leaves me feeling clean. Love this cleanser!!! Retails for about $22.00 for a 6.7 oz tube.
The Moisturizer: Healthy Glow Facial Hydrator
Since becoming pregnant, my naturally dry skin has become much more oily. Therefore, I do not need my typical medium-heavy moisturizers. This lightweight moisturizer from Belli was just what I had in mind! It provides light hydration without leaving you "too moisturized" or "too greasy".
The feel of it really feels more like a serum than a typical lotion. Since it is packed with antioxidants, you really get a two in one product here: serum like benefits and hydration. Healthy Glow Facial Hydrator is a gel-texture moisturizer with Vitamin C, Chamomile, and Grapeseed oil (rich in antioxidants). The product has a lovely and light citrus scent that is not too overpowering. I did not experience any irritation while using this product. I just apply after cleaning in the evenings. It retails for approximately $32.00 for 2 fl oz.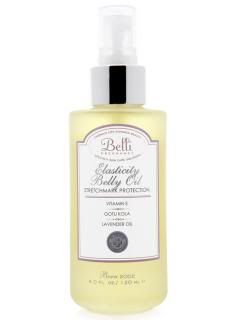 Stretch Mark Prevention Oil: Elasticitiy Belly Oil
This Elasticity Belly Oil by Belli is a must-have for any pregnant woman. While it has not been proven that rubbing oil into your belly can prevent or eliminate stretch marks (stretch marks are more hereditary than anything else), this Belli Oil works well to soothe skin as it stretches. The oil has a lavender-based aromatherapy scent that is very soothing in the evenings. Other key ingredients include: Vitamin E, Gotu Kola, and grapeseed oil (rich in antioxidants).
My skin on my belly feels so "tight" as I enter my 3rd trimester. I massage this Elasticity Belly Oil onto my entire torso, focusing on the belly area, in the evenings just before going to sleep. The oil feels very good going on and my skin is left very hydrated without being overly sticky nor greasy. My husband takes part in this ritual most nights as he rubs the oil into my belly and talks to the baby. It is such a nice bonding experience for all of us! Every pregnant woman deserves a pampering ritual and I feel this product delivers just that! Retails for about $39.00 for a 4 oz glass bottle.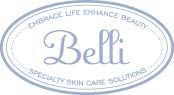 Belli Skincare strives to provide products to soothe, balance, pamper, and protect your skin during the emotional, transitional, and time of the time of pregnancy. This is a time of heightened concerns for safety of ingredients. So, it is great to have a brand that you can trust for safety! The Belli line even extends to new motherhood and baby care with their Belli Motherhood line (safe skincare for nursing mothers) and Belli Baby line. I can't wait to try products from both of those lines as well!
So, if you are pregnant and looking for gentle, yet effective, skincare, then head on over to your local Ulta to check out Belli's Pregnancy Skincare line! You won't regret it. I highly recommend all of the products that I tested out. I will continue to use these great products daily through the rest of my pregnancy and even beyond. I think that the Cleanser might become a staple item in my cleanser rotation. Also, I think that the Belly Oil is wonderful for evening massages, even if you aren't pregnant!
Belli Skincare
is available at Ulta and at
http://www.belliskincare.com/
New Blog: Wishful
Curious about my nursery progress and my journey into Motherhood? Be sure to check out my new Motherhood and Homemaking-themed blog called "
Wishful
" co-authored by me and Christine from
15 minute Beauty Fanatic
. We are launching the blog sometime in October so please stay tuned!!!