Hello lovelies!
I think it is time for another blush post! :) Ya'll know I love blushes. High-end or Drugstore? It really dosn't matter to me! I have many high-end faves. But, so many good blushes are cropping up at the drugstores lately.
For drugstore blushes, I tend to prefer the "baked style" (dome) blushes as they seem to be the most pigmented. For a previous review on some of my fav drugstore blushes, be sure to read my
Milani Baked Blushes
post.
Now, if you have tried Maybelline blushes in the past and were disappointed in their pigmentation, then you might want to check out these cute little limited edition baked blushes!
For my full review, please keep on reading!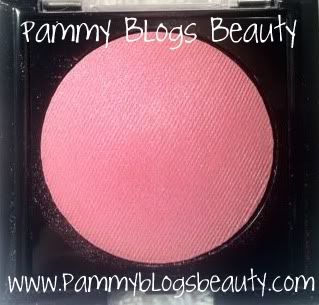 Maybelline Limited Edition Blush in Pressworthy Pink #800:
This blush is from Maybelline's Fall 2011 Limited Edition collection. If you are lucky, you will find it on special display on end caps at your drugstore.
Ever since I saw this blush featured in one of my Allure magazines, I kept stalking my local CVS and Walgreens until I found it. (By-the-way, CVS, see photo above: I love you but I can never get those Store # stickers off my cosmetics!....sorry, I digress!). I ended up only seeing this collection displayed in a couple stores.
The Skinny:
If you love shimmery pink blush, then this is the blush for you!

It wears and swatches as a lovely sheer and sparkly light-medium pink which flashes a bit of a peach tone. This is a very pretty shade on my super-duper pale MAC NC 15 skin.

The sliver sparkle is noticeable yet still lovely and not over-done. I always feel "perked up" when I apply this pretty blush.

I am very impressed with the pigmentation and the wear of this blush!

The pan size is very small (it almost looks like an eyeshadow). But, the product is very pigmented so you only need a small amount.

The 2011 Collection: Contains 4 blushes (one of which looks like a highlighter).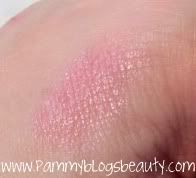 I really love wearing this blush! I hope that Maybelline comes out with more blushes of this quality and pigmentation. If they do, I will certainly be buying more!
What blushes are you ladies loving for Fall? Did anyone else pick up items from this Fall 2011 Collection?
Thanks for reading! Stay lovely!