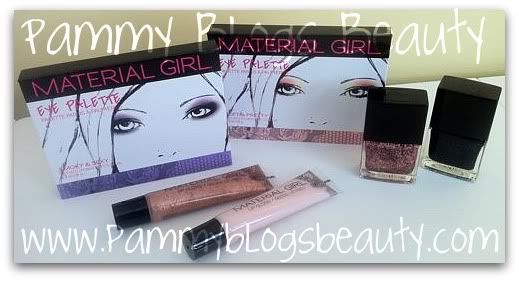 Have ya'll heard about Madonna's
Material Girl
Junior's line at Macy's? Material Girl was created by the unstoppable Material Girl herself and her daughter Lourdes (Lola). Well, not only does the Material Girl line have trendy clothes and accessories for back-to-school, but also a fabulous line of Material Girl Cosmetics and Bath and Body Products!
As a long time Madonna fan and perpetual Junior's department shopper, I am so excited to try out this fun new line of cosmetics!!! Not to mention the fact that every time I whip out a Material Girl product, I can't resist singing the song (Mostly in my head, but yah, I have been known to just spontaneously burst out Madonna songs, lol!).
While the line is targeted towards the Junior's pre-teen to teen market, these cosmetics are fun and fresh for women of any age! I fully admit to being a kid-at-heart. And, I always go for cute and trendy packaging. Especially when the product itself is great!
For my review (including photos and swatches) of the Material Girl Makeup Palettes, nail polishes, and lip glosses, please keep reading after the jump.
Lets start off with the glosses!
Material Girl glosses are squeeze tube style flavored/scented glosses that comes in 8 different shades. The glosses are all sheer and have a variety of finishes from iridescent to sparkly. So pretty! I would describe the texture of the gloss to be medium-thick. But, the great thing: Its not sticky! It feels smooth and moisturizing going on your lips. These glosses are moisturizing and they just feel so good on your lips.
The packaging: The tubes are .45 oz with a screw top lid and an angled tube edge for application. The tubes are clear so that you can see the product. The overall design and aesthetic of the packaging is girly and modern with its black lettering and lace pattern.
I tested out the shades
Sweet Baby Mint
and
Butterscotch Sundae
:
Sweet Baby Mint like its name implies has a fruity sweet yet somewhat minty taste and scent. While it looks baby pink in the tube, it goes on sheer and gives your lips a hint of iridescence.
Butterscotch Sundae has a super sweet flavor and scent that is total butterscotch. It reminds me of the flavored syrup that I like to put in my coffee! Very yummy scent! The gloss itself is sheer with the slightest hint of a carmel or bronze tint with green/pink/bronze micro glitter. This shimmer in this gloss is so pretty.
The Nail Polishes:
As ya'll know, I love nail polish! Nail polish, IMHO, is the best way to really experiment with some fun and funky colors! The Material Girl polish range is very on trend with its great color assortment.
There are 10 shades available and these polishes retail for about $7 each. These polishes apply well and have about average wear (3-4 days when you prep your nails). I found that 2 coats did the trick!
The Packaging: The polishes come in a .4 oz size rectangular bottle. I am generally a fan of square or rectangular polish bottles as I just find them easier to grip while painting your nails. Now, just a note here on opening the bottle. I found it impossible to open the bottle with the rectangular cap in place. I don't know if it was just me? But, I just slip the rectangular cap off (there is a little screw cap underneath) and am able to open it with no problem.
I tested out the shades
Phantom
and
Wild Flower
.
Phantom is a deep and dark black with burgundy micro shimmer. You can't see the shimmer well in the swatches, but believe me, it is beautiful! This is such a step-up from your "typical" black polish. I love the vampy effect of the glitter.
Wild Flower is a rose colored glitter suspended in a clear polish. It goes on clear with glitter. But, you can build up the glitter color with more coats. 2 coats are shown in this swatch. I think that every girl (of any age) needs a pink glitter polish and this one would be a great pick! I am a true believer in glitter for every day life!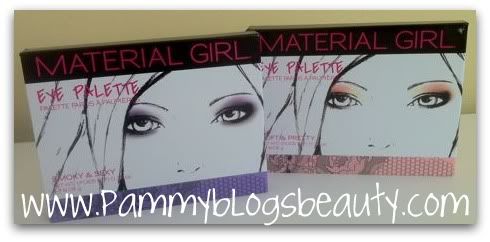 The Eye Palettes:
These palettes each contain 4 coordinating eye shadows, one mini pencil style eyeliner, and a dual ended applicator with a sponge and a small brush on each end. I love these little palettes! I find the shadows to be soft and pigmented. They apply and blend well. The shadows do sheer out a bit when blended. But, overall great pigmentation and nice quality! The finishes of the shadows are all a satiny shimmer. The same eyeliner, Onyx is in each palette. It is your basic black pencil liner. It is soft enough to apply well and has about average wear for a pencil liner. I don't use the little applicator that came with the set (as I never do). But, you could use the little sponge end for packing color on the lid. These palettes are really great because you truly have all the colors you need in each palette for a complete eye look!
The Packaging: Adorable!!! Each set is packaged in a cardboard type glossy palette with a magnetic closure. There is a good sized mirror on the inside. The overall design is cute and modern. The Material Girl image on the front features the eye look of the shadow set.
I tested out the
Soft & Pretty
and the
Smoky & Sexy
palettes.
Soft & Pretty: This is the neutrals set. So, being a neutrals girl, of course I totally *heart* it! This palette features the following shades: Golden Shimmer (a beautiful shimmery buttery neutral gold) love this on the inner corner and as a highlight, Sweetheart Pink (very light shimmery pink) perfect on the lid, Sandstorm (a medium gold/tan with sparkle), Penny Nickle (deep copperish brown with sparkle) gorgeous when used as a liner. I really love this set!!! While testing out this line, I found that I have reached for this palette almost every day. It is very daytime wearable and pretty. I will continue to get heavy use out of this easy-to-wear neutral palette!
Smoky & Sexy: Okay, so when I don't wear neutral shadows, I tend to reach for purples. So, the shade selection in this palette was right up my alley as well! Who says a smoky eye has to be all black and grey? Love that this palette has a beautiful purple shade. Also, I really love when smoky palettes include a light or white highlight shade as I always top off a smoky eye with a super light highlight. Here are the shades: Sheer Smoke (very light shimmery grey), Snowflake (OMG, the prettiest shade!!! A super sparkly creamy off-white. Just beautiful!), Purple Prism (medium purple with blue/pink/purple micro shimmer), and Insomnia (deep charcoal grey with silver micro glitter).
Material Girl really did a great job with their new line of good quality on-trend cosmetics! I enjoyed testing out these products so much, that I am curious to explore the rest of the line. Both the clothing/accessories and the cosmetics and body products!!! The cute packaging drew me in, but its the great products that I love! Be sure to check out this line next time you are at Macy's!
Thanks so much for reading!
XOXO!