Is your skin super-sensitive? Do you avoid fragrances in products like the plaque? Well, if you answered yest to these questions, then this skincare line by
Lara Beauty
might just be perfect for you!
Lara Beauty is a 100% fragrance-free anti-aging skincare line which was specifically designed for individuals with sensitive skin. Since many sensitivities are caused by skin reactions or allergies, Lara beauty gives full disclosure of all ingredients. The Lara Beauty website even has an ingredients glossary with all the ingredients broken down and listed so you can double check for ingredients that you may be avoiding.
I tested out Lara Beauty's Conditioning Cleanser for Sensitive Skin, Revitalizing Toner for Sensitive Skin, Polishing Microderm Abrasion for Sensitive Skin, and Anti-Aging Daily Therapy for Sensitive Skin.
For my full review and more photos, please keep reading after the jump.
Lara Beauty Products at a Glance:
100% fragrance free: Suitable for individuals with sensitive skin and skin allergies. The products are all hypoallergenic and very gentle.
The entire line is very moderately priced. Items range from $18-$40.
Lara Beauty offers a 100% money-back guarantee if you are not satisfied.
Packaging is no-frills. They have updated their packaging since I received the samples. But, the general feel is the same: no frills and simple.
Lara Beauty Products do not contain:

Parabens
Phthalates
Synthetic fragrances
Synthetic dyes
GMOs
Petrochemicals
Sulfates
Triclosan
My Skin Type:
My skin is generally normal-dry this time of year (warm weather). But, being pregnant, my skin has become much more oily. Also, my skin tends to get very dry in the colder weather. I have sensitive skin and am prone to skin irritations or allergies. Generally, I do not break out very often. But, with that said, pregnancy has made my skin somewhat more prone to breakouts. While I do not have any major lines or wrinkles, I am interested in age prevention as I am in my 30s. When my skin gets very dehydrated, very fine lines emerge in my eye area. My primary skin concern is my difficulty with very dark under-eye circles.
Now on to the review!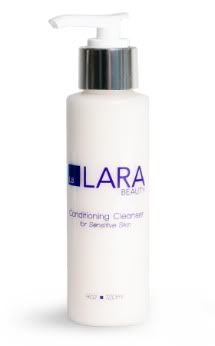 Conditioning Cleanser for Sensitive Skin:
This is an oil-free and fragrance-free conditioning cleanser that removes makeup and dirt without over drying your skin.
Key Ingredients include:

Chamomile flower provides anti-oxidizing, anti-inflammatory and analgesic effects while minimizing blemishes and soothing skin damaged by acne and excessive dryness.
Aloe helps rejuvenate skin cells by facilitating the natural process of exfoliation and cell division and promoting the growth of healthy skin cells.
Cucumber extract relieves puffiness and tightens pores.

Retails for $18.00 for a 4 oz. bottle.
How I use:
I just apply a small amount to my damp face and gently massage in using a circular motion. Then I rinse my skin with tepid water and follow up with a treatment product, toner, or a moisturizer.
Wow! I totally love this cleanser! It is, by far, my favorite item from this line. This is exactly the type of cleanser that I am always looking for. Something that is just super-duper gentle. Almost all cleansers that I try dry out my skin or irritate my skin. I mean, why must companies put so much extra stuff in cleansers that just irritates your skin? (sorry, I digress!).
I honestly feel that a good cleanser is the foundation of any great skincare routine. You must start out with your skin properly cleansed before applying any treatment products. This cleanser leaves skin in the ideal prepped state: Cleansed and soft. After using this cleanser, my skin feels totally clean with no tightness nor irritation. The best part: no greasy residue! Perfect! This milky cream cleanser really softens and cleans without over drying. It is very "basic". But, I love that!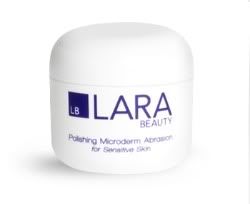 Polishing Microderm Abrasion for Sensitive Skin:
This is a fragrance-free and hypoallergenic spa-quality microdermabrasion treatment for sensitive skin. This vitamin-rich formula
clears pores, removes blackheads, prevents acne, removes imperfections, evens skin tone, and smooths fine lines and wrinkles.
Key Ingredients Include:

Allantoin is rich in vitamins A, B1, B2, B5, D, and E, amino acids, protein, lecithin, and essential fatty acids. It has excellent penetrating and skin softening actions to stimulate collagen metabolism and retard visible signs of aging.
Hemp Seed Oil, through its extremely high essential fatty acid content (Omega 6, Omega 3, and Omega 9) provides a superb barrier effect minimizing moisture loss from the skin. It is a non-greasy emollient and is well-absorbed through our skin's lipid membrane to promote the lubricating action of the extracellular matrix and to offer increased skin smoothness and softness.
Shea butter is an effective moisturizer and emollient known for its softening and conditioning capabilities.

Retails for $24.00 for a 2 oz jar. This jar will last you a long time as you only need a small amount of product.
How I use:
I apply this product to a damp face after cleansing. I apply a very small amount and *very* gently massage in a circular motion for about a minute. You have to be very careful to not over scrub! Then I rinse with tepid water and follow up with a toner or a moisturizer (the instructions say to follow with a toner). You can use up to 3 times per week (I usually do 1-2 times per week with scrubs).
What do I think?
I find this product to be much gentler than most home micordermabrasion treatments. The product itself is not just a scrub! It is packed with moisturizing ingredients such as Shea Butter, Avocado Oil, Grapeseed Oil, and Jojoba Oil. These ingredients can soften your skin while the exfoliating particles refine the surface. Overall, I think this product is a winner!
Revitalizing Daily Toner for Sensitive Skin
This is an alcohol-free toner for sensitive skin. Unlike alcohol-based toners that can strip the skin, this toner is soothing and refreshing. It hydrates and restores pH balance to ideally prep your skin for treatment products. While I often skip toners in order to streamline my cleansing routine, when toners are as soothing as this one, I find I want to use it with more frequency.
Key Ingredients include:

Allantoin sloughs dead skin cells promoting cell regeneration and skin rejuvenation. It acts as an anti-irritant and anti-inflammatory, soothing and moisturizing the skin.
Tamarind Seed extract stimulates cell repair and promotes elasticity and hydration.
Botanicals like Japanese Green Tea Leaf Extract, Aloe and Chamomile soothe and rejuvenate the skin, tightening pores calming redness and irritation, minimizing the look of blemishes and fine lines and wrinkles.

Retails for $18.00 for a 4 oz. spray bottle.
How I use:
I apply this to my face after cleansing and patting my skin dry. I typically spray a few squirts onto a cotton round and smooth it over my skin. Sometimes I squirt directly onto my hands and then "pat" the toner onto my face. Then I follow up with either a moisturizer or a treatment product.
I love how this product feels on my face. It is gentle and soothing. I feel that it gives my skin a slight hydrating "boost". Since my skin has been a little bit more oily with pregnancy, I can get away with skipping my moisturizer in the mornings. I just cleanse, apply a toner, and follow with my sunscreen. I find that the combo of a moisturizing toner plus sunscreen gives me all the moisture I need for daytime (for as long as my skin stays more oily with pregnancy and during the very warm weather).
Anti-Aging Daily Therapy for Sensitive Skin:
This is Lara Beauty's Moisturizer. This is a creamy and rich fragrance-free moisturizer for sensitive skin. Ingredients like aloe, cucumber, grape seed, avocado, chamomile and mushroom extracts work to soothe and moisturize your skin. It also contains antioxidants and peptides which can help boost skin's ability to repair.
Key Ingredients include:

Palmitoyl Pentapeptide-3 stimulates collagen, plumps skin and is clinically proven to visibly, diminish wrinkles, smooth skin and minimize age spots.
Hyaluronic Acid promotes volume, improves elasticity and helps retain and attract moisture.
Added botanicals including cucumber, grapeseed, chamomile, Japanese green tea and mushroom extracts provide anti-inflammatory and antioxidant qualities that reduce puffiness, tighten pores, soften, condition, revitalize and moisturize the skin.

Retails for $40 for a 2 oz jar of cream.
How I use:
I apply this cream after cleansing or after cleansing and toning. I just apply a small amount with my fingertips and smooth it onto my skin. It absorbs quickly
This moisturizer is thick and rich without feeling heavy and greasy. It absorbs quickly and leaves skin smooth, moisturized, and plumped. It has no greasy nor sticky after-feel. A great basic moisturizer! I know that I will continue to use this (especially in the colder months when my skin gets drier).
Lara Beauty makes a great line of fragrance-free and hypoallergenic products specifically designed for individuals with sensitive skin. I think Lara Beauty really stumbled upon a great idea with its fragrance free and totally gentle skincare line! All of these products were gentle on my super-sensitive skin and I experienced no adverse reactions (which is a feat with my skin allergies and sensitivities!). The cleanser, exfoliant, toner, and moisturizer are all great basics to add to your skincare routine! I really enjoyed testing and using these products.
Thanks so much for reading! My fellow sensitive-skinned ladies (and gents!), what products do you love for sensitive skin?