Hello dolls!!!
Whenever we approach a season change, I always want to re-vamp my skincare and makeup routine. Adjusting for the weather can make a big difference in the look and feel of your skin and the wear of your makeup.
With hot and humid summer days approaching, I want to "lighten up" my makeup. I want a fresh-faced glow with minimal products. Plus, I need to amp up my SPF!
With that in mind, I *finally* purchased a product that I have been wanting to try for a very long time: the
Origins VitaZing Energy Boosting Moisturizer.
This product would generally fall into the category of a tinted moisturizer. But, it is unlike any tinted moisturizer that I have tried before! Most tinted moisturizers are either too much like a foundation or too much like a moisturizer. I mean, honestly, there are not any tinted moisturizers that I truly love. So, needless to say, I was very curious to try this product!
For my review and some more photos, please keep reading after the jump!
So, after watching TiffanyD rave about this product on multiple videos, I just had to try it out. If you haven't seen TiffanyD's amazing YouTube channel or blog, check those out. Great tutorials!
This is a *totally unique* product! It is a moisturizer and an SPF, but it also has little beads of pigment in it that get relased as you apply and "adjust" to your skintone. So darn cool!!!
But, I was skeptical at first. I mean, one product for all skintones? No way! I have the fairest of the fair skin. For reference, I am about a NC15 in MAC Studio Fix (NW15 in MAC liquids), Siberia in NARS Sheer Glow, and 110 in MUFE HD. How could one moisturizer possibly adjust to all skintones???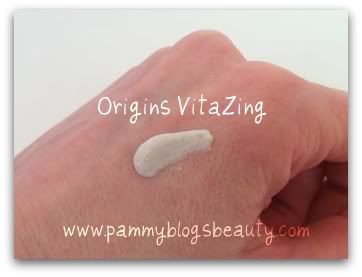 Here is what it looks like out of the tube (see above). It looks just like a regular moisturizer with little grey-taupe "beads" in it. Once you start blending it in your skin, the little dots of pigment release and it starts to turn a skin-tone type shade. See photo below of how product looks when pigment starts to release.
*Note: I didn't include a photo of it all the way rubbed in
because it becomes undetectable on the skin once rubbed in completely.
Once it gets fully rubbed in/absorbed, it is barely detectable on the skin! It just gives the skin a nice healthy glowy finish!!! For me, it almost has a "bronzing" effect. The shade is just slightly darker and warmer than my natural skintone. But, since the product is so extremely sheer, it works!!! I feel that I have a little bit of a more "summery" healthy glow with this product on. I mean, seriously, I put it on and just thought, "Wow, my skin looks so healthy and glowy"!
My Skin: Just a side note here about my skin type and coverage needs. I have clear skin with no scarring or discolorations. My only major skin issues are dryness, sensitivity, and dark undereye circles. So, I am not looking for a product with coverage. When I wear foundations, it is more to provide a nice dewy finish to my skin, rather than cover up anything. For my very dark under eye circles, I apply an opaque concealer. So, I do not expect my foundations to tackle my dark circles. I like my foundations to be slightly hydrating and dewy. While I don't have breakouts, I am somewhat acne prone depending on what products I use. So, I certainly don't want a product that might cause breakouts.
Sunscreen: I didn't realize until after I purchased the product that it contains Avobenzone as a sunscreen. Yikes, I have had trouble with this ingredient in the past. I almost didn't test this product, but it has been sooooo long since I have tried a product with Avobenzone that I figured I might as well give it a shot. It is so unlike me to NOT check product ingredients before buying as I am pretty militant about that. But, since it had been on my wishlist for so long, I just snatched it up at the Mall when I saw it.
In the past, the product I tried with avebenzone (I believe it was Cetaphil moisturizer with SPF?), caused some red irritation bumps. Well, thankfully, I have experienced *no such irritation* with the the Origins VitaZing. It makes me wonder! Maybe I don't have issues with Avebenzone, but another ingredient? As you fellow sensitive skin ladies know, it is such trial-and-error to figure out what causes the sensitivity reaction. You must pay close attention to ingredients.
What I love about this product:
This gives such a beautiful finish to my skin!!! I apply this with my beloved Sigma F80 Flat Top Kabuki and just blend all over my skin. Then I apply concealer to my dark under eye circles. I apply a very light dusting of Sonia Kashuk loose powder to my nose area...and that's it!!! That is all I need for a beautiful and healthy glow. Of course, I follow these steps with some blush, eye makeup, lipgloss, etc. The overall effect is so healthy and natural. Absolutely perfect for spring and summer!!! I feel no need for foundation at all!!! I absolutely love this!
The Skinny:
Retails for about $35. Whew, that is steep for this very tiny tube (1.7 fl oz). But, it only takes about 4 dots for my entire face. So, I expect this to last a little while.
It has that "typical" Origins scent? Have you ever noticed that all of Origins products have that very distinctive scent? Well, the same is true for this product. I really enjoy this very light fragrance.
You will NOT get any coverage with this product. It provides moisture, SPF, and a VERY sheer tint (that appears as a "bronzy" tint on my super fair skin).
So, as you can probably tell, I totally *heart* this product!!! I find it to be so "unique"! It is that "missing link" tinted moisturizer that I have been searching for all these years! It gives me a nice healthy glow and some very sheer color. My skin looks even, glowy, and healthy when I wear this. Plus, it provides a boost of SPF. I supposed you could wear this as your only SPF, but with the strong sun here in the south, I apply a SPF 30 first and this VitaZing on top (SPF 15 just doesn't cut it for me for sun protection, but for many of you that might be all that you need).
Keep in mind that if you are looking for coverage, you will not get that with this product. This is certainly a product for those with clear skin, or for use on "good skin days". I think this product is ideal for anyone looking for a very natural look.
It has such a light feel, like you are not wearing any makeup. Love that! I also think that this would be a great product for younger girls who are just starting to wear makeup and don't want a heavy foundation. Fair girls, this will give you a slightly "tan" glow! I love how my skin looks with this product on!