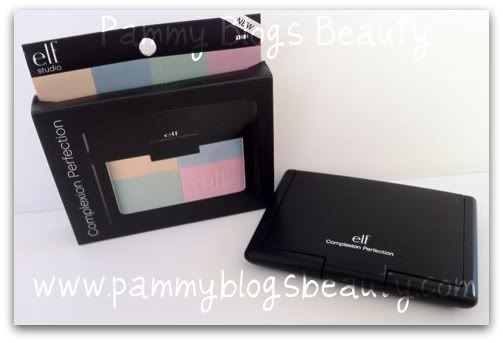 I have been meaning to write this review for so long! I have been loving this product ever since I got it a couple months ago!
In the past, I have shy'ed away from "color correcting powders" as they just didn't work for me. I am so fair-skinned that green powders to cover redness will only end up turning me green! lol! I mean, seriously? Who wants to look green (I mean, in that case I would almost rather look red)!!! But, this powder is different. For me, it works!
So, some background on my skin...Like I mentioned I am uber-fair (about a MAC NC/NW 15). I have dry skin, but sometimes I do get a little bit of mid-day oil through the t-zone. Typically, I don't have any major color correction "concerns". I get a little bit of redness and dark circles. But, I don't expect a powder to cover dark circles. I primarily purchased this powder just because I wanted a nice finishing powder as well as a good touch-up powder. But, if it works to conceal a bit of redness, then that is great too!
For my review of e.l.f.'s Studio Complexion Perfection Powder and more photos, please keep reading after the jump!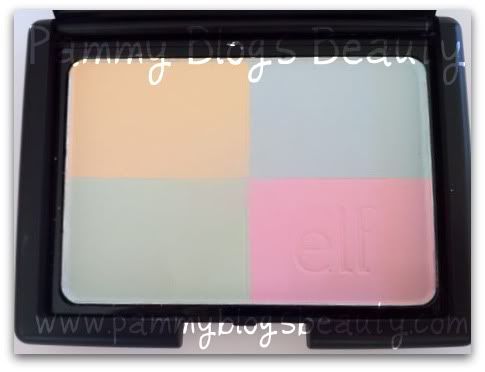 As ya'll know, I am a huge fan of e.l.f. products! Yes, sometimes their products can be hit or miss. But, with prices averaging between $1-$3 per product, e.l.f. products are totally worth trying out! For me, the Complexion Perfection powder is a *total hit*!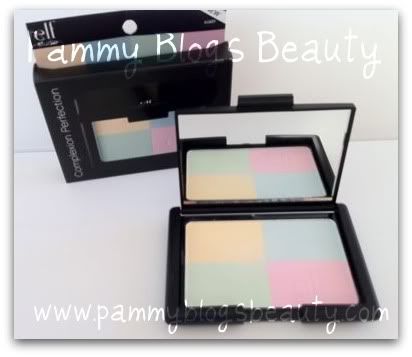 The Packaging:
Sleek "NARS dupe" packaging. This comes in a HUGE compact with the shape and style of NARS packaging minus the "fuzzy" texture. This product actually looks way more expensive than it actually is.
The inside features a very large powder pan and a huge mirror.
I really like that e.l.f. does not include a sponge with this as it would only bulk up the packaging. e.l.f. really gets the idea that many people don't use those applicators, so you will not find them in e.l.f.'s Studio Line. You are going to want to use a fluffy brush or Kabuki style brush with this powder. So, if you don't have one e.l.f. offers some great tools! I personally love their Studio Line Powder brush!
While the compact is large, it is thin, so it is great for tossing in your purse for on-the-go touch ups. For the $3 price tag, it is worth getting one for home and one for your purse!
Amazing Value: The pan size is HUGE!!! You get a TON of product here! So, not only is the product only $3, but it will also last you forever! Bravo for e.l.f. for making quality cosmetics at an affordable price. All that and a cute compact too!
*note: swatched heavily so you could see the color
The Product Itself (The Skinny):
This is a matte pressed face powder with 4 color correcting pastel shades in one pan: yellow, blue, green, and pink. Worn separately, they can cancel out unwanted tones in your face. Green disguises red, Pink/yellow can counteract dark blue undereye circles, and blue contrasts yellow tones.
The powder is a super soft powder that is sheer and very matte. It is a bit "powdery". But, I like how it mattifies extremely well through the t-zone.
So, the idea here is that you can wear them separately, or swirl them together to neutralize a variety of tones in your face and give you a more porcelain look.
How I like to wear this powder:
This is a great product to use as a finishing powder! Personally, I like to swirl the colors together and apply with a big fluffy brush (with a focus on the t-zone). This really gives my skin a flawless porcelain look!
This powder is great for mid-day touch ups to decrease shine or redness! I like to use just the green lightly around my nose area that can get red from allergies.
Another cool use: If I get a little bit too heavy-handed with my blush, this is a great powder to "tone it down"! ;)
Tip: When applying colors mixed together to the whole face, apply this VERY lightly!!! Too much will give you a grayish-cast as the powder (when swirled together is quite "white" in appearance). If you apply this lightly with a big fluffy brush, I bet you will be very pleased with the results!
In summary, I love this powder! I find that I am constantly reaching for it and I have been super pleased with the results! Its great as a finishing powder, for mid-day touch ups, and for toning down over-applied blush (hmm, might I occasionally get a little over zealous with blush? I think so!!! lol!). Also, I do think that it acts to very subtly "tone down" or neutralize unwanted tones in your skin. All the colors work together to "cancel out" those tones.
Now, I do have very fair skin, and this powder gets very light when swirled together. I am not quite sure how it works with darker skin tones? If you have darker skin and have tried this powder, please leave your thoughts in the comments below! I would love to hear what others think of this unique and inexpensive powder!