Press Sample
Affiliate Link
Blogger Ambassador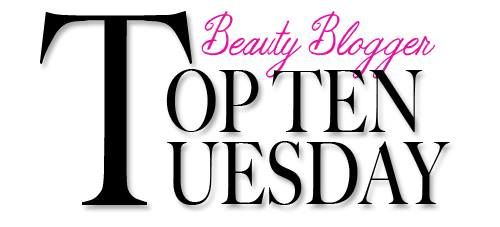 For this edition of Top Ten Tuesdays, I am going to share some of the best Sunscreens that I have come across in the past 6 months. I am going to go ahead and tell you, this list actually contains 11 Sunscreens! As much as I wanted to keep it to just 10, there were 11 Sunscreens that I really wanted to talk about and share with you. I tried to pick out sunscreens across a few sunscreen categories: Sunscreens for Face, Spray Sunscreens, Tinted Sunscreens, Sunscreens for Kids, Waterproof Sunscreens, newly released Sunscreens, and even Sunscreen with Bug Repellent!
I don't mess around when it comes to sun protection. Daily use of an SPF is a MUST for me. I have lost a dear friend to Melanoma and my Dad constantly battles Carcinomas. I have inherited my Father's fair skin, so I really need to be sure that I am protected in the Sun. Plus, I love being outdoors. I literally slather sunscreen on every morning on every body part that I know will be exposed to the sun. For days that I am going to be at the pool, I rely on waterproof Sunscreens. I am constantly switching up my sunscreen depending on what I am doing that day and what I need. This list focuses on my current rotation of Sunscreens and ones that I am really enjoying right now! :)
Top Ten Tuesdays: My Sunscreen Arsenal
Here are some of my favorite, across a variety of Sunscreen categories, in my vast SPF Arsenal. You will see quite a variety here: from high end brands to drugstore favorites, spray sunscreens to classic lotions, and even face sunscreens and sunscreens for babies and kids! I like having a variety of formulas on hand depending on what I am doing and the type of protection that I need.
Kate Somerville | Daily Deflector Moisturizer Anti-Aging Sunscreen Broad Spectrum SPF 20: I adore Kate Somerville skincare and this facial sunscreen is fabulous. With the SPF of only 20, this is used as a daily moisturizer for days that I am not getting direct exposure. It does triple duty by providing anti-aging protection, while moisturizing, and fighting environmental damage. Plus, it has light-diffusing pigments to blur fine lines and perfect your skin. Yes, please!
Neutrogena | Wet Skin Sunscreen SPF 50: When I am going to be at the beach or pool and know that I will primarily be in the water, I rely on a sunscreen made to work on wet skin! This spray is swim, humidity, and sweat resistant. This one is also great for reapplying on wet skin as it still applies full strength even if it is applied to wet skin. So, sometimes I might start off with a lotion sunscreen before leaving the house but use this for reapplication while at the pool.
Australian Gold | Lotion Sunscreen SPF 15 with Instant Bronzer: OMG! I love this stuff! First, it smells amazing and 2nd it provides a beautiful bronze glow on your skin. While I embrace being fair, I do especially love a bit of color to my legs. This product is perfect for that! It is my go-to "leg" sunscreen for Summer when my legs are bared in short skirts or shorts.
Aveeno Baby | Natural Protection Lotion Sunscreen with SPF 50: Aveeno is my go-to brand for baby products! My son has eczema and super sensitive skin. So, I rely heavily on Aveeno baby products! I can apply this sunscreen on my baby boy and know that he will be protected and that it won't irritate his sensitive and fair skin. I also use this on my preschool-aged daughter. It is sweat and water resistant.
Avon | Skin-So-Soft Bug Guard Plus Expedition Insect Repellent with SPF 30 Sunscreen Spray: What a genius idea! The bug repelling classic Avon Skin-So-Soft formula with an SPF of 30! A perfect combo! I love the outdoors in the Summer...but, unfortunately, the bugs love me, too. I am a mosquito magnet but I don't always want to be slathering on bug repellents with harmful DEET chemicals. So, I am super happy about this Avon Bug Guard Plus! It works amazingly well to keep the GA mosquitos away! I am hooked on this for sunny backyard playtime!
Palmer's | Cocoa Butter Formula EVENTONE SUNCARE Moisturizing Sunscreen Balm: I have loved Palmer's Cocoa Butter lotions for years! So, I was excited to try out their new line of SPF products. They are all fantastic and I particularly love this Sunscreen Balm. It is such a unique texture for a sunscreen! It is like a body balm but has the added benefit of SPF! Not to mention, it smells amazing and leaves your skin luminous and hydrtated!
Osmosis | Shade Broad Spectrum SPF 30 Sunscreen Moisturizer: This is one of my newest additions to my facial sunscreen collection of products. With Zinc Oxide and Titanium Dioxide as the active ingredients, it is a winner for me (for some reason, that is a magical mix of SPFs for my skin). Plus, it contains fractionated coconut oil, which I am a fan of as well. I am exploring a few other products from Osmosis Skincare and must say that I am really becoming a fan of the line!
What sunscreens are you loving lately? Have you used any of these from my list? Be sure to check out the thumbnails from my fellow Top Ten Tuesdays bloggers below to find out what Sunscreens they are loving lately!
Affiliate Link