Press Sample
Affiliate Link
Blogger Ambassador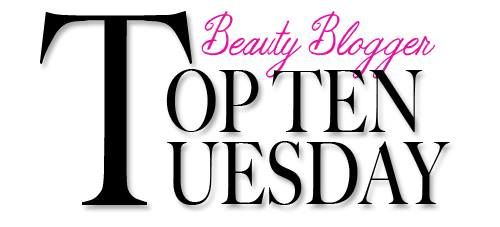 It is time for another Top Ten Tuesdays Post! This time, we are talking Spring Break Beauty! These items are Spring Essentials! The weather is just perfect this time of year. It is time for outdoor activities and Spring break trips. Gone are the dreary days of Winter. My beauty routine is craving fresh products, lighter scents, and more vivid color! While we are not going out of town for Spring Break this year, we do have a week packed with fun activities! What better time to freshen up my beauty routine with some awesome Spring Products?

Lets dive right into my Top Ten Tuesdays: Spring Break Beauty items:
Tommy Bahama | Island Life for Her: Island Life has luscious notes of pear and sparkling Mandarin mixed perfectly with the core of white rose, peony, and beach blossoms, and rounded out by Vanilla Bean, Sandalwood and Musk. This scent is perfect for warm weather! This is the newest addition to Tommy Bahama's fragrance collection which launched in March. Retails for $78.00.
Orico LONDON | Orange Micellar Cleansing Water and Makeup Remover: Detox your skin with the newest trend in skincare...Micellar Water! I am completely obsessed with this product category. This 3-in-1 purifying micellar water from Orico LONDON instantly cleanses away toxins, eliminates impurities, and removes makeup for clear and fresh skin. Soothing calendula flower extract and amino acids help boost cell regeneration, hydrate and smooth skin while an invigorating blend of citrus fruit essential oils boost skin circulation and detoxify. Plus, it smells amazing and is just so refreshing to use! Retails for $24.00.
Sol Scents Sunscreen | Broad Spectrum Spray Sunscreen SPF 30, 50: Spring weather means sunny day activities! Nothing beats a good continuous spray sunscreen for quick application. Sol Scents just released Spray Sunscreens in SPF 30 and 50 formulas. I have long been a fan of the gorgeously scented Sol Scents Sunscreens. So, I am happy that they now have a spray option, too! If you love fun and upbeat body mist type scents (think BBW), then you will love the scents of these sunscreens! Retails for $12.95.
Burt's Bees | Sheer Body Lotion: This new Sheer Body Lotion from Burt's Bees is so light and fresh for the warm weather! If you're looking for a lightweight moisturizer with a light-weight scent–look no further. It's formulated with Safflower Oil Oleosomes, which are clinically shown to instantly moisturize skin and leave it feeling silky and smooth. So spritz away and let your skin (and nose) feel fragrantly refreshed. Retails for $10.00.
bodycology | Cherish the Moment Fragrance Mist: Warmer weather means more sweat. I am just being real ya'll. I always crave feeling and smelling my freshest. So, I rely not just on great deoderants, but also body splashes/fragrance mists to refresh throughout the day! Bodycology has a ton of great scents and they are so affordable! Right now I am loving the Cherish the Moment (Cherry Blossom) scent. My Cherry Blossom tree is at the tail end of its bloom in our backyard. Yes, my tree inspired my love of this scent! :)
MirSkin 5/2 Pads: Have I mentioned lately that I am obsessed with peel pads? I have found that they give my skin the perfect anti-aging/anti-acne kick that it needs. I honestly don't discriminate. I have tried a few different kinds and like them all. Lately, I have been using these from MirSkin. They are so easy to use and I do feel that they are keeping my skin more clear! That is especially needed during the Spring time as my skin shifts from Combo/dry to Combo/Oily.
New York Color | Strip Me Off Base Coat: OMG! Where has this product been all my life? lol! This NEW Strip Me Off Base Coat from NYC does just that! As much as I love and adore my glitter polishes, I have always abhorred removing it! Well, this base coat eliminates that entire problem. No remover is needed when you use this base coat! You just "Strip it off"! Amazing! Especially great if you are traveling for Spring Break and don't want to pack a remover! Only $4.00.
essence | Sun Club Bronzers: I am a long-time essence fan (even before they came to the USA!). This brand is so affordable and so whimsy and fun! When Spring Break rolls around, the weather change means it is time to bare the arms and legs...but, I am *so pale* this time of year! Don't get me wrong, I embrace my pale...however, a light dusting of a bronzer or a subtle self-tan does give me a little confidence boost when wearing shorts, capris, and sleeveless or more bare tops! An easy way to get quick color? Just take a huge powder brush and dust an inexpensive bronzer like Sun Club from essence all over! This matte bronzer comes in two shades: blondes and brunettes. Only $4.99 each for a huge pan!
Topganic | Brazilian Nut Oil Keratin Protein Intensive Repair Hair Mask: Warm weather brings the humidity and the sun...both of which can wreak havoc on my long highlighted hair. A good weekly hair mask is a must for me! This hair mask smells unbelievably amazing. Light and perfumy (but not in a bad way! I wish this was a perfume!!!) this leaves my hair smelling divine, feeling silky soft, and behaving manageably. Plus, it is only $11.00 for a huge tub!
Shop the Post:
Find out what my fellow Top Ten Tuesdays bloggers are loving beauty-wise for Spring Break! Click the thumbnails below to read more:
Affiliate Link