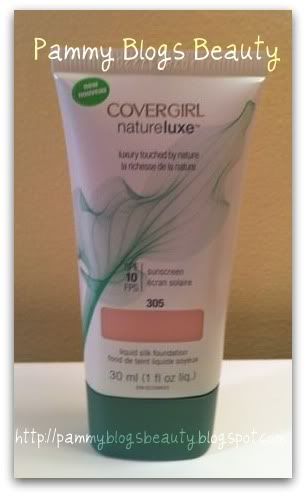 Cover Girl Natureluxe Foundation
I am so excited to finally be writing this review for the new
Natureluxe Liquid Silk Foundation by Cover Girl
. I have been diligently testing this out for the past few weeks and I am finally ready to post a review!!!
My foundation "history":
I must start out by saying that I am just getting back into
liquid foundations
. For years, I have been using only a very light dusting of
powder foundation
as I don't need much coverage and don't like the "feel" of heavy makeup. But, with the winter weather, my dry skin has just been too dry to work well with my beloved MAC Studio Fix powder foundation (it has been accentuating dry areas). Thus began my quest to find a great liquid foundation. So far, I really have loved a sample of
NARS Sheer Glow
. But, I would rather not pay the $ for a high-end (HE) foundation if I could find something nice at the drugstore. Who dosn't want a bargain, right!?!?
What I am looking for in a foundation (This is a tall order, lol!):
I need a foundation that works well with dry skin. One that doesn't emphasize dryness or cause flakiness.
Sheer coverage. I like my natural skin to show through. I luckily don't have any major skin issues (no acne, no scarring) So, I really don't have much to cover. I just need something to subtly even out the skin tone (you know, those pinker areas by the nose and mouth). I have a problem with dark under eye circles, but I don't expect a foundation to correct that.
A light feel. I would ideally like it to feel like I don't have any on. So, I really want a weightless quailty.
Suitable for sensitive skin. My skin reacts to so many ingredients with irritation. I need to be particularly selective with foundations with sunscreens as many chemical sunscreens cause a reaction (itchy skin and redness) on my skin.
While my pores are not "large" per se, I don't want a foundation that settles into my pores/nor emphasizes pores or fine lines.
Alrighty, now back to the
review
!!! For my thoughts on this foundation and swatches, please keep reading after the jump.
The packaging states "Foundation with a hint of jojoba extract and cucumber water, gives flawless, luxurious coverage with barely there feel".
My Shade:
I purchased the lightest shade
305 alabaster
. I figured if there was a shade light enough for Taylor Swift, then there is one light enough for me! Tee-hee! But, honestly, it is *rare* when a drugstore foundation has a shade nearly light enough for my "Pale Porcelain Princess" (PPP skin), you MUAers will know the term! ;)
So, this
305 Alabaster
is a pretty good match for my uber-fair skin (NC 15 in MAC Studio Fix, for reference). It is not a perfect match, but it melts into the skin so nicely that it becomes pretty undetectable. I am soooo happy to have found a shade light enough for me in this CG Natureluxe line. Yay!!!
Product is blended in below. Note how it is virtually undetectable on the skin!
It just melts right in! Wow!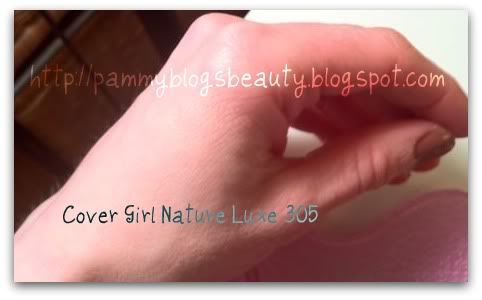 Application:
I have used fingers, a "classic" foundation brush, the elf flattop powder brush, and a sponge to apply this product. After trial and error, I find that this product applies best, for me, with a slightly damp sponge.
I just dab a very small amount on my forehead, nose, both cheeks, and my chin and blend it all out with the damp sponge. It only takes a few seconds and it works great!!! This product blends like a dream. What a quick and easy application! Seriously, this is just as easy as applying a quick dusting of powder! After applying, I follow up with under eye concealer and just a tad bit of translucent setting powder and that is all that I need!!! No other concealer is needed on other parts of my face as the subtle redness around my nose area is neutralized with a light application of this CG foundation.
The Texture:
I really love the texture of this product. This glides on so smoothly. The product is thick like a gel/cream (not runny like a "liquid"). The product seems to just melt into my skin and become invisible (it "becomes one" with my skin!).
The Look:
This foundation looks so natural, hence the name, right! I apply it for a light coverage, but you could build to medium depending on how much you apply. The best part: this does not accentuate any dry areas nor does it settle into my pores. My pores look more diffused when I wear this (and I don't even need a primer with this foundation).
The Feel:
This honestly feels like I have nothing on my skin. My skin feels soft and velvety smooth to the touch when I wear this. This must be where the whole "silk" foundation comes to play. The silicones in the product give it a very smooth look and feel. The best way that I could describe the "feel"of this product is "comfortable". Which is HUGE!!! As some one with dry skin, "comfortable" is just a great thing!!! My skin seems to hold onto moisture a bit better with this on! Since testing this, I have not had any issues with dry patches (But, I must mention that in addition to this foundation, I am using a fabulous new moisturizer at night. So, I am waking up with skin that is more hydrated in the mornings before applying this product. If you are curious about my new moisturizer, please see my review here).
Other thoughts:
The finish is just slightly dewy and natural. Very nice!!!
I have experienced no adverse reactions to this product. No breakouts and no irritation (I rarely breakout, but sometimes products can bring on some minor breakouts).
This product holds up all day. It wears really well! I have no need for touch ups throughout the day.
The scent: Yes, that's right. There is a slight scent added to this product. If it were up to me, everything would be unscented, lol (us sensitive gals have to watch out for product fragrance)! But, this scent does not bother me. It smells fresh. Like, cucumber?
I really love that this comes in a squeeze tube. It keeps the product sanitary and is lightweight for travel. The packaging is appealing with the green tones...it makes you "think" that this is an all natural product (even though it has some natural ingredients, it is not all natural).
The price: At around $10...not bad! Keep an eye out for coupons and sales as I picked mine up for right about $8.00.
So, in summary, I totally love this product and highly recommend it! For the great price, it is certainly worth a try! I love the texture and the feel of this product on my skin. The best part: It looks so natural! Love it! I am very happy that I picked this up!
I can't wait to see what else Cover Girl has in store for us for 2011! They really seem to be upping their game here! The new lipsticks look promising (and the packaging looks pretty too!). Has anyone tried those yet?
Hope you enjoyed reading!!! Have any of ya'll tried this foundation? How do you like it? Any foundations to recommend for dry skin? I would love to hear what you dry skinned girls are liking!