Press Sample
Affiliate/Referral Link
Blogger Ambassador
Now, you guys know that I love my monthly beauty sample boxes. Well, I have another type of monthly box to share today: a monthly jewelry box:
Introducing ROCKSBOX
!
ROCKSBOX
is a monthly jewelry sample box. This box works a bit differently. This is a service where you have the opportunity to borrow jewelry before you buy! When you sign up as a
ROCKSBOX Insider,
you pay a monthly fee and get a gorgeous curated box of jewelry (3 pieces) every month with the option to buy, borrow, or swap your pieces at any time! The pieces are gorgeous and extremely well made! ROCKSBOX features 30+ amazing designers including Kendra Scott, House of Harlow, Gorjana, Loren Hope, and more!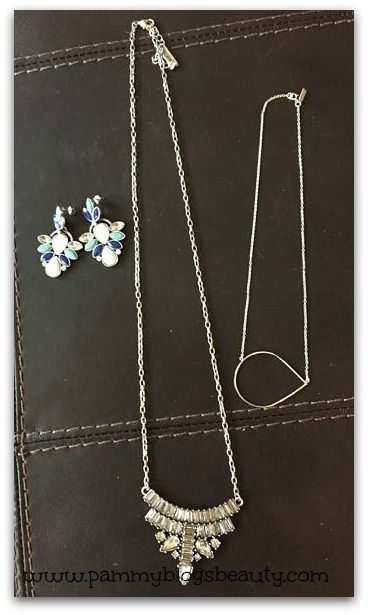 How it Works:
When you sign up at ROCKSBOX, you take a style quiz and it generates jewelry collections based on your style preferences. You then browse the collections and add items to your wish list. The ROCKSBOX stylists create your box based on your wishlist. You are sent 3 pieces and you have the option to borrow, buy, or swap these pieces at any time. You earn $10 per month in "forever spend" credit. So, if you fall in love with any of your items, you can purchase them with your $10 off credit. Members pay a flat rate of $19.00 per month for unlimited rotating access to designer jewelry! You can keep and wear your jewelry for as long as you like...or you can return your set at any time, and they will send you out new pieces. It is that easy! You pay the same fee no matter how many times you swap out your box. So cool!
Jewelry can be quite a commitment...and an investment. The ROCKSBOX monthly box is a great way to discover fabulous jewelry...without a major commitment or investment! So many times, you want a great piece of jewelry for a specific event or dress. This way, you can wear a very special piece and then swap it out for something different next month! Or...if you totally fall in love with one of your pieces (like I did this month), then you can purchase it at a very good discount price. What is not to love???

Use my Code to Get 1 Month Free (or 1 Month for 50% off):
Don't delay signing up!!! If you sign up this month, you can get your first month FREE!!! After this month, you can get your first month for 50% off! :)
Use my code to get the discount: pammyblogsbeautyxoxo
Box Opening:
I absolutely love my pieces this month!!! My box was inspired and created around a pair of earrings that I selected. Honestly, they nailed it! I absolutely adore every single piece that I got this month. Not only are the items beautiful and my style, but also I am extremely impressed with the quality of the jewelry. There is no question that I will be purchasing at least one of these pieces as I have really fallen in love with this jewelry!
Before diving in, let me take a moment to share about the beautiful box itself! The jewelry comes in an adorable tie-closure ROCKSBOX jewelry box. All pieces are in individual drawstring pouches that are wrapped in bubble wrap. Everything arrived very beautifully wrapped in tissue and it was all packed very securely. ROCKSBOX includes a return shipping label for you to use whenever you are ready to return your items. :)
Perry Street | Katy Earrings (retails for $56.00: Insiders Price: $44.00): These are the earrings that I placed on my wish list. I was drawn to the gorgeous Summery combo of blue and green and white. I like that these are high quality without being overly heavy. I adore them! These can go dressy...or can just add that extra oomph to a solid tee and jeans!
Lotus Jewelry Studio | Petal Necklace in Sterling Silver (retails for $56.00, Insiders Price: $44.00): OMG! I pretty much swooned when I opened this necklace. Even though I did not select this item, it is 100% my style and I am going to purchase it!!! It hangs right at my collarbone and is just beautiful. It has a sideways teardrop design and is sterling silver. Completely gorgeous!!!
Perry Street | Adrianna Necklace (retails for $64.00, Insiders Price: $51.00): What a cool necklace! This is perfect for "going out"! I love pairing this with flowy dresses or over a simple tank with a maxi skirt.

Are you ready to
get your own ROCKSBOX
? Don't delay signing up with my code! This month, you get your first month FREE! Don't forget to add my code when you sign up: pammyblogsbeautyxoxo
#RBItGirl
#ROCKSBOX
Affiliate Link