Affiliate Link
Press Sample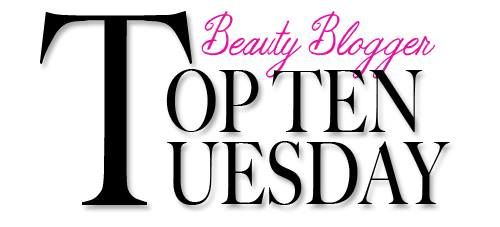 Top Ten Tuesdays is back! Top Ten Tuesdays is a collaborative list-type blog series where top beauty bloggers share their Top Ten lists.
This week we are sharing our ideas for beauty-related stocking stuffers! Are you all ready for Christmas yet? I am still in the midst of Christmas shopping with it being about half way completed. So, I am always looking for good ideas for stocking stuffers!
To find out more details about each product, please click "read more" below! :)
L'Occitane | Shea Butter Travel Treats: This cute little set has a little ribbon loop on top so that you can use it as an ornament! How cute! This pampering set contains L'Occitane's amazing Shea Butter Hand Cream and Shea Butter Foot Cream. Retails for $20.
Korres | Guava Lip Butter: This rich and buttery balm leaves your lips so soft and moisturized! It comes in a number of flavors/shades with Guava being clear. Retails for $12.00.
IT Cosmetics | Your Beautiful Basics Travel Brush Set: Have you ever tried IT Cosmetics' brushes? They are totally amazeballs! This mini travel set is a great way to try the brushes yourself...or add a super useful item to any beauty stocking! These three brushes are the must-have for any girl's on-the-go bag (powder, shadow, and liner brushes). This brush set is exclusive for Ulta and retails for $19.50.
IT Cosmetics | Your Superheroes Brush Set: Yes, another brush set from IT Cosmetics made this list! This brush set is super special because it features full size brushes! It contains 6 face and eye brushes in a super sleek travel kit. I love how this set is compact yet it contains full size brushes! The brushes, like all brushes from IT Cosmetics, are super soft yet also dense and just stiff enough. A nice balance! This set is great for travel. It gives you almost everything that you need! Plus, the case really is beautiful. This set is an Ulta exclusive and it retails for $50.00.
Daily Concepts | Your Konjac Sponge in Turmeric: Have I mentioned lately that I am obcessed with Konjac sponges? Well, one of my favorite bath & body sponge lines, Daily Concepts, now has a variety of Konjac sponges! I am currently using the Turmeric sponge in my shower every morning for my face and I love it. Konjac sponges are a great way to boost the cleansing and exfoliating power of whatever cleanser you are using. They are natural and give amazing exfoliation while also being totally gentle. Plus, as with all Daily Concepts items, the packaging doubles as a hanging container for your shower! Retails for $18.00.
Pixi | Fairy Dust Favourites Loose Pigments: What a super cute set! If you haven't seen it yet, Pixi's Holiday Collection is just gorgeous this year! I have long been a fan of Pixi's Fairy Dusts. So, I am happy to see this travel-friendly set of potted loose pigments. These are super duper shimmery and are quite pigmented as well. I love using these as all-over washes of sparkly color on the eyes. This would be a super cute stocking stuffer for shimmer and sparkle lovers! Retails for $12.00 at Target.
Pixi Shea Butter Trio: As ya'll know, I adore these little shea butter lip balms from Pixi! This set contains 3 shades: transparent, true nude, and raspberry pink. These are so soft and soothing on the lips. The tinted shades are a nice balance of color and moisture with them being quite pigmented for a tinted balm. These are just so easy to wear. Just swipe on and get gorgeous color and moisture! This set is a great deal at $16.00 (available at Target).
L'Occitane Arlesienne | Shower Cream: I absolutely adore L'Occitane's new Arlesienne fragrance! Anything from this line would be a great addition to a beauty stocking. This scent is feminine and fresh. This shower cream gently cleanses with a light foam and leaves you feeling soft and lightly scented with the gorgeous Arlesienne fragrance! Full size retails for $20.00.
COVERGIRL | Clump Crusher: Mascara is a beauty staple. So, what better addition to a beauty stocking than one of my very favorite mascaras? There is no question, in my book, COVERGIRL mascaras are my favorite with Clump Crusher as one of my top COVERGIRL mascara picks. The rubberized brush separates your lashes beautifully and like the name suggests, this product never clumps! Plus, this mascara never smudges on me. Love, love, love it! Retails for about $7.99.
Softlips | Cube 5-in-1 Lip Care: OMG! How stinkin cute is this lipbalm cube? I tend to leave lipbalms sitting out...so, why not go for a cute lip balm? I keep this one right next to my laptop to encourage frequent application. The formula is super smooth and I love the fresh and fruity pomegranate blueberry scent! These retail for $3.49.
Shop the Post:
Hope you enjoyed my list! Be sure to click the thumbnails below to scroll through my fellow Top Ten Tuesdays bloggers' posts! I am sure you will collect a ton of ideas for beauty stocking stuffers!
Affiliate Link