Affiliate Link
Press Sample

It is time for a "My Skin Loves" update! This is my blog series where I share the skincare products that my skin truly loves. As a beauty blogger, I try out a lot of skincare products. Not just because I want to review them, but really because I am somewhat obsessed with skincare. That is how I stumbled into blogging in the first place. I was constantly on the search for the latest and greatest skincare. As someone who has sensitive and somewhat temperamental combination skin, finding the right skincare for my skin is of the utmost importance. I really do get a thrill when I find products that make a huge difference with my skin. That is how I feel about this amazing
award-winning moisturizer from ReVive
!
My Skin:
As I mentioned, I have sensitive combination skin. I just turned 40 a couple months ago. So, I am super concerned with age prevention. I have a few fine lines/expression lines. However, they are really only noticeable when my skin gets a little dehydrated. People always think that I am much younger than I really am...I attribute that to my years of using good skincare and sun protection! I hope to continue looking and feeling this young. So, my search for amazing skincare products continues! :) Like many people with combo skin, I am normal-oily in the warmer months and normal-dry in the colder months. I do not break out often. However, when I do, it is usually on my chin area. With that said, I do go through phases of breakouts which I attribute to my hormonal fluctuations (I just had a baby 8 months ago and my hormones are still a bit wacky). In addition to the stray pimple or breakout, I also get general "congestion" on my chin (clogged pores and such). So, yes, I am dealing with both anti-aging concerns and the occasional breakouts.
For this review I tried out
ReVive's Moisturizing Renewal Cream
. This is the first product that I have ever tried from the ReVive line of skincare. So, I am super excited to share my amazing results with you! To find out more details about this cream and hear my thoughts, please click "read more" below.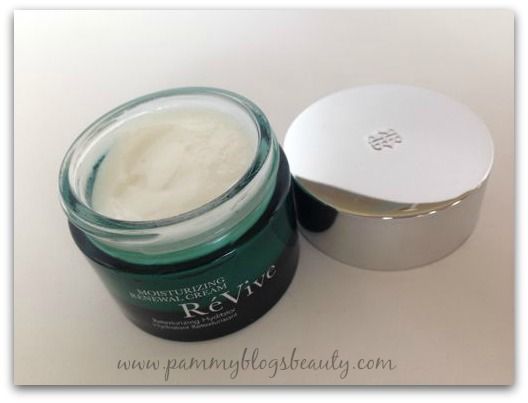 I am going to cut to the chase here and go ahead and tell you that I am completely obsessed with this moisturizer! My skin absolutely loves it!!! If you are looking for a fabulous night cream, you are going to want to hear about this product! Lets dive into some details about this product...
ReVive Moisturizing Renewal Cream
:
This powerful perfecting night cream with Epidermal Growth Factor (EGF), the Nobel Prize-winning ingredient exclusive to ReVive, gently exfoliates, re-texturizes, and renews facial skin. Its formula works overtime as you sleep to help diminish imperfections and the appearance of fine lines, for a morning awakening to fresher, glowing, more beautiful skin.
ReVive's Moisturizing Renewal Cream has such a unique texture. It feels like a dense gel. However, unlike most gel moisturizers, it has a rich and buttery feel. I noticed that shea butter and avocado oil are in the ingredients list. I can certainly feel the richness of these ingredients in the product. Plus, I love that it contains Sodium PCA which I know draws moisture to the skin. Somehow this product strikes a balance between a lightweight feel and a rich consistency. It sinks in pretty quicky and leaves a buttery feel a dewy sheen on your skin. The product has a unique scent that I can't quite place. It is a clean light scent that reminds me a bit of pine, maybe?
How I Use:
I absolutely adore the feel of this product going on my skin. It is instantly both soothing and refreshing to the skin. I apply this moisturizer at night after cleansing my skin. Sometimes I use a serum before and sometimes I skip the serum step. It just depends on my mood. I do feel a very slight tingle (which is not at all unpleasant...I just notice it) on my skin after applying this night cream. That is the glycolic acid going to work already (glycolic acid is the 4th ingredient in this night cream).
My Results:
This amazing night cream really refines my skins texture. My skin tone has really improved! So much so that I am finding that I need less concealer and have been skipping foundation completely. My skin is so smooth and soft from using this. Plus, my pores look very diminished...like they have vanished! The results with my pores happened very quickly (like overnight with the first use). I feel like my continued use of this product has made my fine lines less apparent. My skin is very hydrated and my skin texture is velvety soft. My skin just seems to have a healthier and more vibrant "glow" to it. It just looks super healthy and plump! Plus, my skin has really cleared up from using this cream! The "congestion" or clogged pores that I often see on my chin area have gone away! I love it when an anti-aging product like this works double duty to keep your skin clear. I am, indeed, extremely pleased with my results with this cream!
At a retail price of $195.00, this moisturizer is indeed very expensive. While there certainly is great inexpensive skincare on the market, I honestly feel that this product is completely worth the price. When you find something that really works for your skin, this this moisturizer, it is worth making the investment because you get such great results! Plus, you honestly only need a small amount of this moisturizer for each application. So, a jar is going to last you a few months.
In summary, I adore this anti-aging night cream from ReVive! I have had amazing results as far as refined pores, flawless skin tone, soft and smooth skin, reduction in breakouts and clogged pores, and diminished fine lines. What more could I ask for? This is a remarkable product that I suspect will be a staple in my skincare regimen for quite some time! I love this product so much that I can't wait to explore the rest of ReVive skincare line!
Have you tried anything from ReVive? If so, I would love some product recommendations as far as what to try next!
Affiliate Link