Press Sample
Affiliate Link
Blogger Ambassador
Birchbox has a brand-new Fall-themed box filled with amazing goodies. For those of you who love all-things Fall, this is the box for you!
With its burst of seasonal colors and nostalgia-inducing flavors, fall brings us plenty of entertaining inspiration—and with it, a reason to come together over food and drink. This box is here to give your next event an extra upgrade. From artisanal cocktail syrups to enchanting place cards, these spirited accents will sweeten up any occasion—whether you're sipping on hard cider with friends, or hosting a full-blown feast.
Not only do I love Fall, but also I am really into home-items lately. After spending the past 10 years in a really small urban home, we moved to a big house out in the suburbs about a year ago. I finally have the room in my home to explore cooking and entertaining...not to mention the decorating options! Besides beauty blogging, skincare exploration, and fashion, my next greatest loves are cooking, entertaining, and decorating! So,yes...this box is right up my alley! :)

To find out more details about this box and hear about my "box opening" for the
Birchbox Fall Fete box
, please click "read more" below!
This is no ordinary Birchbox! The minute it arrived, I knew it was the Fall Fete box because it was HUGE! :) With the excitement of a kid-at-Christmas, I immediately had to open it up and share the contents with you all!
Inside the Box:
This box certainly does have a "Fall Entertaining" theme. It is packed with useful and unique kitchen/home/bar items that will be super useful for this festive time of year! As with all Birchboxes, the box itself was packaged beautifully. The box is decorative and sturdy and will totally be re-used. The goodies inside were all nestled inside with white shredded paper.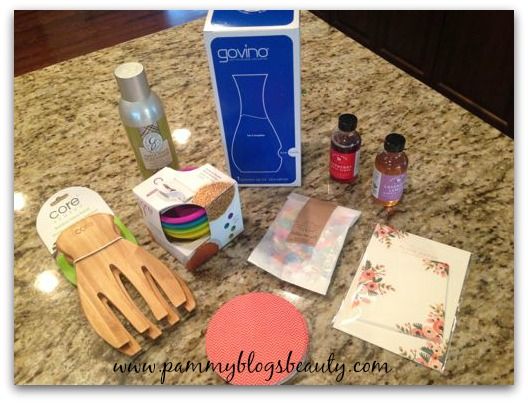 Here are the items:
Birchbox | Exclusive Printed Coasters: (retail for $10.00) I don't know about ya'll, but I am always in need of extra coasters! Especially when I am entertaining. I will fully admit that I am a bit obcessive about keeping water mark rings off of our new furniture. So, I like having plenty of coasters out for guests to set their drinks on! These coasters will be great as I can just stack these on the bar as extra coasters for when someone is getting a drink. Perfect! Plus, I like the designs and Fall colors. They are cute with zig-zags and polka dots.
Core Bamboo | Classic or Square Salad Hands: (retail for $18.00): These "salad hands" are made from crushed sustainable bamboo. They have a simple ergonomic design that fit right into your hands and work great for tossing and scooping up your salad and transferring it to your plate. I have honestly always wanted a pair of salad hands like these! Thrilled to add these to my kitchen collection. I almost always serve salads with meals. These will get used all the time!
Core | Kitchen Essential Silicone 4 Piece Pinch Bowl Set: (retail for $20.00): When I cook, I love to "pretend" I am on a cooking show, lol...just kidding. However, I do like to prep my ingredients like they do on cooking shows. Usually, I am scrambling to find extra little bowls and ramekins to put my ingredients in. This little pinch bowl set is a fabulous addition to my kitchen! Of all the products in this box, these are the items that I put to immediate use. I got a colorful assortment of 4 1/2 cup size pinch bowls. They double to measure ingredients and to transfer to your recipe you simply pinch them together to "pour"! Love them! These are literally already a daily staple for me. What a quick way to measure 1/2 cup amounts. I even used it to measure my oatmeal this morning. This is exactly the type of treat that makes getting a Birchbox special...I would have totally passed over these at a Kitchen store thinking "that is a luxury item that I don't need"...and it turns out to be a super useful item that I use almost daily!
govino® | 'go anywhere' decanter: (retails for $14.95): I am going to try to review this decanter without sounding like a wine snob, lol. My husband is in the wine business. So, I will fully admit to being a bit spoiled when it comes to wine. We honestly use nothing but crystal in our home for both wine glasses and decanters (even when we dine on the back patio or porch). So, while I would not personally use this in my home as I prefer crystal, I would use this plastic (Made from 100% BPA-free polymer, it is also shatterproof) poolside or on a picnic. For that use, the product is great! I do keep plastic plates and cups for picnics and pool. So, it will be stored with those items to be used outside! I only wish that this decanter was big enough to decant a whole bottle of wine.
Greenleaf | Room Spray — Apple Spice & Cinnamon: (retails for $9.00): Oh! I *love* room sprays!!! Actually, I love anything that scents a home: candles, room sprays, fragrance burners, etc! I switch out my home fragrance seasonally and find this Apple Spice & Cinnamon spray by Greenleaf to be absolutely perfect for this time of year. The scent is so very Fall! Just a couple squirts of this room spray scents the room with a lovely and lasting fragrance that smells just lovely! This spray is really getting me in the mood for Fall! :)
Knot & Bow | Party Confetti Bag: (retails for $10.00): Birchbox is right...nothing says "time to party" like confetti! This is a cute little package of confetti from Knot & Bow. My package is a colorful assortment of various sizes of cut tissue paper confetti. With two little ones, I am all about the birthday parties! I will be using this confetti at the next birthday party!
Rifle Paper Company | Dusty Rose Place Cards — Set of 8 cards: (retails for $7.00): I have honestly never used place cards before. However, I have always thought the idea was cute! These are pretty folded cards with a floral print. These are eco-friendly. This is certainly a good way to set your seating arrangement. I will be using these for Thanksgiving this year since we always host (and have a smaller size group).
Royal Rose | Simple Syrup — Raspberry and Lavender-Lemon: These are some of my other favorite items in this box! We are all about creating interesting mixed drinks at my house lately and these add some great variety to our bar collection! What unique cocktail additions!
If you are looking for a fun treat for yourself, or even a great gift idea, you should spring for the
Birchbox Fall Fete box
!
Affiliate Link