Press Sample
Affiliate Link
Don't you just love it when a fabulous first-hand experience increases your connection with a brand? That is exactly how I feel after my amazing tour of the brand new
L'Occitane
store in Atlanta's new multi-million dollar high-end shopping development "The Shops of Buckhead". The store just opened on Thursday October 2nd!
The 2,725 square foot Buckhead flagship boutique is L'OCCITANE's
largest in the US and one of its
first new 'Provence Home' concept stores. The 'Provence Home' concept conveys a warm,
inviting and generous atmosphere in which the customer can discover the richness of the brand
's story
in a new and intimate way. A space where they can experience the region of Provence, even from miles away, through a range of warm materials, contemporary yet authentic designs, displays and features, including a
"golden sun" chandelier made entirely of the brand's
signature, never-fading Immortelle flowers from Corsica.
I knew, even before entering, that this new L'Occitane Flagship store would be extra special. Well, let me tell ya'll...the store totally exceeded my high expectations. The store was not only beautiful, but also the staff was overwhelmingly helpful and knowledgeable about the brand. Not only did I hear about a wide variety of new products, but I learned more details about products from L'Occitane that I already use and love! So cool!
Loved Hearing the Story Behind the Bestsellers and Cult Favorites:
Sometimes it is that "history" surrounding a product that makes it special. Like hearing about the shampoo that L'Occitane has carried since L'Occitane started in the 70s. The brand started in 1976, and the first product was a rosemary shampoo. While formula has of course changed many times over the year, this product has essentially grown into the Aromachologie Repairing Shampoo. On the other hand, L'Occitane's best-selling Shea Butter hand cream was first introduced in 1994 and that formula hasn't changed in 20 years! So cool! :)
What else did I love learning more about? The precious Immortalle flower that is the basis of L'Occitane's Immortelle Divine Collection. I have reviewed some of the products from this collection before and delved into some details about this precious flower with you all. Well, how cool was it to see the actual cut flowers in the store...perfectly preserved. A flower that never dies, even when it is cut?!?! It really does sound like a fairy tale...but, it is true! L'Occitane harnesses the essence of this somewhat magical flower's ability for self-preservation into its Divine Collection products. I am already obsessed with the Divine Cream and Eye Cream. So, now I am just going to have to explore the Immortelle Divine Collection products further! :) Actually, keep reading for a mini-review of the new Divine Oil further down in this post.
The L'Occitane Store at the Shops of Buckhead: A Trip to Provence!
What a gorgeous store! L'Occitane strikes a nice balance between French Country style with sophisticated elegance. Even the fixtures in the store are wooden cabinets from France. So authentic!
Prominent Displays and Store Features Include:
A huge Shea Butter wall right when you walk in the store. L'Occitane is known for their amazing shea butter hand creams. If you have never explored the brand before. This is one of the best ways to start! They have a million scents and who doesn't love hand cream? I know I always need one. :)
Both Women's and Men's Skincare Areas: These are complete with a semi-private facial area (comfortable chair with nearby sink, etc). The store offers complimentary facials for customers. Next time I am in the store, I am going to have one! Also, the store offers opportunities for "Girls nights" and other private events. If you are looking for a great venue for your next GNO, L'Occitane is a great option for a fun spa-night!
A big free-standing sink counter (with 3 sinks) in the middle of the store. This invites you to experience the various soaps and body washes that L'Occitane has to offer.
Old fashioned apothecary style cabinets housing L'Occitane's new Aromachologie Collection (a review of one of these new products later in this post!). This is L'Occitane going "back to the basics" with retro-inspired packaging. They started as an Apothecary with just a few essential oils. These essential oils became the basis of the classic L'Occitane products. These ingredients still have a major presence in the brand today.
These are just a few of the special areas of the store. You are just going to have to visit the store to get the full experience!
Now that I have given you a feel for the gorgeous Buckhead new L'Occitane store, lets dive into some reviews for a few new items from
L'Occitane's Fall 2014 lineup
!
What is New?
Aromachologie Relaxing & Revitalizing Body Collection: Consisting of two aromatic ranges, this duo collection is the much needed solution to a long, tiresome work day. Use the Relaxing products for a moment of escape, and the Revitalizing ones to recharge your energy, invigorating the mind, body & soul. From Body Oil ($34), to Body Scrub ($36), to Bath Salts ($24), and Shower Gels ($20), L'Occitane has something for everyone!
Divine Youth Oil: This 'liquid gold' formula features seven unique plant oils to enhance skin's overall texture and radiance. To be used both day and night; this luxurious lightweight oil ($96) will give skin a much needed surge of moisture.
Bonne Mere Collection: In honor of the original Marseille Soap, L'Occitane celebrate our Provencal heritage by introducing the newest additions to the Bonne Mere family. This collection includes L'Occitane's emblematic Marseille cube Soap ($14), a Marseille Liquid Soap ($20), and stackable Shower Gels ($14) in five yummy scents- Peach, Honey, Lemon, Rosemary & Olive.
Immortelle Precious Cream: L'Occitane's best-selling Precious Cream, only better! With an even higher concentration of active molecules, this enhanced formula ($62) uses a unique oily extract from the heart of the Immortelle flower to deliver better, more youthful results in the fight to preserve firmness and diminish wrinkles.
From the Fall 2014 lineup, I tried out the Revitalizing Body Scrub and Relaxing Massage Oil from the Aromachologie Body Collection, the Divine Youth Oil (OMG! Amazing!!!), and the Bonne Mere Olive Oil Shower Gel. To find out more details about these products and how I like them, please click "read more" below! :)
L'Occitane Divine Youth Oil:
There is no question that Oils are the latest trend in skincare. Using face oils is a trend that I firmly embrace! After spending years avoiding oils thinking it would contribute to oiliness and breakouts, I am happy to say that I am a face oil convert. Oils are not to be feared! They work deep within your skin to hydrate and soften like nothing else. Plus, these beneficial oils can actually balance out your skin and your skin's oil production.
As a fan of L'Occitane's Divine Collection products, I am happy to say that I adore this Divine Youth Oil as much as the rest of the line. You just need the smallest drop to hydrate your skin. I just drop the oil onto my fingertips and then pat it onto my skin. I apply it after washing my face and applying serum. Sometimes I top with a moisturizer. However, often I do not need to since the oil itself is so moisturizing. I feel like this product gives my skin such an amazing glow! Plus, it really plumps up my skin and smooths out fine lines. Yes, this product is pricey. However, it only takes a couple drops for your whole face. So, this bottle will last a long time.
L'Occitane Bonne Mere Olive Oil Shower Gel:
What a fun bottle of shower gel! The packaging is so cool. It is a square plastic bottle that is stackable! There is a little indentation in the bottom that allows the cap of another square bottle to nestle inside. As someone who is short on storage space in the bathroom and the shower, I appreciate little space savers like this (now I am just going to have to get more of these shower gels to stack 'em, right? lol!). This Olive Oil Shower Gel has such an amazingly fresh and almost grassy scent. It is a scent that I love to wake up to for morning showers. Not only do I love this shower gel, but also my husband loves it, too! It is certainly a universally appealing scent! :)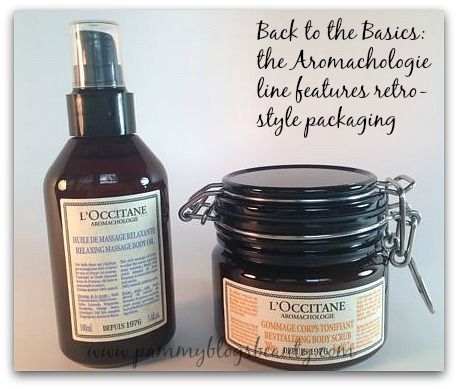 L'Occitane Aromachologie Revitalizing Body Scrub:
Wow, this body scrub smells Ah-Ma-Zing!!! It smells like a spa in a jar (minty fresh)...and that is my favorite way for products to smell. As a busy Mommy of two under 3, I aim to turn my bathroom into my own spa retreat. This Aromachologie line by L'Occitane does just that for me! I can happily retreat into my bathroom and fully relax with these amazing products. The Revitalizing Body scrub is a thick pasty scrub. Just dig your fingers into the cute old-school style jar and rub it on the areas of your body that need a little extra scrubby-scrub. I like to focus it on my feet, ankles, elbows, and knees. The scrub leaves behind a light oily residue that continues to hydrate you beyond your shower. Love this stuff! This is yet another L'Occitane product that my husband enjoys "stealing" from me, too! ;)
L'Occitane Aromachologie Relaxing Massage Body Oil:
I will absolutely take any excuse to get a back rub! Seriously! Almost nothing relaxes me more. I carry so much tension through my back. This almond oil massage oil smells soooooo good! The oil carries a 100% natural and soothing lavender scent. This is an ideal scent to use before sleep as it really does relax the senses. The oil is packaged in a glass jar with a pump top. The pump is ideal for dispensing the oil onto your hands.
Shop the Post:
L'Occitane's NEW Fall 2014 Lineup:
Has anything caught your eye from the
NEW L'Occitane Fall Collection
? I would say that the new Divine Youth Oil is a must-have! If nothing else, be sure to stop by the L'Occitane store next time you are in Atlanta! Let the fabulous staff pamper you while you explore the L'Occitane products in a beautiful environment! :)
Affiliate Link