Affiliate Link
Press Sample

Hello Lovelies! It is time for another installment of my "My Skin Loves" blog series! I reserve the "My Skin Loves" title for products and product lines that my skin just seems to totally love and adore. Sure, I like a lot of products that I try out. However, the "My Skin Loves" items just really tend to stand out from the crowd. There is no question that my skin loves
Ziaja
.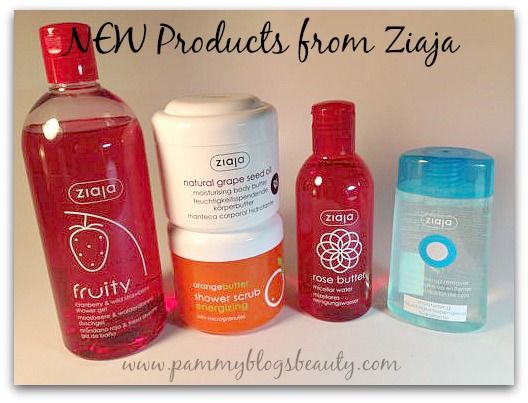 This is the second time that I have tested out a variety of products from this amazing Polish line. The first time was about a year ago. If you missed that post, be sure to
check it out here
. Many of those products are still in my skincare rotation! Well, when Ziaja contacted me again saying that they had expanded their line with a lot of new products, I was super excited to try everything out!
The
Ziaja Skincare line
is a Polish brand that is available online for shoppers from the USA. The line has both facial skincare and body skincare available. The products are natural, not tested on animals, and all under $10 each (with 2-day shipping!)! The products combine traditional components like herbal extracts and vitamins with innovative modern technology based on pharmaceutical expertise.
Ziaja
wants to bring you innovative products at a competitive price! The prices are really very reasonable! Beyond the amazing product quality, the packaging is incredibly cute while also being modern and classic. These products seem high-end, however, they have an incredible price!
So, Ziaja has a fabulous new lineup for 2014 including the following new lines: Rose Butter, Grape Seed Oil, Fruity, Orange Butter, Baby & Kids, Marigold, and more! To find out more about a few items from each of these lines, please click "read more" below.
From the new Rose Butter line from Ziaja, I tried out the *amazing* Rose Butter Micellar Water. First of all, I need to mention that I am completely and utterly obcessed with Micellar waters. I literally just discovered Micellar waters about 6 months ago. It is a whole new type of product for me! I love the idea of a "water" that can cleanse your face and remove makeup without leaving you oily. It is kinda a mircle-type product to me. My first introduction to Micellar water was Bioderma and I completely fell in love. My husband took a work-related wine trip to Italy and what did I have him bring me back??? You got it, Bioderma! lol ;) Needless to say, Bioderma is not easy to get in the USA. So, I have been searching high and low and trying alternatives to Bioderma (and not loving them quite as much). So, you can imagine how completely thrilled I am to try this Rose Butter Micellar Water by Ziaja! OMG...this is the next closest thing to Bioderma that I have tried, hands down! It is much better than some other Micellar waters that I have tried, and not loved, from Sephora. Plus, the price!!! I am even thinking that this product is my new favorite Micellar water!
How I Use:
Micellar water is so easy to use. I like using it primarily as an eye makeup remover. I use this as my first step in my evening skincare routine. I simply saturate a cotton round and place it over my eye with a little pressure. I let it sit a few seconds to dissolve the makeup and then I wipe it away. Easy peasy! I do one cotton pad for each eye. It is so gentle and so effective. Plus, no residue! Works like a charm and I totally love it!
Moisturizing Makeup Remover
:
I also tried another makeup remover from Ziaja: the Moisturizing Makeup Remover. I like it just as much as the Rose Butter Miscellar Water and it works just as well! This Moisturizing Makeup Remover removes all of my makeup with ease and leaves the skin feeling slightly hydrated after. I just dab a small amount on a cotton round and press over my eye area to remove my eye makeup. It is completely fragrance free and totally gentle! Retails for $7.99.
Ziaja Orange Butter Shower Scrub in Energizing:
If you love orange scents, then you would adore this scrub like I do! What a refreshing scrub for the shower!!! Honestly, this is one of the nicest body scrubs that I think that I have ever used. The micro-granules are so fine that it literally feels like microdermabrasion for the body! The scrub was derived from the orange peel and has a lovely natural orange scent.
Features:
Delicately cleanses and massages the skin.
Gently peels off dead epidermal cells.
Enhances blood circulation and oxygenates skin cells.
Restores natural smoothness and softness to the skin.
Product retails for $9.99.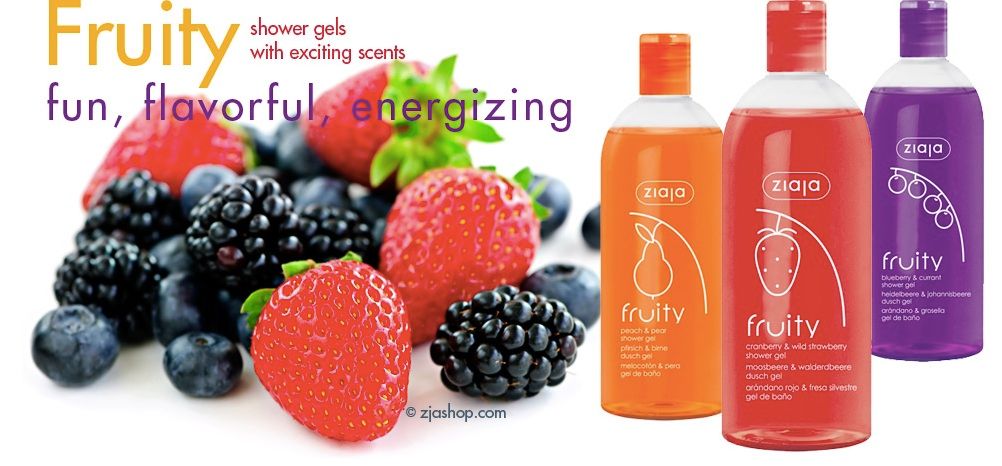 Ziaja Fruity Cranberry & Wild Strawberry Shower Gel
:
Shower Gels are a daily staple for me in the shower. This one's cute packaging and fresh & fruity scent makes it so enjoyable to use! The Fruity Shower gel works great to cleanse my skin while leaving it soft, soothed, and lightly moisturized. I simply apply it to a body pouf and use it all over. This shower gel contains the following key ingredients: provitamin B5 (d-panthenol), glycerine, blueberry and currant extract, and coco-glycosides.
Cranberry and wild strawberry extract - extract of natural origin, rich in anti-oxidants and polyphenols, which neutralise free radicals responsible for skin aging and strengthen skin natural protective barrier.
Fruity Shower gel retails for $8.99 for a huge bottle.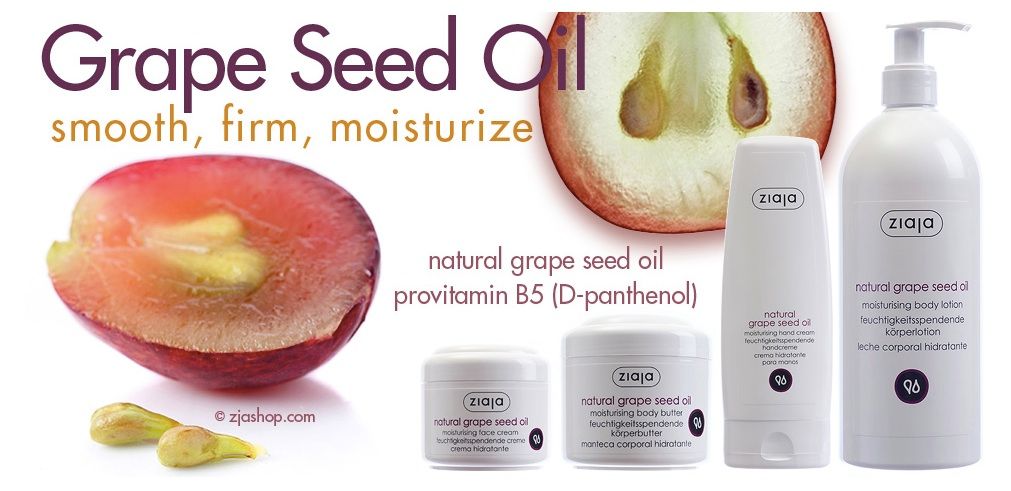 Ziaja Natural Grape Seed Oil Moisturizing Body Butter
:
This body butter has a nice and almost whipped texture. It leaves a buttery smooth finish on your skin. It is ultra moisturizing! The scent is somewhat strong: floral and mixed with notes of grape. I really enjoy the scent. I love slathering this body butter all over after a shower. It leaves me so soft!
Key Ingredients: Glycerin, Shea Butter and Grape Seed Oil. Features: Suitable for sensitive skin lacking elasticity Dermatollogy and allergy tested Not tested on animals High quality raw materials including ECO'_certified materials.
Retails for $9.99.
Ziaja Baby & Kids Line:
That is right! Ziaja has a Baby & Kids line! :) As a mother of 2 (a 2 year old and a 6 month old), I am thrilled that Ziaja has such nice options for baby skin and bath products. Both of my kids have sensitive skin and I like using products, such as these, that are gentle to their skin. Plus, I like using products with natural ingredients.
Body Milk for Baby & Kids:
Moisturizes and gently lubricates the skin. Protects the skin against water loss. Soothes irritations.
Key Ingredients: provitamin B5 (d-panthenol), calcium complex, vitamin E. I apply this to my toddler and baby right after bath. Retails for $7.99.
Baby & Kids Cream:
Moisturizes, gently lubricates and protects the skin against water loss. Strengthens protective properties of the epidermis.
This cream is nice and thick! I like that it is so gentle that I can use it on my 6 month old who has eczema. It is designed to soothe irritated skin. Retails for $7.99.
If you are looking for high-quality, effective products, adorable packaging, and a great price, be sure to check out Ziaja. I am really a fan of this line. I think that their new product lineup is fabulous. Plus, what a huge selection! I am looking forward to trying out more Ziaja products in the future.
Have you tried Ziaja? I would love to hear what items you like from this line.
As always, thanks so much for reading!
XOXO!!!