Affiliate Link
Press Sample/I Bought It
There are a few new products and old faves that I have been continually reaching for since the weather turned warm. I plan on continuing to use these throughout the Summer when I want my skin to look its made-up best! ;)
To find out more about each of these products, please click "read more" below!
Shiseido UV Protective Liquid Foundation
: This foundation is amazing!!! Not only is the shade "Light Beige" a great match for my skintone, but also the coverage is fabulous! This is a full-coverage foundation with a dewy and slightly luminous finish. Plus, the formula is resistant against water and oil. So, it wears VERY well through the hot summer months. Plus, you just have to add the extra boost of SPF 42. I love adding additional sun protection via my foundations during the Summer when I know I am going to be outdoors. The Skinny: Available in 8 shades and retails for $36.00. Honorable mention: Shiseido also has a
UV Protective Stick Foundation
available (4 shades and retails for $28.00) if you prefer the coverage and convenience of a stick formula!
IT Cosmetics IT-O2 Ultra Repair Liquid Oxygen Foundation
: This foundation is described as a "facial in a bottle, in foundation". It Cosmetics is known for putting fabulous skin-loving ingredients into its makeup. I love the idea of makeup that doubles as skincare. I mean, if you are going to wear foundation anyways, why know get some skin-boosting and anti-aging benefits from it, right?!?! This foundation is infused with anti-aging peptides and hydrolyzed collagen. Plus, it is formulated to deliver oxygen to your skin. The foundation contains light-reflecting pigments to blur imperfections. I wear this foundation in the shade fair. Honestly, when I first pumped it out, I thought that Fair would be too dark. However, the shade actually works very well once I apply it on my skin and blend it out. This foundation gives me medium-full coverage; yet, it also looks amazingly natural on the skin. I absolutely adore wearing it! It really perfects my skin. This foundation comes in 5 shades and retails for $38.00.
Urban Decay Naked Skin Foundation
: I know I have talked about this foundation a few times before, but I just must mention it again. It is just so natural on my skin! It truly does look "naked"...just like natural skin. The shade 0.5 is a absolute perfect match to my skin (very fair porcelain with subtle pink undertones). The formula is so light; yet, it also manages to give great coverage. I apply this foundation (and actually most foundations lately) with Urban Decay's amazing Good Karma Optical Blurring Brush. It distributes the product perfectly and naturally. I highly recommend this brush! It has replaced my long-used Sigma F80 as my favorite foundation brush. The finish of this foundation is slightly luminous and demi-matte. Plus, there are some skincare ingredients like green tea, Matrixyl 3000 (anti-aging peptide), and Sodium Hyaluronate. This foundation retails for $25.00 and comes in 18 shades.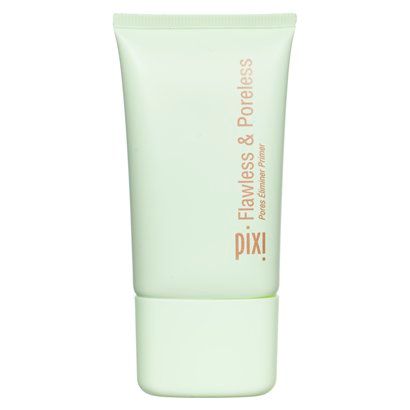 Pixi Flawless & Poreless Primer
: This primer has been my most-reached for lately. I love how it perfects and smooths out my skin. It does a fabulous job at minimizing my pores. Plus, it gives my skin a little boost of hydration. I love the non-greasy feel of this primer. Plus, Pixi has packed some amazing skincare ingredients into this primer. So, I feel good about putting it on my skin...knowing that I am getting a skincare boost as well. This primer contains: salicylic acid to help unblock pores and keep them clear, willow bark for shine control, shea butter to nourish and moisturize, titanium dioxide to protect, and enantia chlorantha which is medicinal and anti-viral. I mean, what other primer does all of that...and makes your skin look great? I am hooked! My makeup applies beautifully over this primer. Plus, it works great under both liquid and powder foundations. Retails for $22.00 and is available in the shade translucent (universal shade).
Lancome Effacernes Waterproof Long-Lasting Undereye Concealer
: I am always looking for a good concealer. As ya'll may know, my dark under eye circles are incredibly hard to cover. They are so dark! Summer presents another challenge here in Georgia. The heat and humidity tend to make your makeup "melt". Plus, I often end up at the pool or the splash pad or exposed to a sprinkler, etc. So, waterproof coverage is crucial! Enter Lancome's Effacernes Waterproof Concealer: This concealer gives great medium-full coverage while also looking totally natural under your eye! It does not settle into fine lines nor look at all cakey. It gives great coverage and is long wearing. I love how natural this concealer looks! I am really amazed at how it can manage the coverage it gives while also looking natural and wearing well all day. It is pretty much a miracle concealer in a tube and I am in love with it! It comes in 12 shades and retails for $30.50. I use shade #210 Light Buff.
So, these are the skin-perfecting foundation, primer, and concealer products that I am loving at the moment for Summer skin! What are you loving lately?
Find your perfect foundation on ShopStyle: