Affiliate Link
Press Sample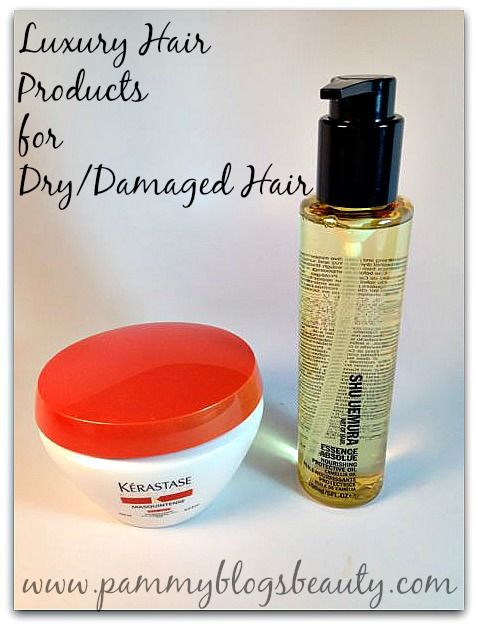 With my very-long, ultra dry, and somewhat damaged highlighted hair, I am always on the lookout for great hair products that promise moisture and shine. So, I was super excited to try out these two cult favorite hair care products:
Shu Uemura's Essence Absolue Nourishing Protective Oil
and Kerastase's Masquintense. Both of these products have quite the following!
I was first introduced to this product through a deluxe sample in one of my Birchboxes. I was love at first try for me. So, I was super excited to finally try out the full size product for a complete review.
What is it?
Shu Uemura's Essence Absolue
is a
Multi-use elixir that moisturizes and protects with intense nutrition. Rapidly absorbed into hair fiber, it rebalances the moisture level of dry hair. The soft-sleek velvety oil creates a supple touch with high shine and provides UV protection. Formulated for daily use. Safe on color-treated hair.
This gel-like oil has almost a slippery serum texture. The scent is absolutely to-die-for! It is soft and somewhat floral and feminine scent (I mean, I would seriously wear this scent as a perfume if I could!). It just makes your hair smell great!
How I Use:
Essence Absolue
can be used either as a pre-shampoo treatment or a leave-in. I like using it as a leave-in. I add about 1 pumps worth to my hair after towel drying and combing. I concentrate it on the ends and work it up through the lengths of my hair as well. After blow-drying/styling my hair, I add one more pump to the ends as a finishing serum/oil for a boost of shine.
I love how silky and shiny this leaves my hair! Not only is this product making my hair look immediately more nourished and healthy, but also continued use is improving the overall condition of my hair. It works wonders to add moisturize and shine as well as to protect your hair from heat styling. My hair seems more manageable when I use this. It is easier to comb out and it has less frizz and more shine. Plus, I do not find that it leaves me greasy nor weighed down. I think that the trick is finding out just the "right amount" of this product needed to tame your hair. Once you do, you will be hooked on this! I just adore this oil! Yes, it is super duper pricey at $69.00 for 5 fl oz. However, using 1-2 pumps per use, this bottle will last a very long time.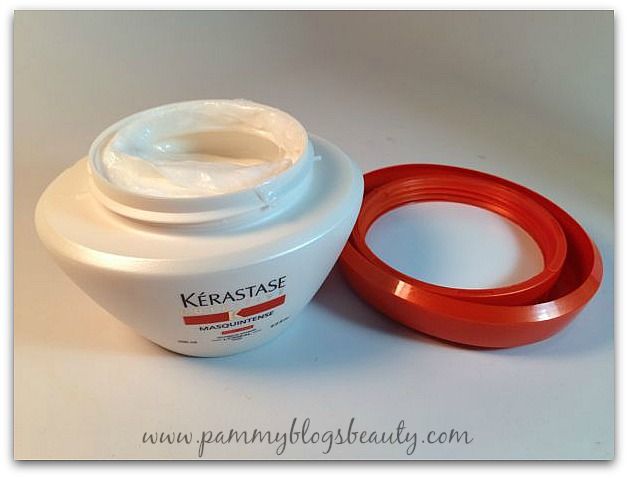 I am a hair mask junkie. With my dry/damaged/highlighted hair, I often opt for a hair mask rather than using a regular conditioner for just day-to-day conditioning. So, I have tried a ton of masks and must say that this one by Kerastase is now one of my top 5 favorites! Basically, if you just want to guarantee yourself a "good hair day"...use this! It is very luxurious and moisturizing.
The Scoop:
Complete and intense nutrition for dry hair
Deeply penetrates the fiber with nourishment from mid-lengths to ends
Weightless nutrition for hair suppleness
Long-lasting defense against the return of dryness
This mask was formulated for dry and sensitized thick hair. My hair is extremely thick and coarse. So, this mask is just perfect for me. Rarely is a product "too rich" or "too thick" for my hair. Quite the contrary actually, it is hard for me to find products "rich enough" for my hair. My hair just seems to drink in hair products and this super rich mask is just what my hair needs!!!
How I Use:
The directions suggest using a quarter size amount and applying to your hair. I actually use much more. I pretty much slather this product all over my hair and cover it completely. Then I comb it through and leave it on my hair for about 10 minutes while I finish my shower. Then I rinse out. Note: this rich product will leave your shower very slippery...so, be careful! ;)
Whenever I use
Kerastase Masquintense
, my hair is left super shiny and silky with decreased frizz and better overall managability. Using this once a week has made such an overall improvement in my hairs condition. This mask transforms my hair from being super dry, dull, and somewhat frizzy into being super shiny and soft. Really, the best word that I can think of to describe the overall result is "transformative". It gives me "new" hair! I am absolutely in love with this mask. At $62.50, this is one of the most expensive hair masks that I have ever used...but, also, there is no question that it is one of the very best available for my hair type.
So, are these high-end luxury products worth the price and they hype? In a word, yes! Granted, not everyone wants to spend this much on hair care. However, if you do, these products are well worth the price for the amazing results! These products do just what they claim to do. They both transform my hair from dry and damaged to smooth, shiny, and manageable. The results really are impressive!