Affiliate Link
Blogger Ambassador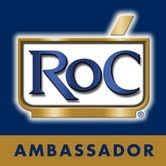 Hello lovelies! Do you feel like brushing up on your skincare knowledge today? I am always in the mood to learn more about skincare. There is so much information out there...sometimes it is hard to determine what is fact and what is fiction. What skincare "truths" are really factual and what has become urban legand? Well, when you get skincare advice from a reputable brand like RoC, you know that you are getting facts and not myths.
RoC has a new e-learning program available: the RoC® ACADEMY. The RoC® ACADEMY™ offers skincare courses: online lessons, quizzes, tutorials, tips, and videos all about anti-aging skincare! There are five lessons available: The Aging Process, How Retionoids Differ, the Story of Retinol, Anti Aging Myths, and Test Your Knowledge.
Designed to provide deeper understanding of basic anti-aging history, ingredients and science, this interactive experience for savvy beauty influencers and consumers also includes expert video content from top New York City dermatologist, Dr. Erin Gilbert. The lessons and videos included the program will break down common skincare myths as well as provide professional advice on anti-aging ingredients.
The RoC® ACADEMY™ is not just for beauty bloggers! You, too, can access the information! After completing the online course (it only takes a few minutes), you can get a coupon!
Here are some of the things that I learned when I took the course:
Do you use RoC products? They really are amongst the best of the drugstore and certainly a leader in drugstore Retinol formulations!
As always, thanks for reading! Let me know if you visit the
RoC® ACADEMY™ or if you ever have any questions for the RoC scientists! As a RoC Ambassador, I can submit your questions to their team! :)
XOXO!!!