I Bought It
Affiliate Link
Press Sample
It is time for another
Makeup War
! This time the Makeup Wars bloggers are sharing their favorite foundations!
My Skin:
Just for reference, lets talk about my skin! I always like to know a product reviewer's skintone and skin type. I am extremely fair and have sensitive skin. Many makeup lines (especially drugstore) do not have shades light enough for me. Often, in the lines that do go light enough, I am the very lightest shade. My tone is neutral-cool, sometimes a cool tone is the best match and sometimes neutral works better. It just depends. I admit, it is hard to match skintone! Often I think something matches, and then I take it home, and realize it doesn't. There is so much trial and error here. I find that the true test is looking at your foundation in natural light and checking it against your neck and jawline. My go-to blogger for foundation recommendations? The fabuous
Phyrra
! I find that I often wear the same shade as her or close to the same shade.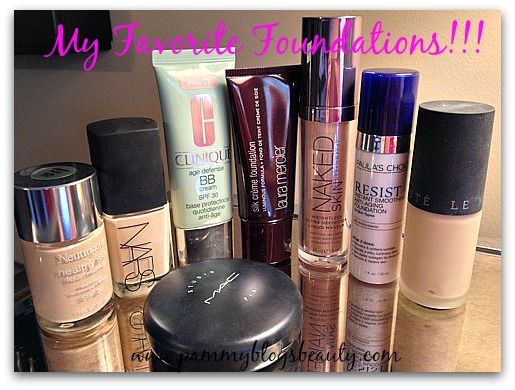 Foundation is an essential part of my Makeup Routine. I will fully admit that for everyday, I often opt for just a light dusting of my favorite powder foundation:
MAC's Studio Fix in NC 15
. However, when I have more time, or just really want to perfect my skin, I use a liquid foundation or a heavier-coverage BB Cream. My go-to BB Cream these days?
Clinique's Age Defense BB Cream in Shade #01
. My current favorite liquid foundation?
Urban Decay's Naked Skin in Shade # 0.5
. It looks so natural, the color match is fabulous, and it just makes my skin look great! In addition to these listed above, there are many other foundations that I love! Here are all of the ones that I am currently loving and always reaching for! What I pick to wear on a particular day just depends on the type of finish and coverage I am looking for. :)
So, here are my current favorite go-to and most-reached-for foundations (in no particular order):
Do you have super-duper fair skin like me? What foundations do you like? I would love more recommendations! What foundations are "missing" from my collection?
Be sure to click on the thumbnail links below to see what foundations my fellow Makeup Wars bloggers are using and loving! :)
Shop the Post:
Here are my Faves: