Affiliate Link
Press Sample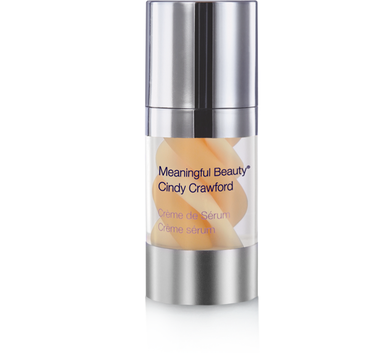 Nothing beats a good serum. To me, serums are one of the most crucial steps in my skincare routine. Depending on what state my combo skin is in on the combo-dry-oily spectrum, sometimes my serums even double as my moisturizer! So, my essential skincare routine is to cleanse and then apply a serum. After that, I apply a moisturizer or SPF if needed. It is so basic!
I have heard and read great things about Cindy Crawford's Meaningful Beauty line. So, I was very excited with Influenster selected me to try out the Creme de Serum!
Here is the Scoop on Meaningful Beauty's Creme de Serum:
(according to Influenster):
The Meaningful Beauty Crème de Serum takes a triple approach to combating the signs of aging with three powerful anti-aging ingredients: superantioxidant melon complex, anti-aging peptides and hyaluronic acid. Combining the power of a serum with the rich, moisturizing effects of a crème, this crème de la crème treatment is designed to help protect, increase hydration and prevent the appearance of fine lines and wrinkles.
Available as part of the Meaningful Beauty New Advanced Anti-Aging System.
Combines the best properties of a serum (concentration and potency) with the best properties of a cream (rich, moisturizing texture).
Formulated to help to visibly reduce the appearance of fine lines and wrinkles and leave skin soft and more supple.
Designed to help promote a smoother, more even toned, radiant complexion.
To find out how I liked this product and how it worked for me, please click "read more" below!
Meaningful Beauty Creme de Serum:
I love a good hydrating serum! This Creme de Serum from Meaninful Beauty is right up my alley. It is a hydrating serum that can double as both your moisturizer (if you skin is leaning towards oily) and your primer. I love the silky yet creamy feel of this serum. It almost feels like a creamy primer. It truly is a 2-in-1 serum/moisturizer! It gives your skin that silky/creamy feel that a silicone-based primer gives your skin.
Also, I like the packaging. It is a simple clear tube with a pump. Now ya'll know how much I love a pump as they keep the product so fresh and sanitary! The product inside is swirled and you can see it through the clear tube. I got a deluxe sample size. However, I assume that the full size is packaged in a similar fashion.
How I Use:
I simply apply about a pea sized drop of this serum to my face after cleansing. I find that this is about a 1/2 pumps worth of product. In the mornings, I follow with my facial sunscreen. In the evenings, I follow with a moisturizer if needed. Although, most times, I feel sufficiently hydrated with this serum alone and end up skipping an additional moisturizer. The product has a light scent that I find to be very pleasant.
How My Skin Looks and Feels with This Serum:
This serum works well to hydrate and smooth your skin leaving you feeling soft and looking more plumped. While I am not fighting any major lines nor wrinkles yet, I do find that this serum helps to diminish the appearance of my fine lines around my eyes and mouth area. I am very pleased with my results after just a few weeks of use. Primarily, this serum works to hydrate your skin well and provide your skin with anti-aging preventative nutrition like antioxidants and peptides.
Key Ingredients:
This serum is packed with anti-aging peptides, antioxidants like melon, and the powerhouse moisturizer hyaluronic acid. I find these ingredients and this serum to be very soothing and moisturizing to the skin. No harsh anti-aging ingredients here! Also, I love that this serum is safe to use in pregnancy as many anti-aging products contain ingredients that I can not use in pregnancy.
Want to
learn more about Meaningful Beauty's Creme de Serum
? Be sure to click the link to learn more! You can
purchase the Creme de Serum here
! Note: I received Meaningful Beauty Crème de Serum complimentary from Influenster for testing purposes.
Have you tried anything from Meaningful Beauty? I would love some product rec's as I would like to explore this line further in the future! :)
Thanks so much for reading!
XOXO!!!