Affiliate Link
Press Sample
One of my favorite beauty sites, SFRbeauty, has a new name and a new website design: Introducing
Glam Alley
!!! The new and improved site design better reflects the awesome assortment of products and allows for better site navigation, too! Overall, a fabulous website makeover! :) Also, I must mention that this company is just so nice!!! Plus, their items always come packaged extremely well. Overall, it is a great experience working with them! :)
Introducing the NEW Website Look and Name of SFRbeauty: Glam Alley: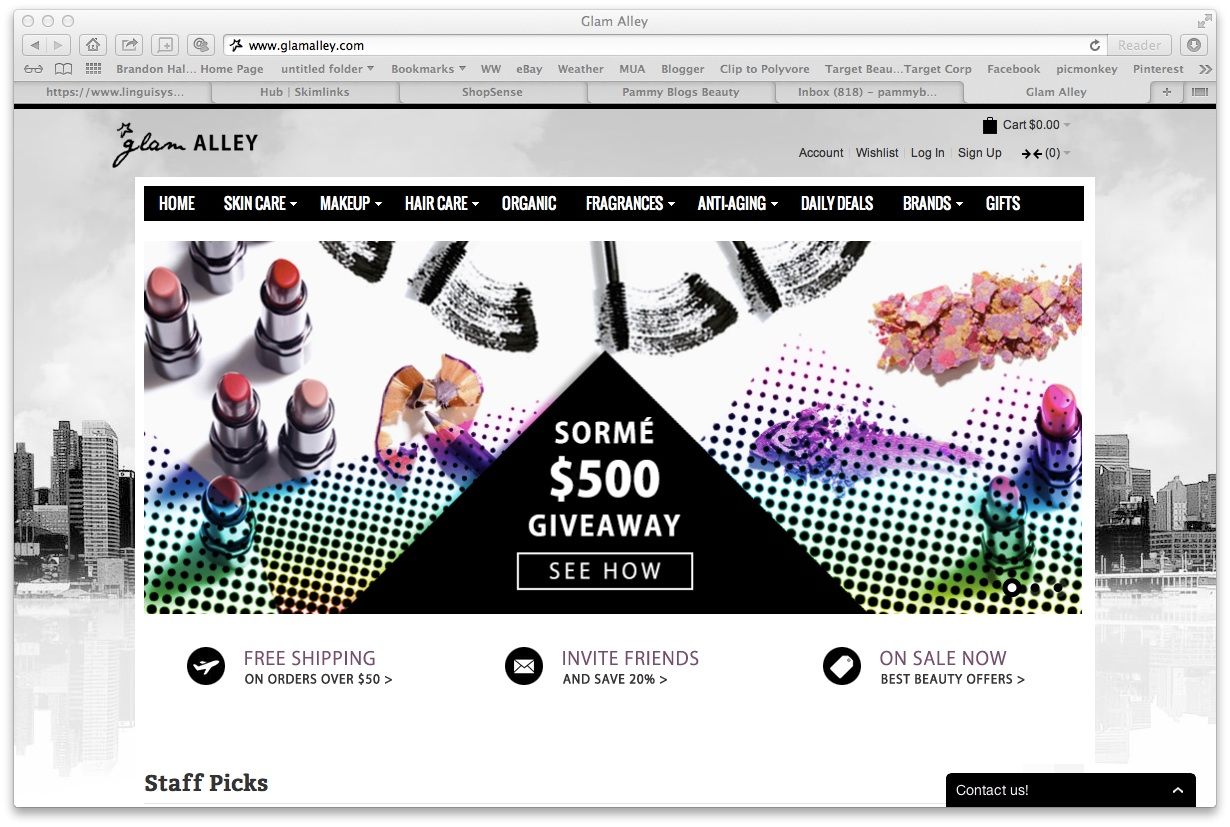 To kick off the launch of
Glam Alley
, I picked out a few products that I was interested in trying out.
Glam Alley
carries skincare, makeup, and hair care, tools, and even some fragrances. The California based site's focus is on natural and organic products and professional quality treatments and tools.
To find out what I got in my most recent
Glam Alley
haul and to read my first impressions/mini reviews, please click "read more" below! :)
My Glam Alley "Haul": Hair and Skin
!
As I browsed the new site, I selected a few products that I wanted to try out:
Apothederm's Stretch Mark Cream
, the
Cricket Ultra Smooth Detangling Brush
, and the
Centrix Q Zone Quiet Dryer
.
Centrix Q Zone Quiet Dryer
:
This dryer arrived at just the right time as my current hair dryer is literally on its last legs. So, I am super excited to try out this
Q Zone Dryer from Centrix
. My hair, over the years, has transformed from stick straight to being straight with randon kinky/curly pieces on top. I heavily rely on my hair dryers to smooth out my hair. Plus, I am always in a hurry when I am drying my super long hair. I need a dryer to be efficient and easy to use.
This
Q Zone Dryer
is really everything that I am looking for in a hair dryer: it is quiet, has a nice and powerful air flow, it is a ceramic tourmaline dryer, is ionic, and it is very lightweight to hold.
The Q Zone is Soooo Quiet!
Literally, the first thing that "blew me away" was how "insanely quiet" this dryer really is! I mean, seriously! This is the quietest dryer that I have ever used. So, major bonus points for how quiet it is!!! I really don't think I will ever go back to using a "louder" dryer now that I know that a hair dryer can be quiet; yet, can also still be powerful at the same time.
I love the quietness because I tend to get up and shower and get ready before anyone else is up. This dryer allows me to blow-dry without worrying about waking anyone up from the noise. Also, my toddler's hair has just gotten long enough that I need to start blowdrying it before bedtime after washing. I feel much more comfortable using this quiet drier around her sweet toddler ears. Plus, my loud dryer kinda scares her.
The power level is 1500 watts with a 2 speed motor. The dryer comes with a little "power booster" ring which amps up the power 50 mph. The Ionic and Tourmaline features promise to reduce drying time and keep your hair looking healthy with shine and moisture. The dryer also has a cold shot button and it comes with a removable concentrator attachment to direct the air flow for styling. I find that even on the hottest setting, this dryer does not get "too hot". It has a warm heat that dries very well. My old dryer always made me feel like I might scorch my hair. I think that consistent use of this Q Zone dryer over time might leave my hair in much better condition!!! I will update this post in a couple months and let ya'll know! :)
Overally, this
Centrix Q Zone Quiet Dryer
is a fabulous dryer! It does everything that I expect a dryer to do plus it is super quiet, is nice and light weight, doesn't get too hot, and it seems to dry my hair quickly. I am really thrilled with this dryer. Plus, I think that the price of $110.99 is excellent for a high quality professional hair dryer like this one! I have completely replaced my old dryer with this Q Zone and I am so happy with it!!!
Cricket Ultra Smooth Detangling Brush
:
Have I mentioned lately how unmanagable my hair is? My hair is super long and thick. While it is primarily straight, it has some kinky/curly sections in it ever since my first pregnancy. As someone who always had stick-straight hair, I am finding the curling pieces to be very hard to deal with. Plus, my hair is also highlighted. The combination of the drying effects of the highlights with the random kinky pieces makes my hair incredibly hard to comb out and also makes it very tangle prone.
Enter the
Cricket Ultra Smooth Detangling brush
! Detangling brushes are a God-send for people like me with hair that is prone to tangling. I can use this brush on my hair wet or dry to work out the tangles quickly and pain-free. Unlike other detangling rubber brushes that I have used, this one has a nice long handle. I love that!
The
Cricket brush
has a wide and flat head with flexible rubbery bristles. Also, apparently the brush is infused with Argan oil, Olive oil. and Keratin to moisturize and nourish your hair. This brush is very effective at tangles and is gentle on your hair. This brush feels very gentle on your head and hair. The rubbery bristles almost give a "massaging" feel to your scalp as you brush. I really like the feel of it and enjoy using this brush! I highly recommend a detangling brush, like this one, for anyone with long and tangly hair like mine.
The
Cricket Ultra Smooth Detangling Brush
retails for $15.54 on
GlamAlley
.
Apothederm Stretch Mark Cream
:
As many of you know, I am in my 3rd trimester of pregnancy. So, I am all about stretch mark prevention! I will fully admit that I was lucky and did not develop stretch marks with my first pregnancy. However, I was very proactive about applying various creams and oils to my skin for prevention. I know that stretch marks are primarily genetically determined. However, if a cream can help prevent or improve the look of stretch marks, I am all about trying it out!
This
Stretch Mark Cream from Apothederm
is specifically designed to work on existing stretch marks while also preventing future stretch marks. Since I do not have any existing stretch marks, I can not verify its effectiveness on them. I am really using this product more "preventatively". I have some slight redness in my belly. However, it is too soon to know if that redness is just dry/irritated skin or if those will become stretch marks some day. I am hoping that the skin is just dry. However, I am starting to apply this Apothederm Stretch Mark cream to the area religiously!
This cream is thick and rich and incredibly soothing on my belly. Also, I like that there is no noticeable scent. This cream contains natural emollients like shea butter, cocoa butter, olive oil, and meadowfoam seed oil. Now, you do need to let this product dry for a couple minutes before dressing (otherwise you will feel like your clothes are sticking to you). However, I do love how this cream makes my skin feel after it sinks in.
The price is a bit high at $89.95. However, the cream is very concentrated. So, I think that this 5.7 oz size bottle will last me a long time which makes the price more reasonable. Plus, you are getting high quality ingredients with Apothederm!