Affiliate Link
Press Samples/I Bought It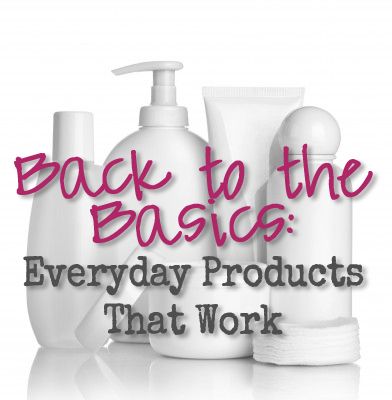 It is time for another "
Back to the Basics
" post! This time the focus is on "
Hair Helpers
".
Hair Helpers
are my everyday basic hair products that streamline my routine, give my hair a boost, and basically make my hair routine easier. Hair products are the quintessential "basic"! A girl has got to have a good hair day, right?!?!
With my long (and often unruly) hair, I am pretty obsessed with trying out hair products. Good hair products not only make my hair softer, shinier, or smoother, but also streamline my routine! I love any product that produces good hair results while making my hair easier to style. This "
Hair Helpers
" post is the roundup of the best of the newest additions to my hair care routine! I try a lot of new hair products every month. This post contains only the best products that I have added over the past 2+ months. :)
My Hair Type:
It always helps me to know a blogger's hair type when reading hair reviews. So, here is mine: My hair is long, relatively straight, highlighted, and dry/damaged. Here is what I mean by relatively straight: I was born with straight hair and have had straight hair almost my whole life. However, with my first pregnancy, the hormonal change brought out these crazy kinky patches in my hair. So, my hair is primarily straight with some random kinky/curly spots. Has this happened to anyone else? It makes my hair much harder to manage and really mixes up the texture.
With my dry/damaged hair and very thick and somewhat coarse hair type, I can really use a lot of products in my hair. My hair literally just seems to "soak in" product. Rarely is a product ever "too thick" or "too rich" for me. So, if your hair sounds similar, then these products might work for you, too! :)
To find out more about what made the list and hear product details, please click "read more" below!
"Back to the Basics" Hair Helpers: My Lastest and Greatest New Additions to my Hair Care Routine!
Moroccanoil Root Boost Volume: This stuff is awesome!!! I use a volumizer absolutely every single time I dry my hair. I honestly don't know how to style my hair (especially my bangs) without a volumizing product. This Volumizer by Moroccanoil is a spray foam that you direct at the roots. It is very precise and gives me amazing volume and hold right where I need it: at the roots. Plus, it smells amazing and gives a natural look. It is a bit pricey. However, this huge can will last you forever. So, it is well worth the investment! This is the first product that I have tried from Moroccanoil. I would love to explore this line further. Any recommendations for products from this line? ($29.00)
Batiste Dry Shampoo in Cherry: This dry shampoo from Great Britan has quite the cult following. So, I am excited that I have finally tried it! For me, it lives up to the hype. It is affordable and it refreshes my hair while giving me nice volume. I like going as long as I can between hair washings. Dry shampoos allow me to get up to 3 days in-between washings. My hair looks, feels, and smells cleaner when I use this. Plus, I love the cherry scent! ($7.99)
Klorane Mango Oil: If you love fresh and fruity scents for hair, then you must try this! This leave-in conditioning oil spray and UV filter is amazingly non-oily! It gives my hair a boost of hydration and a protection. I spray about 8 pump's worth into my towel dried hair (concentrating at the ends) before blow drying. It moisturizes, protects, and de-tangles beautifully. ($14.00)
Klorane Mango Butter Hair Masque: This richly conditioning hair mask was specifically designed for damaged and severely dry hair (me!!!). It smooths and nourishes my dry hair beautifully. I use a deep conditioner about 1x a week or more frequently when my hair is feeling ultra dry. I rotate between this one, the K-Pak (below), and others that I randomly test out. I apply it in the shower after washing my hair. I leave it penetrating for the length of my shower and then rinse out. My hair is always so smooth, soft, and easy-to-manage after using this! ($24.00)
Redken Extreme Anti-Snap: Redken's Extreme Anti-Snap, I must admit, is not totally "new" to me. It is a re-discovered old favorite. I actually used this religiously years ago and then fell out of the habit of using it as I was testing out so many new hair products. Well, I am happy to say that this has re-entered my hair routine and it is just as fabulous as ever! I smooth one pump's worth onto my hair after spraying my leave-in conditioner (see Klorane Mango Oil above). This smoothing leave-in conditioning cream acts to protect hair from styling damage while also repairing damaged areas and fortifying with protein and ceramide. ($14.00)
Joico K-Pak Intense Hydrator: This treatment for dry/damaged hair works wonders! This is another "re-discovery" for me. I used this a million years ago and then just got out of the habit of using it. It is very effective at combating the damage from color and/or highlights. I am so glad that it has made its way back to my current hair routine! :) I adore the smell of this deep conditioner! Such a soothing scent!!! This treatment moisturizes, improves shine, improves manageability, restores moisture, and seals the cuticle. ($20.00)
LUSH R&B Hair Moisturizer: Oooooh! Ya'll have to smell this!!! It is *heavily* fragranced with an intoxicating mix of orange blossom and jasmine. It smells amazing and the scent lasts all day in your hair! It is an incredibly rich cream of avacado butter, oatmeal, olive oil, extra virgin olive oil, jojoba oil, and candelilla wax. What can I say, the mixture is magical. I smooth a very small pea sized amount on my ends when my hair is dry and finished. I work up from the tips but stay concentrated on the ends area. It gives instant smoothness and shine (much like a pomade would do). With just using a small amount, this little jar should last me a long time. I just love how it finishes off my hair. My ends never look dry when I use this! It really transforms them into being smooth and shiny hair tips. ($22.95)
Maijan Argan Oil Shimmer Shine Spray: This is my newest hair product in this assortment and also a great final step in my hair routine! I am in the process of trying out the whole amazing line of Maijan Argan Oil products (So, stay tuned for more Maijan mentions in the future!). I like applying a light misting of this oil to my hair after I have finished all of my other steps. Sometimes I spray a couple squirts into my hair ends and sometimes I mist into the air and "walk" through it. It boosts shine and moisture and provides some UV protection. This Argan oil spray is infused with Grapeseed and other essential oils. ($49.95, but check for sales, I found it on one site for 50% off!).
Shop the Post:
So, that is it! Those are the "best of the best" of my current hair routine! You know me, I am always testing out products. This post it to highlight the ones that are working for me and staying in my rotation. Sure I will rotate other products here and there. However, I will happily continue to use these! :)
What are you loving for your hair lately? Any great new additions to your routine?
As always, thanks so much for reading!
XOXO!!!