Affiliate Link
Press Sample
Shiseido
has a fabulous lineup of new skincare and makeup products for Fall of 2013! So far, I have shared with you their fabulous new Ibuki Eye Cream. More skincare reviews will come soon! In the meantime, lets talk about Shiseido's makeup lineup for Fall 2013 and their Breast Cancer Awareness Month special liquid lip color release! :)
Support Breast Cancer Awareness Month with a gorgeous new Pink Liquid Lip Lacquer:
In support of October's Breast Cancer Awareness Month, Shiseido is again partnering with Cosmetic Executive Women (CEW) to support their philanthropic arm, Cancer and Careers, for the seventh consecutive year.

By donating $5 for every Lacquer Rouge in Diva (VI418) sold throughout the month of October, Shiseido will give back to the non-profit organization dedicated to supporting working women living with cancer. Available now, the new bright pink shade of rich liquid lip color with lacquer-like shine can be purchased at Shiseido's Website for $25.
Wow! This Lacquer Rouge in Diva is a super vivid bold and bright pink! If you love bright pink lips, then you will love this gorgeous liquid lipstick!!!
The Fall 2013 Collection: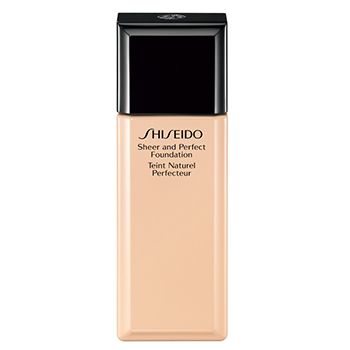 Developed to combat "color noise," the 18-shade collection uses advanced light technology to reduce redness, acne, under eye circles, dullness, and visible pores.
This is my first time trying Shiseido foundation! I have always heard great things about their foundations and honestly I can't believe that I have never tried one until now! :) I tried the shade #100 Very Light Ivory. I love that Shiseido's range has ultra light shades for us pale girls! The formula is oil free and feels very light on the skin. This foundation looks incredibly natural on the skin! It honestly looks like you are not even wearing makeup...that you just have good skin!
The formula contains Shiseido's special "Reflect & Fit Powder" which acts to cancel out uneven color with optical powders in Green (cancels out redness and blemishes), Blue (cancels dark spots and dark circles), and White (cancels out pores). Interesting!!! I am certainly a believer in the power of color correction. I really love the feel of this foundation. The coverage is sheer yet it really does detract from skin imperfections. Coverage is build-able and I do need additional concealer for my ultra dark under eye circles. However, I am able to skip concealer around my nose and chin area when I wear this foundation (where I usually wear additional concealer to cover redness).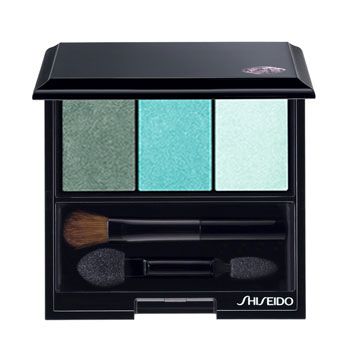 3 NEW shade palettes inspired by Artistic Director Dick Page's travels, such as Lido, a trio of pale teal, cool aqua and dark green like a Venetian beach after sunset.
I just love Shiseido's Eye Shadows!!! So, of course I was excited to try out one of their new Fall 2013 palettes! As ya'll know, I am a neutrals girl. However, I do love experimenting with color occasionally. I find that having a mini palette of color is the best way for me to experiment as I have all of the shades in one place.
The shadows have a smooth and silky texture with intense pigment. The finish is a soft shimmer. The Lido compact contains a dark mossy green, an aqua blue, and a very light pale blue. I can certainly see how this beautiful palette was inspired by the ocean! I especially love the ultra light pale blue in this palette. It is a beautiful lid color!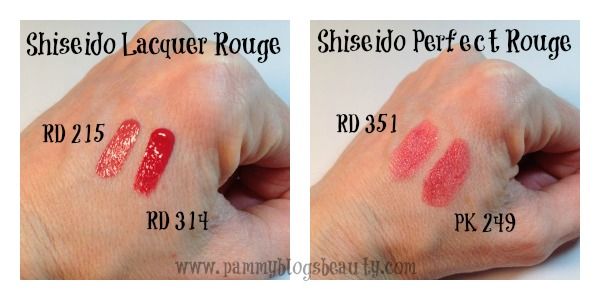 Shiseido Lacquer Rouge
: ($25):
6 NEW shades join the unique liquid lip colors first launched in Fall 2012, inspired by 9,000 year-old lacquer artistry with deep pigments and a wet-look finish; Shiseido is supporting Breast Cancer Awareness month in October with $5 donations for every Diva (VI418) purchase
.
Shiseido's Lacquer Rouge
lippies are intensely pigmented liquid lipsticks. They lay down full color with one coat! Even though the color is very thin and liquid, it does not bleed. I find these to be incredibly unique!!! They are also nicely hydrating while providing great color. :) I tried the shade RD 314 (a rust color) and RD 215 (a soft neutral brownish pink).
Shiseido Perfect Rouge
: ($25):
5 NEW shades such as Tulip (RS452), a dynamic bright pink, add to this line of luxurious creamy lipsticks, formulated with Hyaluronic Acid for moisture.
I adore
Shiseido's Perfect Rouge lipsticks
!!! They really are the "perfect rouge"!!! The colors are intensely pigmented, apply like a dream, and are so hydrating! I love how creamy these lipsticks are. They are super hydrating! I tend to reach for my Shiseido Perfect Rouge Lipsticks over other lipsticks in my collection. They just feel so comfortable on the lips while they give such great color! While I do wish that the Shiseido Lippies came with names rather than numbers, that is only a minor critique! I seriously love everything about these lipsticks! PK 249 is absolutely the most gorgeous coral-ish orange! Over the years, I have found that orange toned lippies are very flattering to my skintone and really bring out my blue eyes (yes, great lip color can make your eyes stand out!). RD 351 is one of those gorgeous natural pinks that you can wear every day.
If you are new to exploring the Shiseido line,
Shiseido's Perfect Rouge Lipsticks
are a stand-out product for the Shiseido brand.
The Skinny on Shiseido's Perfect Rouge Lipsticks (from Shiseido):
Specially sculpted shape and angle designed to create a beautiful finish with just one stroke.
Color technology: Red Illuminating Pearl, adds strength and vividness that creates truly brilliant color definition, and the instant you apply it, vibrant color blooms on the lips.
Skincare Technology: The moisturizing effect lasts all day long with the help of Hyaluronic acid to hold moisture in, and Super Hydro-Wrap Vitalizing DE to lock it in. Lips look naturally smooth.
Next time you are in a department store, be sure to check out
Shiseido's new Fall Makeup Collection
! As you can probably tell, I am a huge fan! :) Shiseido fans, what are your favorite products from the brand? I am always looking to explore this line further!
As always, thanks for reading!