I Bought It
Affiliate Link
Press Sample
Top 10 Tuesdays is the blog series for List lovers! Top Ten Tuesdays are a bi-weekly collaborative link-up series where top Beauty Bloggers share their Top 10 Lists for a given topic. This week: Top 10 Beauty Items in my Purse!!!
My Handbag:
I can't dive into listing my beauty items in my handbag before raving a bit about my bag! My go-to purse for the past 3 months has been my
Coach Madison Phoebe Leather Shoulder Bag
. This gorgeous bag was a surprise birthday present from my husband. He basically told the salesperson at Coach that I was a mother of a toddler and that I needed a large bag. The
Madison Phoebe in Cranberry
was what they decided upon. I love the gorgeous magenta color and the spacious compartments. This bag is supple and soft. The cranberry color is so versitile. Honestly, this bag is a gorgeous pop of color and I am amazed at how it goes with practically every outfit!!! This is the perfect "Mommy Bag"! I can even fit a few diapers and a travel wipes container inside. The inside features 3 main compartments: a small middle zipper compartment which is perfect for the wallet, keys, etc, and two large and tall side snap top compartments. I have loosely organized one side as the "kid" side and one side as the "me" side. My side has my makeup, brush, phone, etc. The "kid" side holds the diapers, wipes, and a couple toys or snacks. The
Madison Phoebe
served me well throughout Summer and this color transitions perfectly into Fall!
Top 10 Items in my Purse: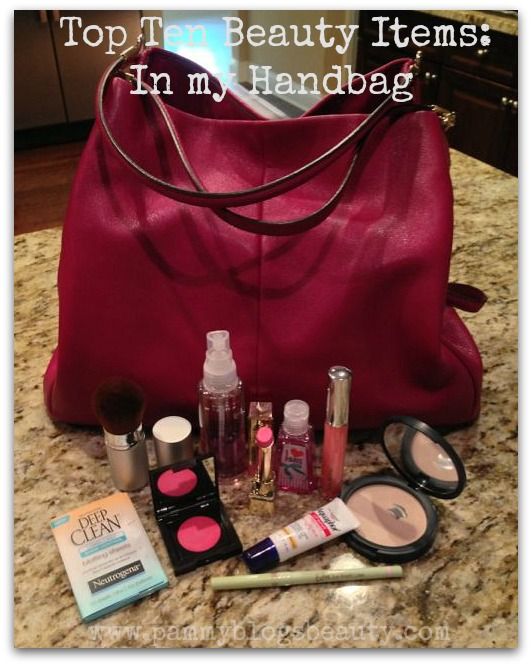 ecotools Retractable Kabuki: A retractable kabuki is a purse must-have! This one by ecotools is super soft, great for powder, blush, or bronzer touch-ups, and retails for only about $7.00! :)
Essence of Beauty Secret Woods Fine Fragrance Body Mist: I am body mist obsessed. I have a bit of a phobia of getting sweaty or stinky in public. So, I refresh with body mists throughout the day and always carry a travel size one with me. My current favorite is the super-affordable Essence of Beauty Secret Woods (which is a total dupe for Bath and Body Work's Twilight Woods, which I also love). The scent is so perfect for Fall and is such a warm and lingering scent!
Neutrogena Shine Control Powder in Invisible: This powder is fabulous! It does just what it says: controls shine. My skin has been super oily with pregnancy and this is certainly my go-to powder. Great for setting my makeup in the morning and for touch-ups throughout the day. I literally never leave the house without a powder in my bag!
L'Oreal Colour Riche Caress Lipstick in Cotton Pink: I usually carry around at least 5 or 6 lipsticks (lol, I know...excessive!). This one is my current favorite of my purse lipstick assortment (and really the only one I need to carry). Cotton Pink is the perfect princess-y pop of medium pink. I love how light and moisturizing this lipstick feels. It gives great color to your lips and instantly perks me up!
Laura Mercier Creme Cheek Colour in Rosebud: OMG! I adore this blush! It is the perfect medium-barbie pink blush. I actually can't believe that I haven't given this one a full review just yet! It truly is one of my all-time favorites. I love a cream blush for on the go as application is so easy. Just swipe on with your fingers!
Aquaphor Lip Repair + Protect SPF 30 Lip Protectant: This lip balm is so hydrating!!! It is my current favorite and I keep little tubes of this everywhere...bedside table, kitchen, desk, and yes...my purse! It instantly hydrates and smooths my dry lips. Plus, it has SPF! Love, love, love it!
Trish McEvoy Lip Gloss in Irresistible Petal: Like with lipsticks, I usually keep a handful of glosses in my purse. This gloss by Trish McEvoy is my favorite amongst my purse assortment! It is a sheer and shimmery hydrating pink high-shine gloss. It is comfortable and smooth on the lips. Love everything about it!
Pixi Extra Eye Bright Liner: I always look tired. I use great makeup to combat my dark circle problems (allergies, lack of sleep, heredity). This brightening eye liner from Pixi is fabulous! I just sweep it in my inner eye corners and on waterline to instantly look more awake! I apply throughout the day when I freshen up!
Shop the Post: Here are all of my purse beauty favorites!!!
Want to read more Top 10 Purse Beauty Items lists??? Be sure to click on the links below! :)