Affiliate Link/Referral Link
Press Sample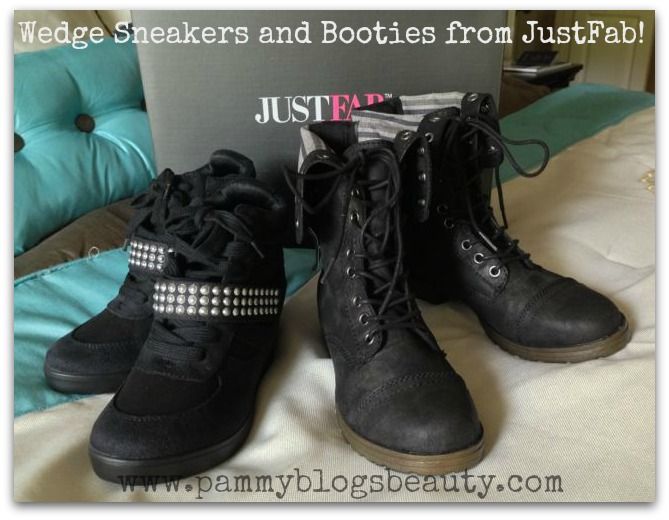 It is time for my monthly
JustFab haul
! September marks the beginning of Fall. What better time to dive into the vast Bootie selection at
JustFab
!!! While Fall weather hasn't totally arrived here in Georgia, I am ready to roll as soon as the cooler weather arrives with these adorable boots and shoes! :)
What is
JustFab
?
JustFab
is an online fashion site and styling service. They offer trendy and affordable shoes, handbags, jewelry, jeans, and accessories to subscribers (called VIP members). When you
sign up to become a VIP member
, you take a style quiz. Then
JustFab
pairs you with a stylist who creates a personalized online boutique for you to shop from. Everything on the site is $39.95!!! You will be charged a monthly fee (unless you elect to "skip a month" then you won't be charged) which gives you credit for one item. So, that is one monthly fee for one item (not an item plus an additional fee). Of course, you could always purchase more than one item a month. They seem to have a lot of 2 for/ $39.95 deals, too. So, you can almost always find a good sale!
The Gemini Bootie:
OMG! I swear I had a pair of booties almost just like this in 1992. Okay, yes, I am showing my age here. :) Seriously, the late 80s-early 90s look is back is a big way. I love these with jeans, skirts, or shorts with tights. These are super comfortable and easy-to-wear. I am thrilled with these! I find that I have to really loosen the laces quite a bit to get them on.
The Styler:
Sneaker Wedges are my latest craze! To me, this is a way to sneak some height as well as edge to my maternity wardrobe. I am all about adding height but I need to do this comfortably. Sneaker wedges fit the bill! These shoes give me an extra 4 inches...yet, I don't feel like I am wearing "heels".
I love the
Styler Wedges from JustFab
. These are easily the coolest sneaker wedges that I have tried. They seem to go with everything! Plus, the stud detailing adds a bit of edge to my outfits. I love wearing these with skinny jeans or with leggings. They are super comfortable, too!!! I flippin love these!
What do you think of the Styler Wedges and the Gemini Booties? I think that these are versatile shoes that I will get a ton of use out of throughout Fall and Winter! If you haven't joined
JustFab
yet, you should totally check it out! The shoes really are a bargain and always are the latest trend!
XOXO!!!