Affiliate Link Birchblogger
Press Sample
It is no secret. I have a bit of a thing for blush. For me, it is the makeup item that gives me that "ahhh" moment. It perks up my complexion, gives me color...even my application method (smiling when I put it on so that I get the proper blush placement on my cheeks) makes me happy. :) Point being: I <3 Blush! So, I am always excited to try a new one! Next to palettes, blush is the makeup item that I am always the most excited to try.
Well, I have a new "Blush Crush"!
TheBalm
recently released a new collection of blushes: the INSTAIN Long-Wearing Powder Blush. These blushes looked so pretty that I just had to try a few out!
One of my favorite beauty sites,
Birchbox
, just added
INSTAIN
Blushes by
theBalm
to their online boutique. As a
Birchblogger
, they asked me to review a few blushes for you! Here is what
Birchbox
has to say about these fabulous new blushes:
Naturally flushed cheeks are a great way to look fresh and healthy, but in the heat of the summer, pretty cheeks can quickly turn streaky and glaring. Avoid the latter with theBalm's InStain Long Wearing Powder Staining Blush. The buildable formula comes in a range of flattering, natural-looking hues that stand up to heat and humidity.
To find out how I like
theBalm
's new
INSTAIN Blushes in Argyle and Houndstooth
, please click "read more" below.
theBalm
's
INSTAIN Long-Wearing Powder Blush
:
INSTAIN blushes
are a powder formula blush that leave behind a "stain" on your cheeks. The only other blush that I have tried that is similar is
IT Cosmetic's Vitality Cheek flush blushes
(which are also a powder formula stain-type blush). If you missed my review for
IT Cosmetics's Vitality Cheek Flush
, be sure to check that out
here
. I must say that powder/stain blushes are now my favorite and certainly my preferred formula for a blush.
The Packaging:
Before diving into talking about formulation and pigmentation, lets talk about this adorable packaging!!! As usual,
theBalm
has "hit-the-ball outta the park" with its cute packaging, catchy product name, and overall product presentation. The blushes are housed in think and sleek cardboard compacts with a magnetic closure. Each comes with a matching cardboard sleeve (just like the Balm's other blushes). The inside features a product-sized mirror and the blush pan.
I am always a fan of travel-friendly packaging! Even though the blush pan is sizable, the packaging itself is completely non-bulky and travel friendly. This blush would easily slip into your purse or travel bag. With this size, you could toss a handful of blushes into your travel bag and still have plenty of room for your other makeup items.
Adorable packaging aside, how is the formulation?
The silky powder leaves behind a lasting stain that blends in seamlessly with your skin...Swipe on a single layer for a subtle look, or carefully build up the color for a more visible hue.
These blushes are so pigmented! Just a slight swipe of my blush brush gives me the perfect amount of color. I find that using a light hand is the key with these INSTAIN blushes. I mean, they stain! ;) The formula wears all day on my combo skin with no problem!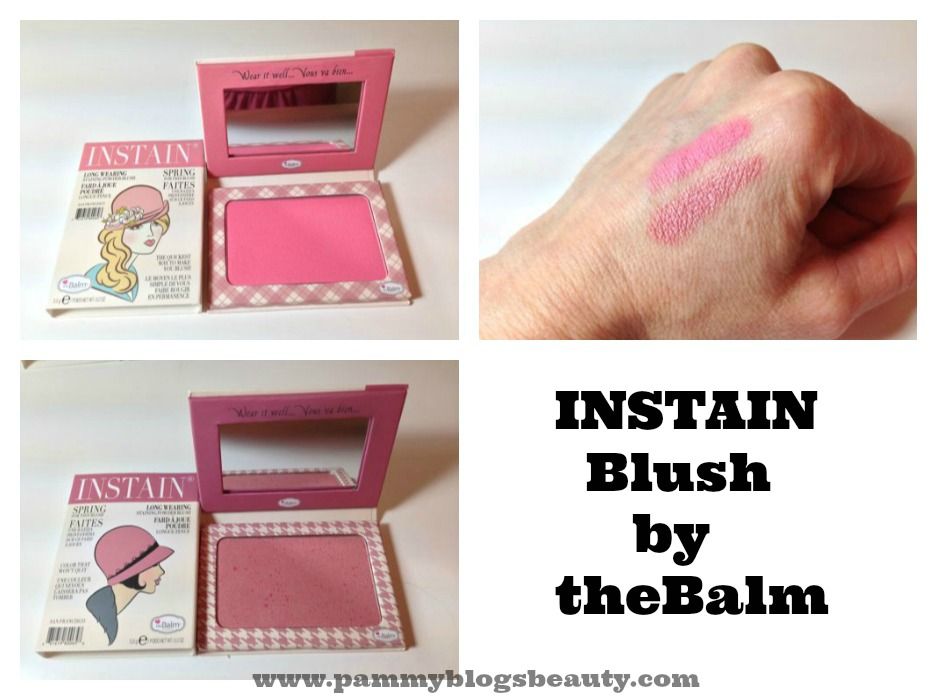 This beautiful blush collection features shades for every skin tone! These blushes come in six pretty shades:
Lace, a bright rosy pink
Argyle, a soft baby pink
Pinstripe, a warm plum
Houndstooth, a mauve with subtle bronze shimmer
Toile, a warm coral with red undertones
Swiss dot, a fresh tangerine.
I adore wearing both Argyle and Houndstooth. They both give such a beautiful pop of color to my fair skin. I recommend both of these shades for anyone with fair skin. Just remember to use a light hand (it is easier to add more product than to correct overdone blush: especially with a staining formula). Both of these shades are beautiful not only for Summer, but also for year-round wear! These blushes are fabulous additions to my ever-growing blush collection. Honestly, I think I am going to have to collect all of these shades! :)
The Skinny:
These INSTAIN blushes by the Balm are available at
Birchbox
for $22 each.
Check out some of my other favorites from
the Balm
! If you have never tried this brand before, I totally recommend any of the following products:
Have you tried
theBalm
? What are some of your favorites?
As always, thanks so much for reading!!!
XOXO!!!