It is always a pleasure for me to try out products from
Algenist
. I have already had such great success with products from this line. The key to this product line is their revolutionary ingredient and new scientific discovery: Alguronic Acid. There is no question that Algenist's products are both innovative and effective. I am a huge fan!
What is Alguronic Acid?
A team of biotechnology scientists in San Francisco, California, focused on developing microalgae-based renewable energy solutions, unexpectedly discovered Alguronic Acid, a powerful compound responsible for regenerating and protecting the microalgae cell. When scientifically tested, Alguronic Acid demonstrated significant anti-aging properties, increasing elastin synthesis by up to 32%* and cellular regeneration by up to 55%*.
My Skin Background:
Before diving into the review, it would help you to know a bit more about my skin type and skin concerns. I have sensitive combo skin. In the winter, it leans towards combo-dry and in the warmer months I get a bit oily through the t-zone. I have to be careful when testing out products as my skin is prone to irritation and redness (if I am not careful with my selections of what to test: I have learned over the years various ingredients to avoid). I am in my late 30s. So, anti-aging products are typically what I seek out. While I don't have any major lines or wrinkles yet, I would like to delay their appearance! So far, I just have some fine lines that crop up around my eyes if my skin is dehydrated or when I smile. I do not break out very often. However, if a product is too rich, it can sometimes clog my pores.
Today's review is for the NEW Multi-Perfecting Pore Corrector Concentrate and the (new to me) Regenerative Anti-Aging Moisturizer.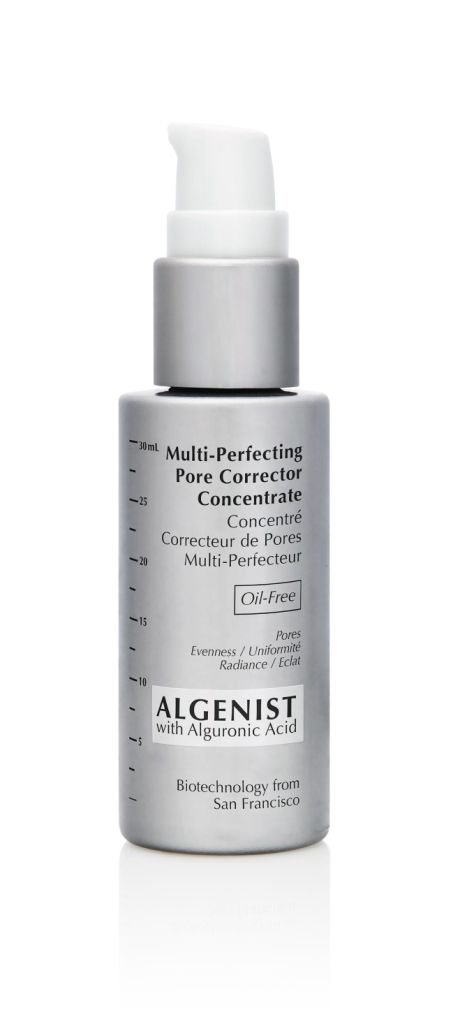 NEW Multi-Perfecting Pore Corrector Concentrate
:
Wow!!! I am so excited about this product!!! Results were visible quickly: in just a few days (Algenist promises results after 10 days of use: I found this to be certainly true!). After continued use (for a few weeks), my pores and skin look absolutely amazing!!!
The Pore Corrector is from Algenist's new Resurfacing Line: The Multi-Perfecting Collection.
This line targets the multiple challenges for aging skin texture including oversized pores, loss of skin elasticity, uneven cell desquamation and epidermal dehydration.
The Product I

tself:
The Pore Corrector Concentrate is an ultra

lightweight oil-free serum. It contains Algenist's signature Alguronic acid as well as other skin refinining ingredients. I love how this serum feels. It

literally just sinks right into your skin!
Multi-Perfecting Retexturizing
active ingredients include:
Alguronic Acid:

increases cell turnover by 51% stimulating the production of new vibrant, healthy skin cells
Salicylic Acid

: exfoliates and accelerates desquamation , improving the overall texture and appearance of skin
Oligosaccharides

: prevents the slackening of pore walls, minimizing the size and appearance of pores
Daisy Extract

: reduces skin discoloration, improving uneven skin tone
Eijitsu Rose Extract

: brightens skin and tightens pores
The
Multi-Perfecting Pore Corrector Concentrate
:
Promises t

he following results:
Tightens and minimizes pores
Reduces skin discoloration
Smoothes and refines skin texture
Brightens and perfects skin
How I use:
I use this serum every morning after washing my face and before applying my moisturizer with SPF (I am currently using Algenist's Daily Moisturiz

er with SPF).
My skin has really improved while using this product! My normally very visable pores look smaller and are less noticeable overall. Also, my skin's texture is incredibly soft and smooth. Redness is reduced and I have had absolutely no breakouts at all during product testing. My skin is so even toned. I am just thril

led with the results!
The Skinny:
The Multi-Perfecting Pore Corrector Concentrate retail

s for $75.

Al

genist products are

a

vailable at Sephora,

Sephora.com, Algenist.com, and QVC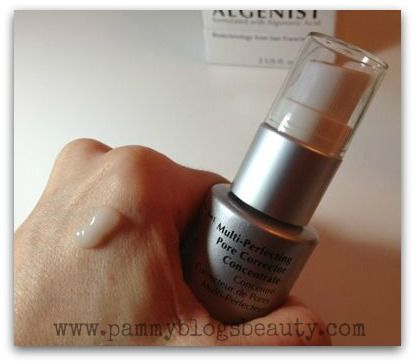 Regenerative Anti-Aging Moisturizer:
While this product is not a new addition to the line, it is new to me! Actually, I knew that I would like this product before I even tried it as I currently use Algenist's Regenerative Anti-Aging Moisturizer with SPF as my every day cold-weather daytime moisturizer. It is so rich and hydrating that I have dubbed it my go-to everyday SPF for the winter months. So, I was excited to try out the moisturizer in the non-SPF version. I like to use non-SPF moisturizers for night time moisturizers. Sure you could use a moisturizer with SPF for nighttime but I feel like the SPF "goes to waste" when I put it on before bed.
The Product Itself:
This moisturizer is a super thick non-greasy cream. The cream has the signature Algenist scent (which you may or may not like). It took me awhile to get used to the Algenist "scent". It is not an added scent, it is an almost medicinal-like scent. At first I was not a fan, but after using Algenist's products for awhile, I find myself "craving" the scent when applying the product. I have really grown to like it! The cream absorbs and leaves your skin feeling extremely hydrated and looking ever-so-sligthly dewy.
Active Ingredients
:
Alguronic Acid:

increases cell regeneration and elastin synthesis.

Vitamin C: Boosts radiance and reduces wrinkles.

Apple Cell Extract: Delays cell aging and stimulates cell regeneration and repair.
How I use:
I use this as a nighttime moisturizer. I apply it after I let my treatment products sink in.
Results:
This moisturizer keeps my skin very hydrated. Also, I feel like it plumps up my skin and softens fine lines. I really like it! Over time, this cream should help to rebuild lost firmness and elasticity while also regenerating skin.
The Skinny:
Algenist's Regenerative Anti-Aging Moisturizer retails for $90.
Algenist products are available at Sephora, Sephora.com, Algenist.com, and QVC.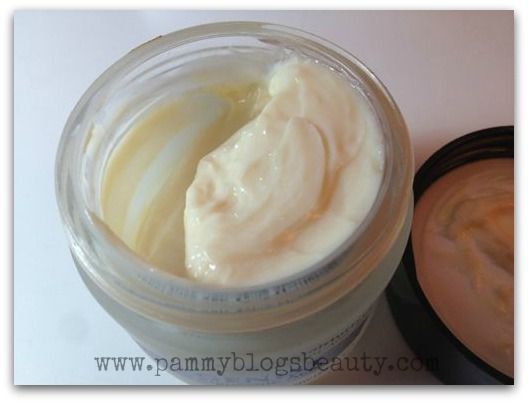 If you missed my previous Algenist reviews, be sure to check them out:
Algenist's Eye Renewal Balm
,
Algenist Targeted Deep Wrinkle Minimizer
,
Algenist Concentrated Restructuring Serum
,
Algenist Regenerative Anti-Aging Moisturizer with SPF
, and
Algenist's Ultra Lightweight UV Defense Fluid SPF 50
.
As you can tell, Algenist's products work really well for me! I highly recommend this innovative line for great skincare results!
Thanks for reading! XOXO!!!