Hello lovelies! It is time for an update in my monthly MAC Matters Blog Challenge! This month I have an amazing
MAC
Pro Store experience to share!!! Seriously, a great story! :)
This series was born when I realized that I could build up an amazing collection of MAC Wishlist products in a years time with (less than) the cost of my most expensive monthly beauty sample subscription (GLOSSYBOX). So, I cancelled my subscription and am putting my theory to the test. While I no longer pay for a GLOSSYBOX subscription, I do occasionally review press samples of GLOSSYBOXes. I am still a fan of the boxes; but, I would rather put my own money towards my MAC Challenge. No matter what your stance is on beauty boxes, a well researched purchase of a needed makeup item is always a good idea! Less buyers remorse! Plus, it is likely something that you need...rather than a random sample from a beauty box that you may or may not use.
Some of you that have joined me in this challenge have cancelled a beauty box to do this challenge and some have not. You can certainly join in and do the challenge in addition to having a beauty subscription! Actually, I still subscribe to Birchbox (still loving) and Julep (adore!). So, no matter what your method, I think you will be thrilled with what you can do with an average of $21 a month at MAC! I am slowly realizing how darn afforable MAC is for a high end brand! If this challenge intrigues you, I hope you join in! We are all having so much fun with this!!! Plus, it is amazing to see my MAC collection grow with some great basics!
A few other amazing bloggers have joined me in this challenge! If you have joined in and haven't sent me your link yet, please either leave your link in the comments below or email me your links and I will edit and add them to this post (see the bottom of this post for other MAC Matters Challenge blogger's links!). Also, some of you are joining me who are not bloggers (so cool!!!). Please update me with how you are doing in this challenge in the comments section. :) I love to hear about what everyone else is getting!!! I wish that I could take *all* of you shopping with me each month to MAC! :) Anyone can join in the fun of this series anytime! If you feel so bold, please leave a comment with your link to any MAC Matters Blog Post that you do. I just as that you link back to me in your post as the creator of this challenge. :)
As I mentioned, I still love participating and reviewing sample boxes (and sometimes I even still review PR samples of GLOSSYBOXes)! I just needed to cut back a bit on my beauty box subscriptions. I don't need 3 sample box subscriptions, lol! So, I cancelled one of my subscriptions and this
MAC Matters Challenge
was born. Now, I am a still a bit of a beauty sample box lover. So, you will still see beauty box subscriptions reviewed here on my blog. :) In addition, you will continue to see my monthly MAC Matters Challenge posts too! This way you can see how much you can get when you spend the same amount of money per month on a brand that you already love (with the goal of building a core collection).
The Challenge Rules:
Build a MAC Collection using an average of $21.00 per month
:
Purchase at least one item a month: If the item is under $20, save the remainder for the next month. While there are many items priced under $20, there are plenty that are over the $20 range that can be "saved" for.
Do a monthly blog posts for one year to share what you get. Lets see what kind of core collections we can build in a years time!
To coordinate with my "Build a Core MAC Collection" purchases, I will also be posting "MAC Matters: From the Stash" reviews! These "stash" items are MAC items that I love that are already in my makeup collection. Some months, I will be "saving" my $21 to go towards a bigger MAC purchase. This is when you will most likely see the "stash" posts. Or, I might include a "stash" item mini review within my "Build a Core MAC Collection" posts because if you are reading this because you want to build your own MAC collection, you might enjoy reading about what I am already using and loving!
If this series is popular, I will repeat the series with another brand upon completion of 12 months with MAC.
If you decide to join this challenge: Please be sure to include a link back to my blog in your post crediting me as the creator of this challenge! :) Also, feel free to send me your links to your MAC Matters posts that I can include in my monthly postings.
Note: You do not have to cancel your monthly beauty sample subscription to join in! You can certainly do this challenge *in addition* to being a beauty sample subscriber! The whole point is just to see what you can do with *the same* amount of money that you might spend on a $20 monthly beauty box. :)
If you missed my previous MAC Matters Challenges, please check them out here: Be sure to check out:
MAC Matters: Building a Core MAC Collection with $21 a Month (Intro Post)
,
MAC Matters November 2012
,
MAC Matters December 2012
, and
January 2013 MAC Matters
.
So, are you curious about what I got this month? Keep reading to find out what I purchased and to hear about the amazing experience that I had at the MAC Pro store in Atlanta! If you love good customer service stories, you will love this!
As I mentioned, I have a great story this month! :) As some of you know, part of this whole challenge is that I am just really trying to put myself on a makeup budget. I am a stay-at-home Mom and am trying to cut down on expenses. No, I don't really "need" any makeup., lol! I am trying to curb spending. This challenge is really helping me with that! Rather than going for the "newest" thing, I am building up my collection in areas that I need. No more impulse spending for me! These MAC Matters purchases are carefully planned out and researched.
I love great Customer Service! Hear about my experience at the MAC Pro Store in Atlanta:
While at the Mall with my Bestie (and our two babies), I decided to go ahead to the MAC store to pick up my challenge items for the month. I totally drooled over the new Archie collection. I was quite tempted to pick up an item or tow. However, I decided to stick to my plan to pick up some "needed" MAC basics for the MAC Matters Challenge. I made my purchase quickly as I had a hungry baby that needed her lunch. I tucked my MAC bag into my stroller and we left the store.
When I finally left the Mall and was loading the stroller in the car I realized that my MAC bag was *gone*!!! I must have fallen out of the stroller somewhere in the Mall. My Bestie helped me retrace our steps in the Mall and look for the bag. No luck! Finally, before leaving the mall, we stopped by the MAC store just to see if it fell out there. The guy that rang up my purchases, Antwone, was still there and recognized me and asked me what I needed. I explained that the bag fell out of my stroller and I asked him if they had found a bag? They looked around but didn't find it. The whole situation was so frustrating! Just when I was about to leave. It turns out that my salesguy is the store manager. He said that they would replace the shadows for me at no cost!!! I was stunned!!! They just grabbed my shadow pans, put them in a bag, and handed the bag to me. OMG! How nice!!! I then told... that I was a blogger and writing about my purchases in a MAC series. If you are ever in the Atlanta area, please head over to Perimeter Mall to the MAC Store and ask for Antwone! Fabulous service!!!
What I got:
I decided upon MAC Pro Eyeshadow Pans in Satin Taupe and Embark. These are not new shades for me. They are both staple MAC items that I have used for years. I am trying to build my "perfect MAC quad" with the MAC 4-pan palette that I purchased last month for the challenge. While tempted to go for new shades for the quad, I decided to go with two of my all-time favorite MAC shadows that I had just used up! I just couldn't imagine a "perfect quad" without these two loved favorites! Satin Taupe is my HG taupe shadow and favorite crease/outer corner color. Embark is fabulous as a liner or to smoke out a neutral look.
My MAC Matters Challenge Purchase Breakdown:
Remainder from previous month: $4.48
January Allowance: $21.00
Total to Spend: $25.48
MAC Pro Pan in Satin Taupe: $12
MAC Pro Pan in Embark: $12
Total:$24.00
Remainder for Next Month (to carry over): $1.48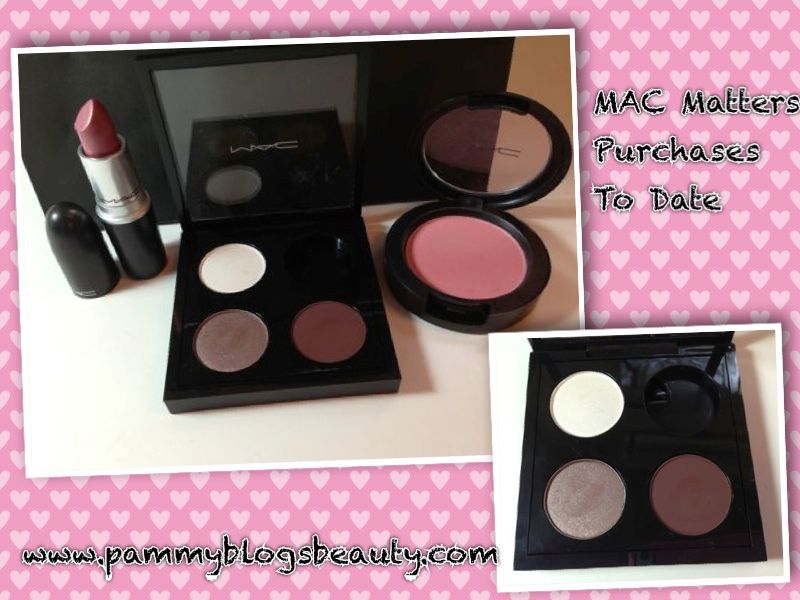 My Cumulative MAC Matters Core Collection:
Now this is the fun part, ya'll!!! Lets take a look at what I have collected since starting this challenge!!! :) I totally love and adore everything that I have gotten so far!!!
November 2012
: MAC Syrup Lipstick
December 2012
: MAC Well Dressed Blush
January 2013
: MAC 4 Pan Shadow Palette
and MAC Pan Eye Shadow in White Frost
February 2013:
MAC Pro Pan Eyeshadows in Satin Taupe and Embark
Be sure to check out my fellow bloggers who have joined in the Challenge! Here are some links! :)
Quinn from Mama Fashionista
(fellow MABB, BBC, and Blogazon girl!) and fellow Blogazon Rachael from
Rachael Makeup and Skincare
.
I only need one more pan to complete my "perfect" MAC quad!!! :) Any suggestions for my last pan?
Thanks so much for reading and joining me in the challenge! If you are participating and haven't sent me your link yet, please feel free to leave your links in the comments below!
XOXO!!!