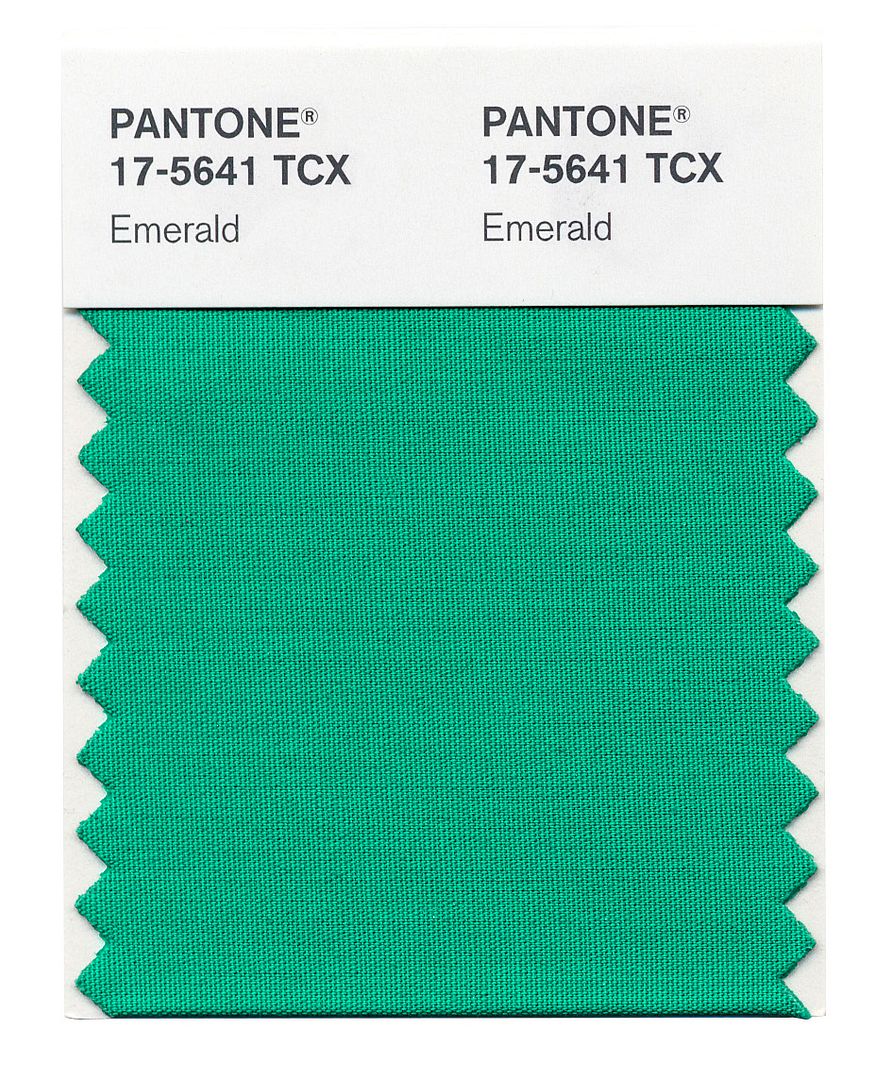 photo credit:

Pantone via beautypress.com
The
Pantone 2013 "Color of the Year"
is
Emerald
Green!!! Every year I get so very excited for the annual "Color of the Year" announcement from Pantone!
Most often associated with brilliant, precious gemstones, the perception of Emerald is sophisticated and luxurious. Since antiquity, this luminous, magnificent hue has been the color of beauty and new life in many cultures and religions. Also the color of growth, renewal and prosperity, no other color conveys regeneration more than green. For centuries, many countries have chosen green to represent
healing and unity.
photo credit: beautypress.com
For those of you that are not familiar, before the start of each new year,
Pantone
announces the upcoming "Color of the Year". Pantone is the leading expert in color. For more than one decade, Pantone's Color of the Year has impacted everything from fashion, to technology, home and interior design, and even beauty. Pantone goes through quite a detailed journey to select each year's color. I am still a huge fan of last year's Tangerine Tango (and you may remember that I reviewed the
Sephora + Pantone Universe Tangerine Tango inspired blush duo
as well?). So, you know I am excited about 2013's color!
Pantone is extremely influential with their decision. There is absolutely *no question* that Emerald is the color that you will see cropping up *everywhere* in 2013! I am so excited!!! I feel like Emerald has really not made a strong appearance since the early 90s when it was very popular. It is such a beautiful color to wear! So, I am thrilled with this year's selection!
To arrive at the selection, Pantone quite literally combs the world looking for color influences. This can include the entertainment industry and films that are in production, traveling art collections, hot new artists, popular travel destinations and other socio-economic conditions. Influences may also stem from technology, availability of new textures and effects that impact color, and even upcoming sports events that capture worldwide attention.
Curious about previous "Colors of the Year"?
Here is a list! Past colors include:
PANTONE 17-1463 Tangerine Tango (2012)
PANTONE 18-2120 Honeysuckle (2011)
PANTONE 15-5519 Turquoise (2010)
PANTONE 14-0848 Mimosa (2009)
PANTONE 18-3943 Blue Iris (2008)
PANTONE 19-1557 Chili Pepper (2007)
PANTONE 13-1106 Sand Dollar (2006)
PANTONE 15-5217 Blue Turquoise (2005)
PANTONE 17-1456 Tigerlily (2004)
PANTONE 14-4811 Aqua Sky (2003)
PANTONE 19-1664 True Red (2002)
PANTONE 17-2031 Fuchsia Rose (2001)
PANTONE 15-4020 Cerulean (2000)
Emerald for Fashion:
The prevalence of green has been steadily rising for several seasons now, especially in the fashion and couture markets, and even on the Red Carpet. Appropriate for every occasion, Emerald's classic elegance makes for striking and irresistible women's formal, everyday wear and accessories...Balanced, yet sophisticated, Emerald enlivens all colors in the spectrum and will continue to make a statement beyond spring and summer into fall and winter.
Photo Credit: Zac Posen via beautypress.com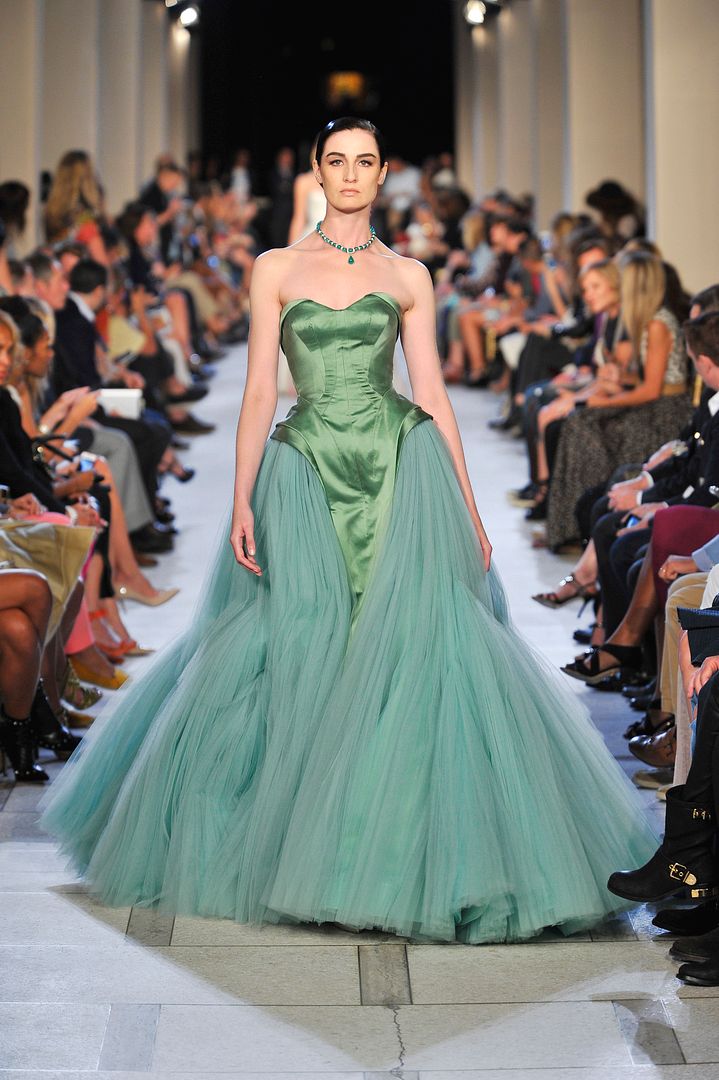 photo credit: Zac Posen via beautypress.com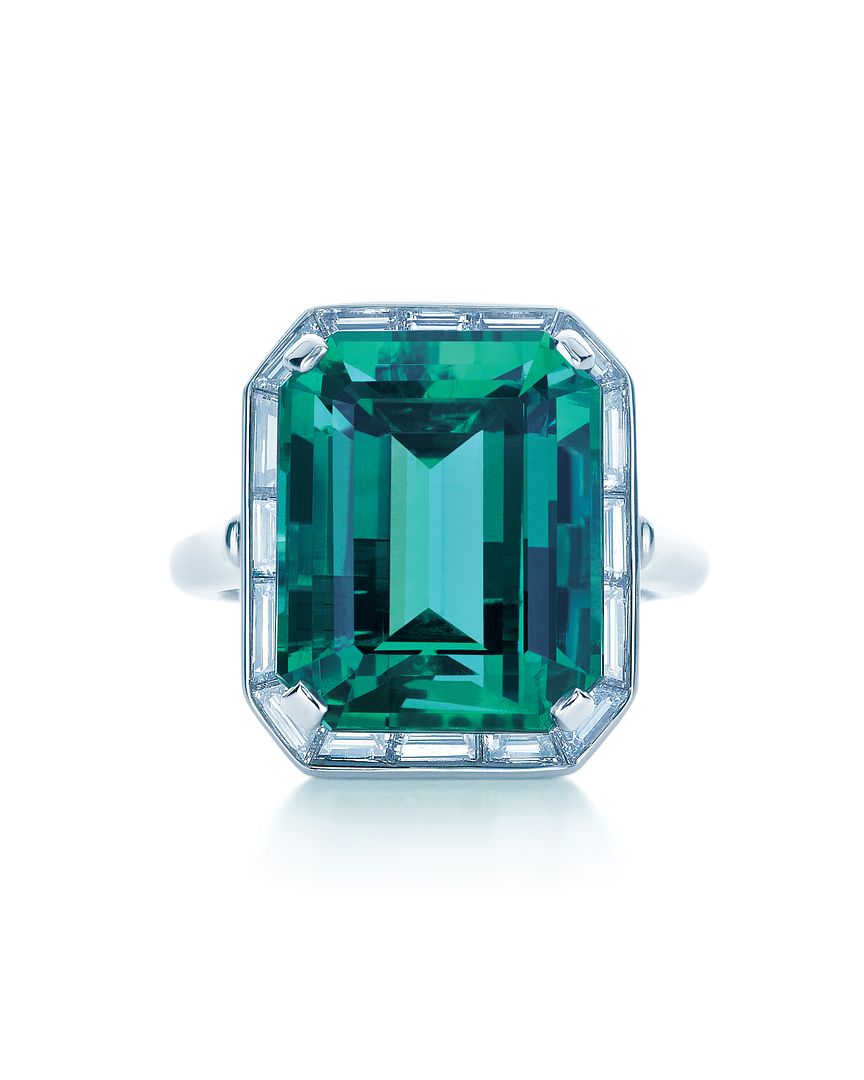 Tiffany's Emerald and Diamond Ring
photo credit: Tiffany's via beautypress.com
Emerald for Beauty
Equally harmonious on the cosmetic color wheel, Emerald dramatizes all eye colors as it beautifully enhances green eyes, is compatible to blue eyes, emphasizes the green undertone in hazel eyes and intensifies brown eyes to make them appear deeper. Emerald is also a perfect complement to peaches, pinks, roses, ruby reds and aubergines – offering a variety of lipstick and blush options. For those who want to sparkle and stand out, Emerald is the perfect punctuation point in nail color because of its complementary nature.
What can you expect to see on
Pammy Blogs Beauty
for
2013
? Many posts featuring the "Color of the Year" Emerald! I already have a few features planned!
The beauty brands are really jumping on Emera

ld as the "it" color for 2013!
:)
Are you excited about the 2013 Color of the Year selection? Is Emerald a color that you will wear with your clothing or makeup? Do you like it for home decor? I think it is a great color for wearing or decorating!
Thanks for reading!!!
XOXO!!!