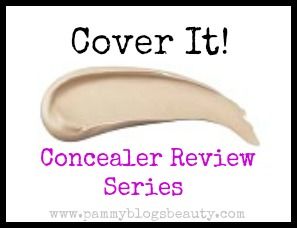 It is time for an update for my Cover It! Concealer Review Series!!! For this post, I am reviewing an amazing concealer from
Make Up For Ever
. I know, it has been awhile since I have updated this series. For those of you joining me for the first time with this series, let me give you a brief intro!
The Cover It! Concealer Review Series:
I am absolutely plagued with dark under eye circles. Actually, my discovery that you can completely "erase" dark circles with a great quality concealer is part of the reason that I fell in love with makeup in the first place! However, it can be hard to find a good concealer! Especially when your circles are as dark as mine are and your skin is extremely fair. Compounding that is the fact that the under eye skin is very delicate. I generally search for highly pigmented concealers that are thick enough to give good coverage, yet not so heavy as to look cakey or emphasize fine lines.
If you missed my past reviews in this series, feel free to
check them out
! I have found some really great concealers with a variety of coverage options! Not everyone needs the super heavy duty pigmentation like I do (you lucky ducks!).
So, my search for amazing concealers continues with this review for
Make Up For Ever's (MUFE) HD Invisible Cover Concealer
. I first tried this concealer in the Fall during
Make Up For Ever's Makeup Bag Remix event
. I was completely amazed that the makeup artist literally applied a pin sized drop of this concealer and that was all she needed to completely obliterate the dark circles under my eyes. WOW!!! Want to hear more details and my full review? Then, please keep reading!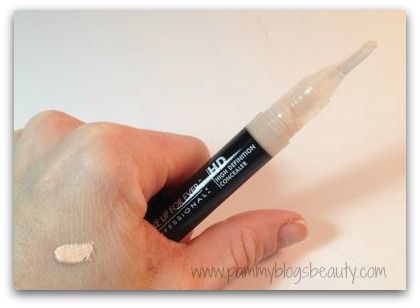 Make Up For Ever HD Invisible Cover Concealer in #305 Porcelain:
I just can't say enough good things about this concealer! I am extremely impressed with the pigmentation and light feel of this product. I don't think I have ever tried a product like this! Make Up For Ever managed to create an extremely pigmented product that looks and feels like you are wearing nothing at all. This is an amazing feat! Usually when you go for heavy pigmentation, you have to sacrifice the light feel. Well, you can have both with this HD Concealer!
The Shade:
The shade I use is #305 Porcelain. This shade is for very fair skin with pink undertones (me!). Often it is hard for me to find shades that are light enough for my uber-pale skin. This shade is certainly light enough! Actually, it might be too light for many of you with fair skin. For me, it is just right. This concealer has a bit of a brightening effect. Therefore, I only use this product in the under eye area.
The Coverage:
Make Up For Ever describes the coverage as medium. However, I feel that this can be built up to almost full coverage without looking cakey. While not as thick as many heavy duty coverage concealers, this product can give you the best coverage possible while still looking completely natural and undetectable (if that makes sense?). The finished look just looks like "skin" not "skin with concealer".
The Packaging:
This product is packaged in a slim and sleek wind up click style "pen". The product clicks out of a rubbery tip.
To Apply:
You literally just need a few clicks to get the desired pin sized amount of product. I just dab a drop of this concealer onto my hand and then dip my concealer brush into it for application. I believe that the silicone tip of this product was meant to be an applicator. However, I really need to use a brush to spread and apply the product.
The Wear:
This concealer is amazing! Once it sets, it wears until you take it off. I am extremely impressed!
The Skinny:
MUFE HD Invisible Cover Concealer retails for $29.00 at Sephora. While that is pricey for a concealer, this product should last you a really long time because you only need such a small amount.
Comes in 14 shades
As you can tell, I really love this concealer! It is working quite well to cover my dark under eye circles. While I don't get 100% full coverage with this, I can build this product up to near-full coverage without the product looking heavy or cakey.
I know that Make Up For Ever also has a
Full Coverage Concealer
. I am thinking that I might like to try this next to see if it covers my dark circles a bit better. In the meantime, I am really loving this HD Invisible Cover Concealer! Has anyone used both? Which do you like better?
Thanks for reading!
XOXO!!!