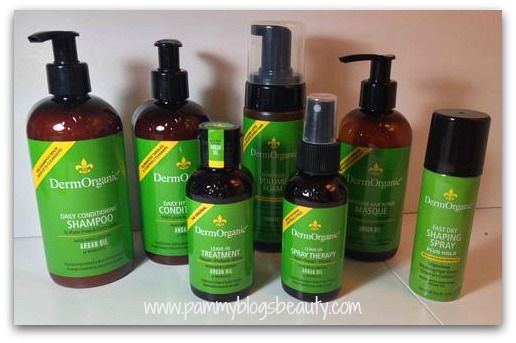 Don't you just love discovering new products that work great! I know that I do!!! I am so excited about this entire line of Argan-Oil based organic hair care: DermOrganic. My hair totally loves this line!
My Hair:
To give ya'll a frame of reference for my review, let me first tell you a bit about my hair.
My hair is very long, thick, straight, and highlighted. The highlights have left my hair feeling very dry. Also, my hair is very prone to tangles and it is difficult to comb out. I usually have to use a ton of conditioning products, leave ins, and serums to keep my hair looking shiny and good.
A recent salon disaster (long story) has left my hair quite damaged. So, my hair needs mega moisture and protein. Rarely is a shampoo or conditioner "too rich" for me. Usually products that I try out are not quite rich or heavy enough. However, I do need to find a balance. I want products that provide moisture without weighing my hair down too much.
About DermOrganic and the Key Product Ingredient: Argan Oil:
I am no stranger to Argan Oil. I actually am quite in love with the pure form of Argan Oil. It is pretty much a miracle moisturizer. I like using it in its pure form on my skin, my cuticles, and even the ends of my hair. So, a hair product line based on Argan Oil? Yes, this line pretty much "had me at hello".
Argan Oil:
So, what is all of this fuss about Argan Oil? Is it as good as the hype? Here is a little bit of background:
Argan Oil is one of the world's most sought out and most precious oils. It has been used for centuries in Morocco as a food item, a cosmetic ingredient, an ointment, and even for cooking. Moroccan women are famed for their beautiful skin and many credit this to their use of Argan Oil as a moisturizer.
DermOrganic Hair and Skin products are made with hand-harvested Argan Oil straight from the Argan forest in Morocco. The oil is certified organic and grown on self-renewing fields. Another cool fact? The Argan Oil business in Morocco is a women-only business! So, know that the use of these products supports initiatives to help elevate the socioeconomic status and improve literacy rates of women in Morocco. Very cool indeed!
DermOrganic sent me a lovely assortment of DermOrganic hair products to try out. While still in the midst of testing a few of the items, I will share the products that I have fallen in love with so far! Be sure to let me know if there are any products pictured that you are particularly interested in hearing a review for (if it is not included in this post).
For my first impressions review of the
DermOrganics Daily Conditioning Shampoo
,
DermOrganics Daily Hydrating Conditioner
,
DermOrganics Fast Dry Shaping Spray
, and the
DermOrganics Firm Hold Volume Foam
, please keep reading!
DermOrganics Hair Care: Argan Oil Based Products:
As I mentioned in my introduction, I have completely fallen in love with this hair care line! I am extremely picky with my hair products. So, I am just thrilled to have found these amazing products. There is no question that these products are improving the look, condition, and feel of my hair.
The Packaging:
At first glance, these products look very "basic". The packaging is totally nondescript and no-frills. The whole line has brown bottles and green labels.
DermOrganic Daily Conditioning Shampoo:
This Shampoo is amazing for dry and color treated hair like mine! It is sulfate free and very gentle on you hair! It is thick and creamy. It actually almost looks like a lotion. It is very thick and rich and builds up into a nice and thick creamy lather. This shampoo is a total treat to use! It gets my hair clean while leaving it feeling conditioned, not stripped.
This shampoo was designed to moisturize, rebuild, and smooth your hair with its combination of EFA lipid and amino acid based cleansers. It also contains rice keratin, vitamin e, and antioxidants.
This shampoo has a light "soapy" scent. I wish I could describe it better. The scent reminds me of Ivory soap.
I love this shampoo!!!
Retails for $16.00 for 10.1 fl oz.
DermOrganic Daily Hydrating Conditioner:
I always pair this conditoner with the DermOrganic Daily Conditioning Shampoo. The combined results of these two products used together is just amazing! My hair is left looking shiny and feeling soft and silky when I use this shampoo and conditioner duo.
This conditioner has a soft and creamy scent (that is a bit different than the scent of the shampoo). The conditioner is rich and creamy and of about a medium consistency (not as heavy as a hair mask type conditioner).
The Daily Hydrating Conditioner has amazing slip that makes my hair so easy to comb out. Ya'll, that is a *feat* with my long and tangle-prone hair! For that reason alone, I love this conditioner. But, wait there is more! ;) This conditioner leaves my hair looking shiny and feeling very soft. I feel that my hair is very easy to manage and style after using this. Plus, it rinses clean without feeling greasy or heavy.
This Daily Hydrating Conditioner contains lipids and Panthenol B5 in addition to the powerhouse Argan Oil. It moisturizes and smooths hair without silicones!
Retails for $16.00 for 10.1 fl oz.
DermOrganics Firm Hold Volume Foam:
This freshly scented foam mousse helps to give my style some hold. While I didn't get a ton of volume from this product (my hair is very long), I did get improved hold for my style. I think the key with this foam is to use a small amount so that it won't be too sticky. I like to apply this right after I comb out my hair and after using the DermOrganic Leave-In Spray Therapy. I use one pumps worth and distribute throughout the length of my hair. I then proceed to air dry to about 75% dry and finish off my style with the hair dryer and a jumbo round brush.
The formula is alcohol free and it is non-aerosol. The product contains UV inhibitors as well as Omega 6, lipids, antioxidants, Vitamin E, Argan Oil, and hair moisturizers. It was designed to define your style while giving volume and hold.
Retails for $15.00 for 5 oz.
DermOrganic Leave-In Spray Therapy:
This leave-in spray is designed to seal, repair, and protect your hair. It helps to seal your cuticle and preserve your hair color. Also, it improves comb ability by providing hair with fabulous slip while also reducing any frizzies. It can even shave a few minutes off of your blow-dry time! This protective leave in is formulated with argan oil as well as Omega-6, Lipids, Antioxidants, Vitamin E and Natural Moisture Factors.
I love the scent of this leave-in! It has an almost fruity and slightly sweet cherry-like scent. Seriously, this product is practically worth it for the amazing scent alone! Love, love, love this scent!!!
I use by just lightly misting over the lengths of my hair and combing through while my hair is still wet. You can either apply this on your hair while wet before styling or mist lightly when your hair is dry to amp up the shine.
I love how this product boosts your hairs shine while also nourishing your hair and improving your hair's condition. Also, I like how this product works with your heat products to provide shine and protect your hair. While I usually use it before blow drying, it also works great as a protectant before flat ironing.
Retails for $20.00 for 3.4 oz.
DermOrganic Fast Dry Shaping Spray:
Hair spray is something that I used absolutely every day. It is the only way that I can manage my unruly bangs (darn that cow-lick!). The mist in this hair spray is super-fine. It dries very quickly and gives great hold while still being "comb able". I really like this hairspray!
This hairspray is good for your hair too! It contains Argan oil as well as some anti-fade extracts to help preserve your hair color.
Retails for $8.00 for travel size 1.5 oz or $16.00 for full size.
The Skinny on DermOrganic:
The DermOrganic product line is sold at Ulta and in salons.
DermOrganic products are cruelty free!
All products contain pure Moroccan Argan Oil.
In summary, I totally love the
DermOrganic
hair product line! Actually, I should say that my hair loves it too! I am a long-time Redken and Pureology fan. While I still love those products, DermOrganic is now one of my favorites too! My favorites from this line (so far) are the Shampoo and Conditioner as well as the Leave-In spray.
I am super excited to try the
DermOrganic Intensive Repair Masque
! Since I have a highlights appointment coming up in a week, I wanted to save it to test as a post-highlights treatment (even though I could really use it anytime). It is supposed to work to repair damaged hair. So, I am looking forward to trying it out!
If you have color treated or highlighted hair, I highly recommend that you scope out this line next time you are in Ulta. Plus, this brand is cruelty free!
Thanks so much for reading!
XOXO!!!