I love the look of soft waves. You know, that "Victoria's Secret" long wavy hair look? Well, I am thrilled that I have found a very easy way to create it with a clipless curling iron! The best part? These waves last 2+ days! So, once I create this style, I can easily wear it for two days.
The Tool: The Cortex 4-Piece Clipless Curling Iron:
This clipless iron is great! It has 4 interchangeable and detachable curl barrels for you to customize your curl: .5 inch, .75 inch, 1.25 inch, and 1.5 inch. Want a tighter curl? Go with the smaller barrel. Want a looser wave? Go with the largest one. I love this iron! Having multiple options for curl tightness is so nice! You are really getting 4 irons in one with this Cortex iron. This iron is a space saver as well as a great value! It heats up really fast and creates gorgeous curls and waves. Love it!
For this look, I used a medium sized barrel: the 1.25 inch. The
Cortex 4-piece Clipless Iron
set retails for $79.99 at SFRbeauty.
Here is my step-by-step tutorial for getting this look: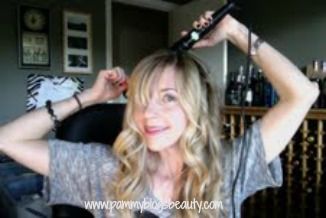 Step-by-Step:
1. This is my "before" picture. Start with clean/dry hair.
2. Section hair and clip up. I work in sections starting with the bottom layer. As you curl the sections, release more hair from the clip working upwards through your hair.
3. Spray hair with hairspray before curling. I used
RUSK's W8less Plus Shaping and Control Hairspray Extra Hold
.
4. Curl Hair! To hold iron: Drape arm over head towards the opposite side with barrel facing down. Wrap hair around iron in spiral pattern starting at the base of the barrel working towards the tip. Make sure to wrap hair so that it curls away from the face. To protect your hands from burning you can use the heat proof glove that is included in the Cortex Clipless Iron set (or you can be daring like me and not use one. Just be super-duper careful!). Let the hair sit on the iron for a few seconds and then release. To help curl to set, you can clip curl with a clamp or just let it loose.
5. This is what the curl looks like: a loose wave! :)
6. Bottom layer completed.
7. Working upwards through hair: Curl in sections.
8. Curling top layer.
9. Finished look!
As you can see, these waves are super easy to create with the Cortex Clipless Iron. Plus, the waves hold extremely well (even though I have straight and "hard to curl" hair!). My curls last about 2 days. They are less curly the next day; but, they still look great!
Features of the Cortex Iron:
Four ceramic/tourmaline interchangeable barrels
FAR infrared technology distributes heat evenly, preventing damage and locking in moisture and natural oils
Negative ions promote smoother, silkier hair
Ergonomic, non-slip grip
Heats swiftly to maximum temperature of 430F
11′ heat resistant swivel cord prevents tangling
Hooked end for easy hanging
Adjustable temperature with digital display
Programmable auto shut-off
Dual Voltage 110-240v
Comes with manufacturer lifetime warranty
I am totally loving the soft loose waves that I can create with the Cortex Iron! If you are in the market for a new iron, be sure to check it out. The price really is great!
Thanks for reading!
XOXO!