Are you looking for natural, eco-friendly, and vegan friendly gifts this year? Well then, this mineral makeup gift set from Emani might be a great option for you! My Holiday 2012 Gift Guide continues with this review of Emani's "How 2B Guide" Park Avenue Mineral Makeup Gift Set!
If you missed my previous Emani review, please be sure to check it out here:
Natural and Organic Beauty from Emani
.
Emani Cosmetics
are free of parabens, talc, and harsh chemicals that are bad for you. In addition, the products are vegan-friendly, cruelty-free, and gluten-free. The Emani company practices sustainability by using only 100% recycled paper goods. For those of you concerned about the green practices, this is a brand that you can feel comfortable about using! Plus, the colors and quality are amazing! I really love the Emani products that I have tried so far.
To find out the details on the Park Avenue Gift set, please keep reading!
Emani's "How 2B Guide" Park Avenue Set:
This set contains the following: 1 Vegan Contour Brush, 3 Mineral Color Dust Shadows (White Gold, Java Java, Parfait), and 1 Lip Base Transformer.
The Skinny:
The Park Avenue set retails for $28.00
Available at the Emani website. Also, Emani cosmetics are sold in some Malls (there is a kiosk at my nearby Mall).
Vegan Brush:
I really like this eyeshadow brush! It is nice and flat. Yet, it has some good density too. It is just the perfect shape for my lid. The synthetic hairs make it perfect for applying both powder and cream products. This brush works great with loose mineral shadows! I just tap a bit of the loose mineral shadow into its own lid or in my
Mineral Mate tray
. Then I tap and swirl the brush to work the shadow in and get rid of excess. Then, I apply. Easy peasy!
Mineral Color Dust Shadows:
Holy pigmentation!!! These shadows are sooooo pigmented. You only need a small amount to get major color payoff.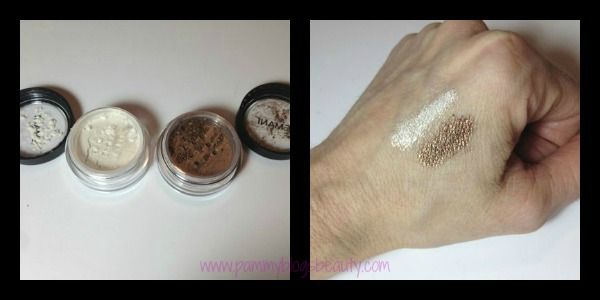 The White Gold mineral pigment is literally one of the prettiest gold toned whites that I have seen. I love using this on my lids and inner corners to brighten up my eyes. Very pretty! This is the type of shade that I think everyone needs in their shadow collection.
Parfait is a medium shimmery "Barbie" pink. While I like using it to "warm up" my crease, my favorite use for this mineral pigment is to use it as a lip color!
Java Java is a super deep and rich shimmery chocolate brown. It is really too dark to use as a crease color. So, I use it sparingly with a large fluffy brush to deepen the outer corner or with an angled brush along the lash line as a liner.
Lip Base Transformer:
This is a totally new concept for me! This is a balm-like product that transforms mineral pigments into lip color. So cool! I just smooth this onto my lips and then tap mineral pigment on top. I love using this with Parfait for a shimmery pink lip!
Have you finished your Christmas Shopping yet? I know that I am almost finished. However, I always end up with a few last minute purchases! :)
Thanks for reading!
XOXO!!!