Are you a natural, organic, and vegan beauty-girl? Then this line is certainly for you!
Emani
is a line of clean and natural cosmetics. Emani believes that you certainly do not have to sacrifice the environment in the name of beauty. Their products are cruelty-free, vegan friendly, and PETA-certified. Plus, they utilize green technology for product production.
The
Emani
line consists of a variety of natural and professional cosmetics for face, eyes, cheeks, and lips as well as a line of vegan makeup brushes.
For this review, I tested out some eye shadows, a blush, a lip gloss, and a makeup brush. To find out how I liked these products, please keep reading!
Emani Cosmetics
are free of parabens, talc, and harsh chemicals that are bad for you. In addition, the products are vegan-friendly, cruelty-free, and gluten-free. Also, the Emani company practices sustainability by using only 100% recycled paper goods. For those of you concerned about the green practices, this is a brand that you can feel comfortable about using! Plus, the colors and quality are amazing! :)
Organic Lip Shine:
These are long lasting lip glosses containing Vitamin E, Vitamin A, natural oils, and organic fruits. These glosses are super shiny and they keep your lips feeling moisturized and hydrated. The added vitamins give you antioxidant protection as well.
There are ten shades of gloss available. I tested out the shade "Rain Maker" which is a lovely peachy pink with subtle gold shimmery flecks. It has a creamsicle scent and a super shiny wet look. It feels incredibly soothing and moisturizing going on.
The lip shine is packaged in a sleek and pretty plastic clear tube with a black lid and doe foot applicator wand.
The Organic Lip Shines retail for $16.00.
Eye Shadow:
Emani offers a variety of eye shadows including crushed minerals, creme colors, duo eye shadows, and eye trios. For this review, I tested out one of the new Eye Shadow Trios in "Temptation".
Temptation contains 3 beautifully coordinated soft purple shadows in one cute round compact. I found these shadows to apply and blend easily. The shadows wear matte. These are great for a natural look with color! The light shade applies almost white. I like the light shade on the lid or inner corner. The medium purple looks lovely on the lid and through the crease. The dark purple shade makes a nice liner.
The compact itself is of very nice quality. It is black smooth plastic with silver lettering and design with a mirror inside the lid. It is very lightweight and sturdy.
The Eye Shadow Trios retail for $20.00 each.
Blush:
Emani offers a variety of both loose mineral blushes and pressed powder blushes. I tested out the New Emani pressed blush in "Key West".
"Key West" is a pressed Mosaic Blush. It is a gorgeous pop of bright pink! I love wearing this type of color on my cheeks. So pretty! As ya'll know, I am a total blush fanatic and I really fell for this shade! Key West is a matte blush. It is very pigmented. So, you need to apply with a big brush and a light hand. I think that this shade would flatter a wide variety of skin tones. It really looks nice on my fair and neutral-cool toned skin.
The Pressed Mineral blushes retail for $16.00 each.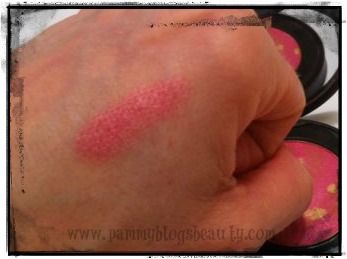 Brushes:
In addition to the cosmetics line, Emani offers an assortment of Vegan Makeup Brushes. These hand formed brushes are completely free of animal hair.
I tried out the Kabuki brush. It comes packaged in a plastic cylinder with a lid that I actually kept to use for storage of the Kabuki. The Kabuki is incredibly soft!!! It feels absolutely soft and gentle on your skin. The brush hairs are of about a medium density. It is certainly not the densest kabuki that I own; but, it is one of the softest! The size and shape make it perfect for powder, powder foundation, or loose mineral powder application.
The brush prices range. The Kabuki brush retails for $29.00. I think this brush is worth the investment if you are looking for a good quality and soft vegan kabuki brush.
I really enjoyed testing out these items from Emani! This line is a great option for those of you looking for green and vegan-friendly products or for anyone just looking for beautiful mineral makeup. I am interested in exploring this line further as I am intrigued by the beautiful lipstick shades, the liquid mineral foundations, and the beautiful assortment of crushed mineral shadows and blushes.
Have you seen
Emani cosmetics
in your area? In my area, I have seen them for sale at those little Kiosks in the Mall.
As always, thanks for reading!