There is nothing like the feeling of knowing that your money is well spent! Welcome to
MAC Matters: Building a Core MAC Collection with $21.00 per month
!
My Epiphany:
The idea for this series came to me when I was reviewing a recent GLOSSYBOX. Why pay $21.00 per month for a sample subscription when I can buy a MAC item every month for less than that and like it better? When I looked at what I spent on GLOSSYBOX over time, I realized that I wasn't getting a lot of products that I truly loved. Sure, the experience is super fun and I got introduced to a lot of new brands...but, I didn't end up with a lot of products that I am totally in love with. Don't get me wrong though. I loved GLOSSYBOX for what it was. It was fun! However, I am on a budget and I just want to be a bit smarter with my makeup spending.
So, I cancelled GLOSSYBOX and this
MAC Matters Challenge
was born. Now, I am a still a bit of a beauty sample box lover. So, I decided to keep my very affordable
Birchbox subscription
($10 per month) and my
Julep Maven nail themed beauty box
subscription ($20.00 per month, which is higher, but I honestly use every single item that I get in my Julep boxes. So, I feel that the money is not going to waste).
Why MAC?
MAC is a makeup line after my own heart. The quality and selection is fabulous. The packaging is sleep. The selection is amazing. They literally have just about everything that you could want or need. Therefore, they are a great brand for this challenge. You can certainly build a fabulous core collection of makeup staples from this line. Plus, the price is right! The prices are totally mid range. They are not drugstore cheap nor or they priced ridiculously high. If I am spending an average of $21.00 per month, I should be able to build up a nice little collection in a years time!
Join Me!!!
If you are reading this and get inspired, I would love for you to join me in this challenge! Upon reading my
MAC Matters Intro Post
last week, my fellow
Beauty Blog Coalition
and
Metro Atlanta Beauty Bloggers
member Quinn from
Mama Fashionista
decided that she wanted to join in too! So, be sure to head on over to her fabulous blog as well to follow her version of this series too! :) Even though this blog series has only just begun, Quinn and I are having the best time planning and discussing our purchases and blog posts! Here is a link to Quinn's post:
Mama Fashionista MAC Matters November 2012
.
We need goals for this challenge, right? Here they are!
Goal:
Build my core MAC Collection using an average of $21.00 per month
.
Purchase at least one item a month: If the item is under $20, I can save the remainder for the next month. While there are many items priced under $20, there are plenty that are over the $20 range that I can save for.
Do a monthly blog post to share what I got! My goal is to continue this series for 12 months to see what kind of core collection I can build!
To coordinate with my "Build a Core MAC Collection" purchases, I will also be posting "MAC Matters: From the Stash" reviews! These "stash" items are MAC items that I love that are already in my makeup collection. Some months, I will be "saving" my $21 to go towards a bigger MAC purchase. This is when you will likely see the "stash" posts. Or, I might include a "stash" item mini review within my "Build a Core MAC Collection" posts because if you are reading this because you want to build your own MAC collection, you might enjoy reading about what I am already using and loving!
If this series is popular, I will repeat the series with another brand upon completion of 12 months with MAC.
So, are you curious? Do you want to know what I got for my November MAC Matters Challenge? Keep reading to find out!
It is always good to have a "plan B"!
I had full intentions of purchasing an empty palette today. However, it just seems more fun to kick off a blog series with actual makeup items! MAC's large empty palette retails for just under $20 and the insert/separator for just under $10. So, if I decide to go for a palette later in the challenge, I am going to have to wait until I have some "leftover" money or I possibly might just get a smaller 4 pan palette. My ultimate goal is to depot all of my current MAC singles and insert them into palettes. Then future MAC shadow purchases can be in pan form (which are less expensive anyway). Have you depotted your shadows? Any tips? Last time I depotted I ended up breaking a few shadows (and I hate that!).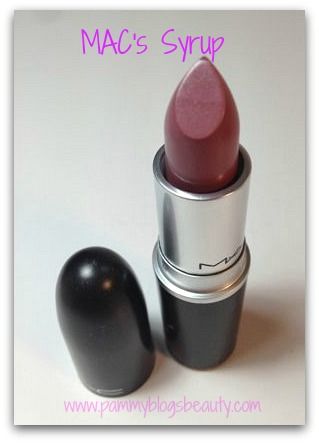 My $21.00 MAC Matters Purchase:
Using my MAC Matters Challenge Cash, I purchased one MAC lipstick. I decided upon the shade Syrup. Ya'll this lipstick has literally been on my MAC wishlist for *ages*! It gets such rave reviews and I am just thrilled with it already. It is just such a classic and wearable shade. This is exactly the type of lip color that I like to wear on an everyday basis. Beautiful and natural. I highly recommend Syrup to anyone building a MAC collection of great basics!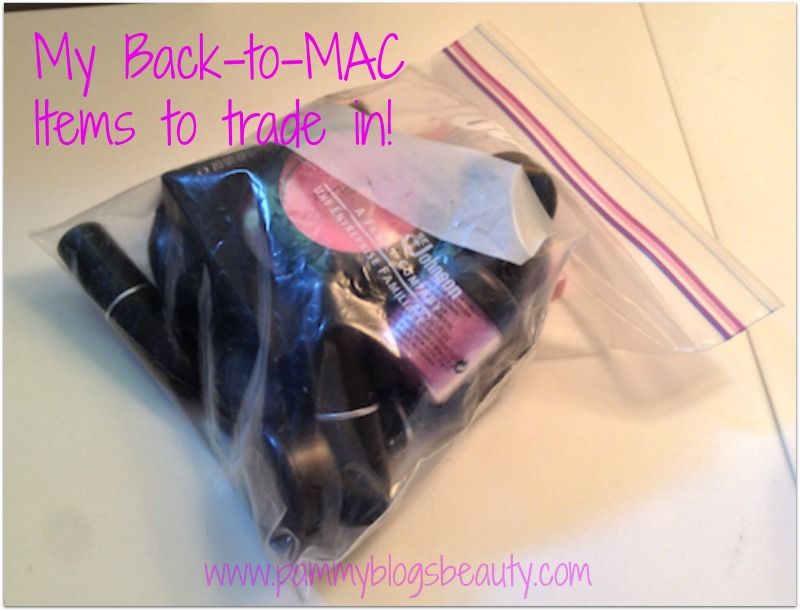 Back-to-MAC:
So, this might be a little bit of a "cheat" but I am going to include these items in this post anyways as they did not bring my total over $21.00. However, I am not going to count these items towards my MAC Matters challenge. As I mentioned in my MAC Matters Intro Post, I might include write ups in this series for Back-to-MAC items as well as MAC Matters: From the Stash items along with my challenge purchases. Yes, this series is not only about the $21.00 monthly challenge but also about sharing great MAC products with you guys!
Back-to-MAC is MAC's makeup packaging recycling program. Basically, you can bring in any 6 MAC empties and trade them in for one new product: lipstick, lipgloss, or eye shadow single (I was shopping at a MAC store which allows you a wider variety of items for Back-to-Mac).
In an effort to clean out my makeup stash (including tossing old items and empties), I traded in 12 items for Back-to-MAC! Yay!!!! So, that means that I got two free items! I am just thrilled about this.

So, I got two eyeshadows Naked Lunch and Shale. Shale is a very interesting color. It is like a less shimmery and more purple version of my favorite MAC eyeshadow Satin Taupe. Shale is a complex combination of lavender, silver, and taupe. I love this shade as a crease color. Naked Lunch has been on my MAC eyeshadow wishlist for ages! So, I am thrilled to finally add it to my collection. Naked Lunch is such a great basic! On me, its effect is extremely subtle. It is a slightly shimmery satin champagne color with hints of peachy pink. Naked Lunch looks very natural on the lid and the finish has a brightening effect.
The Run Down: The MAC Matters Challenge
I am literally keeping a cash envelope in a MAC bag at home for the duration of this challenge (one year). Any remainder cash will go back into the envelope for future MAC purchases. I really want to see what and average $21.00 per month can get me with a year's time. What kind of collection can I build?
Totals:
*Naked Lunch $0 (Back to MAC)
*Shale $0 (Back to MAC)
Syrup $15.00
tax $1.05
Total Spent: $16.05
**Remainder: $4.95
*Not counted as part of MAC Matters Challenge (included in post as it was part of this "haul")
*The $4.95 will be added to my $21.00 for next month. I can either purchase a larger item next month or carry the remainder over again for an even bigger MAC purchase.
How do I feel?
Pleased as punch! For $16.05 I got a beautiful lipstick accompanied by some free Back to MAC items. MAC's Syrup truly is a great basic "my lips but better" lipstick. Just gorgeous! Even without the addition of the Back-to-MAC free shadows, I am still totally thrilled with how I spent my $21.00 Challenge allowance!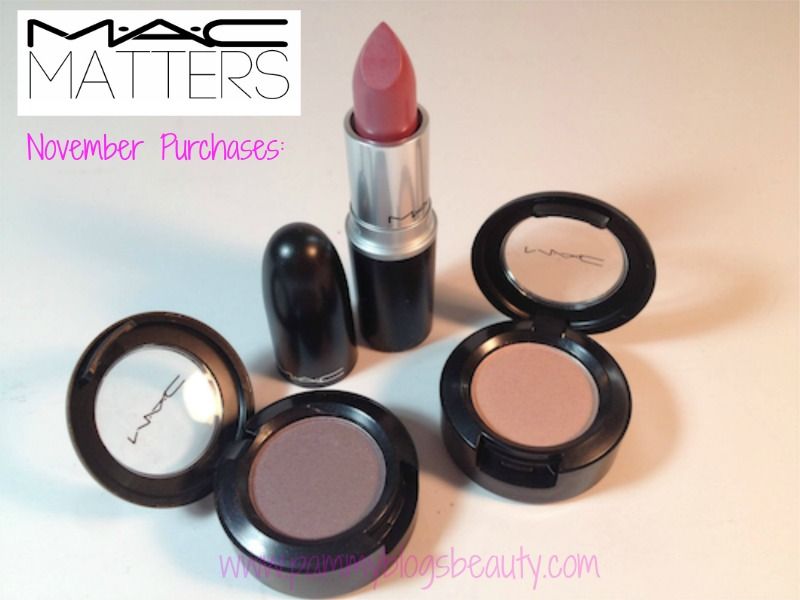 MAC Recommendations:
Are you a MAC lover already? I would love to hear your product recommendations! I am keeping a running list on my phone. I am trying to do my research to pick out some really great MAC products! So, feel free to comment here, send me a message, FB me, or tweet me about your favorite MAC products. :)
I hope you all are enjoying this blog series as much as I am! I know that Quinn (Mama Fashionista) and I are having a total blast with it. Don't forget to check out Quinn's post here: Quinn's MAC Matters November Challenge.
Inspired to build your MAC Collection? Feel free to join us in the MAC Matters Challenge!
Thanks for reading!
XOXO!