Do you ever find yourself in the situation where you are just too tired to do your evening skincare routine? This happens to me frequently! I will fall asleep on the couch and then have to drag myself to bed. It is all that I can do to wash my face on these nights. These
Daily Resurfacing Disks from RoC
are perfect for those nights!
These
Daily Resurfacing Disks
are so super easy to use! They are pre-moistened dual textured disks. When I say pre-moistened, I mean totally soaked with product (a good thing! I hate a dry wipe/facial round). You can easily remove your makeup, cleanse, and exfoliate with just a few swipes of the pad! Talk about a time saver!!!
My Skin:
My skin is combo-normal currently (combo-dry in winter and combo-oily in summer). I have no major lines or wrinkles yet. However, I do have some very fine lines that surface when my skin is a bit dry. Also, my skin is sensitive.
Anti-Aging Benefits!
The exfoliation from this product has clinical results! According to RoC, the results are as follows:
In just one week: The appearance of fine lines is reduced. Skin tone and texture is improved.
After 4 weeks: Signs of photo-aging appear diminished.
After 12 weeks: The appearance of wrinkles and pores is diminished.
While I do not use this product exclusively, I do notice results from my sporadic use. I have averaged using these about twice a week. When I use these consistently, I notice that my fine lines look smoothed and my skin tone looks more even. Plus, I learned from my RoC Webinar (with a dermatologist and a RoC product formulator scientist) that exfoliating your skin is a crucial step in your skincare routine as exfoliation allows your treatment products to penetrate better.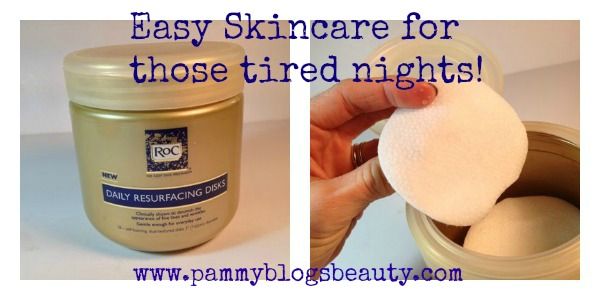 Here is how I use these:
First I splash my face with some water. Then I lightly use the smooth side over my eye area to remove my makeup. Then I use the textured side to lightly exfoliate my face. I only press very lightly and I move the pad in small circular patterns. The pads feel so cool and refreshing on my skin! Then I flip the pad over to the non-textured side, close my eyes, and gently wipe over the eye area. Be sure to be careful around this area as the solution can sting your eyes a bit. Just keep those eyes closed tight! Next I throw away the disc and splash my face again with water to rinse. It is that easy! My skin rinses clean and does not feel tight nor have a cleanser residue.
While I have sensitive skin, I did not experience any irritation from this product. The textured/exfoliating side is really quite gentle. These are not harsh scrub pads at all. Very gentle indeed! Note: This product is quite fragranced. So, if fragrances irritate you, then test in a small area first. While I would prefer this product to be a bit less scented, the scent is nice and not overwhelming.
The Skinny:
One jar contains 28 self-foaming discs soaked in product. The top of the jar flips up. I am amazed at how moist these stay! I have not experienced any of these discs drying out.
You could potentially cut these discs in half to get more uses out of this jar. 1/2 a disc still has enough product soaked into it to use on your entire face. I just keep a pair of scissors next to my jar and cut before using.
Retail price: $9.99 for 28 discs
I just love these discs and will continue to use these! :) Also, I find these are great for travel! I can just toss in the exact number of discs that I need into a ziplock!