It is time for a
Julep Maven beauty box opening
!!! :) I just love box openings!
Recent Cancellations of Other Beauty Sample Subscription:
Recently, I have paired down my beauty subscriptions. That is right, I cancelled one. After much contemplation, I realized that I only wanted to keep a couple of my very favorite beauty subscriptions. So, I cancelled GLOSSYBOX and kept my subscriptions to
Birchbox
and
Julep
. While you will no longer see monthly GLOSSYBOX openings on my blog, I will continue with my Birchbox and Julep openings. Julep and Birchbox were my favorite subscriptions. So, I am happy to continue with both! :) Don't get me wrong, GLOSSYBOX was great. However, I just didn't need to spend that much money on samples. Who knows, I might subscribe to them at some point in the future. For now, I am completely satisfied sticking with just Julep and Birchbox.
The
Julep Maven program is a Monthly Beauty Box subscription
. In the vast sea of beauty sample subscriptions, this one really stands out! It is a beauty subscription for nail polish lovers! Plus, you get to select which box you want each month!!! When you sign up for Julep, you take a style quiz. Then, Julep matches you with a Style Category. For the Monthly Box, Julep pre-selects a box for you based on your beauty style profile. You get an email with a graphic (see the picture below) representing your box. My style on Julep is "Boho Glam". If I do not want the box for your particular style category, you can easily switch to one of their other boxes. This month I choose "Bombshell" again. Once again, it was hard to pick as all of the polishes looked so pretty!
Another good thing? With Julep, you can skip a month! If you can't find a box that you like or if you just don't feel like spending the $20.00 for a particular month, then you can simply opt to skip a month.
Subscriptions are $20.00 per month (but remember you can skip a month if you need to).
You get to choose your box! They have a great assortment every month.
Each box contains 2 full-sized Julep Nail Polishes plus one Julep Spa full sized product. Also, there is always one box that has 3-full sized Nail Polishes and no spa product. I have literally loved every spa product that I have gotten! Seriously, I have found some favorites at Julep!
Box Value: The value of the box far exceeds the $20.00 cost! The nail polish normally retails for $15.00 a bottle and the product prices range from $14.00-$38.00.
You can earn credits for referrals! Julep has recently re-vamped their rewards system and website. So, I am just learning how the new system will work for rewards. Here is how you earn "Jules": You earn 1,000 Jules for referring a friend to Julep Maven, 300 Jules for each full priced Maven box you are billed for, 200 Jules on your Birthday, 500 Jules on your Maven anniversary, 750 Jules when you pay for the monthly upgrade box. You even get 100 points just for becoming a Maven. As you can see, there are many ways to earn! Note: Current Julep Mavens: Your referral link has changed! So, be sure to log into your account to grab your new referral link to use. :) Here is how you redeem your Jules: You can redeem 2,000 Jules on Maven boxes, 750 Jules on nail color add-ons, and 5,000 Jules on Upgrades.
Here is the assortment of polishes available in the November boxes:
Hard to choose, right! :) Such pretty shades.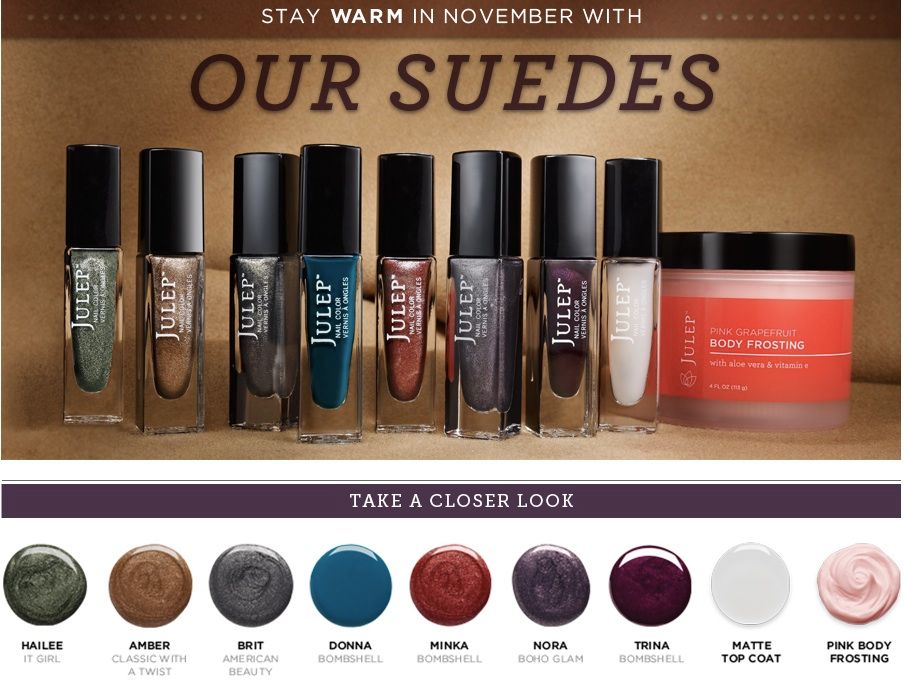 So, what was in my Julep Maven Bombshell box this month? Keep reading to find out more details!
The Julep Maven November Bombshell box:
Once again, I totally adore my Julep maven box! From the cute packaging to the great products, I totally love this month's box!
Inside the Box:
This month's box contains two Julep Polishes: Donna (peacock blue creme) and Trina (deep eggplant shimmer). There is no question that purples and blues have been my favorite nails shades this past year. Across the board, I am a "pink" girl. However, every time I do my nails, I tend to reach for some sort of blue or purple. So, this month's selections are right on target!
In addition to the polishes, the box also contains a full sized Julep Pink Grapefruit Body Frosting. This Body Frosting is a rich whipped body butter. It smells amazing and I can't wait to use it! I am such a huge fan of all of the body products that Julep has sent. This body frosting is no exception. It smells so yummy!
Julep always includes "extras" in their Maven boxes. Usually the extras are substantial (e.g. last month, Julep gave nail glitters as extras). This month the extras were 3 foil sample packets of nail polish remover pads. While this is on the "smaller side" for a typical Julep Maven extra, I am totally happy to have these! I never pack nail polish remover when I travel as I much prefer to pack these type of pre-moistened pads. So, I will for sure toss these in my travel bag.
I love the items in this month's Julep Maven Bombshell box! Fellow Mavens, do you like your box this month?
XOXO!
I am a Julep subscriber.
Referral links in post.