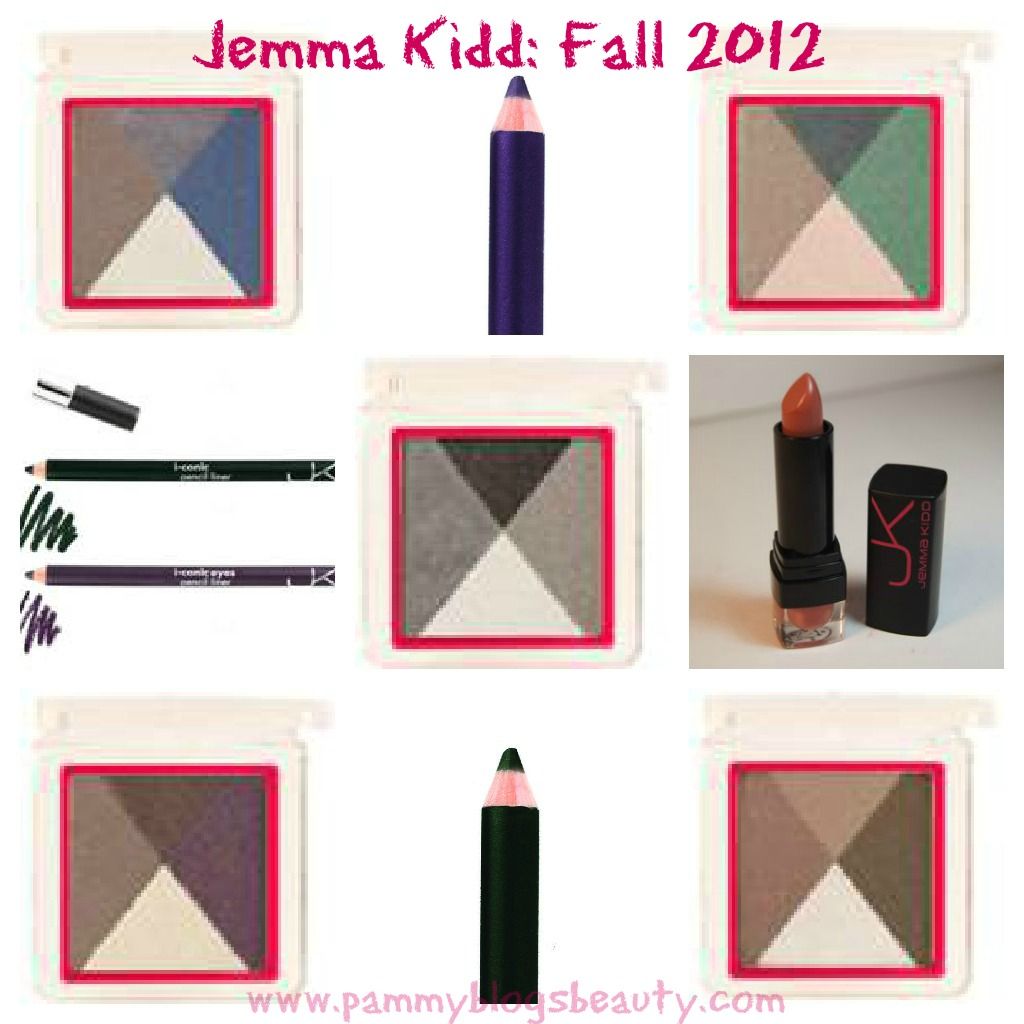 Have you scoped out the new
Fall 2012 Makeup Collections
yet that are available at Target? I always love when a new season is approaching. Usually by the time the change of season arrives, I am in need of a fresh "look"! These new items from Jemma Kidd are great options to revamp your makeup routine for the new Fall season!
I always like to go a bit bolder with my makeup in the Fall and Winter months. After going more natural in the Spring and Summer, it is exciting to explore deeper Fall and Winter shades.
Jemma Kidd
is offering a great assortment of new Fall 2012 products to help you re-vamp your routine: lipsticks, eye liners, and eye shadow quads. To see what I tried out, keep reading!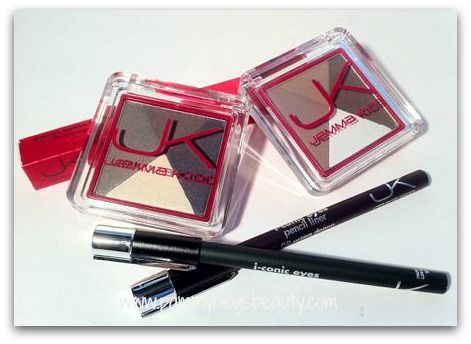 I tested out a few items from
Jemma Kidd's new Fall 2012
line: a lipstick, a couple eye shadow quads, and a couple eye liners.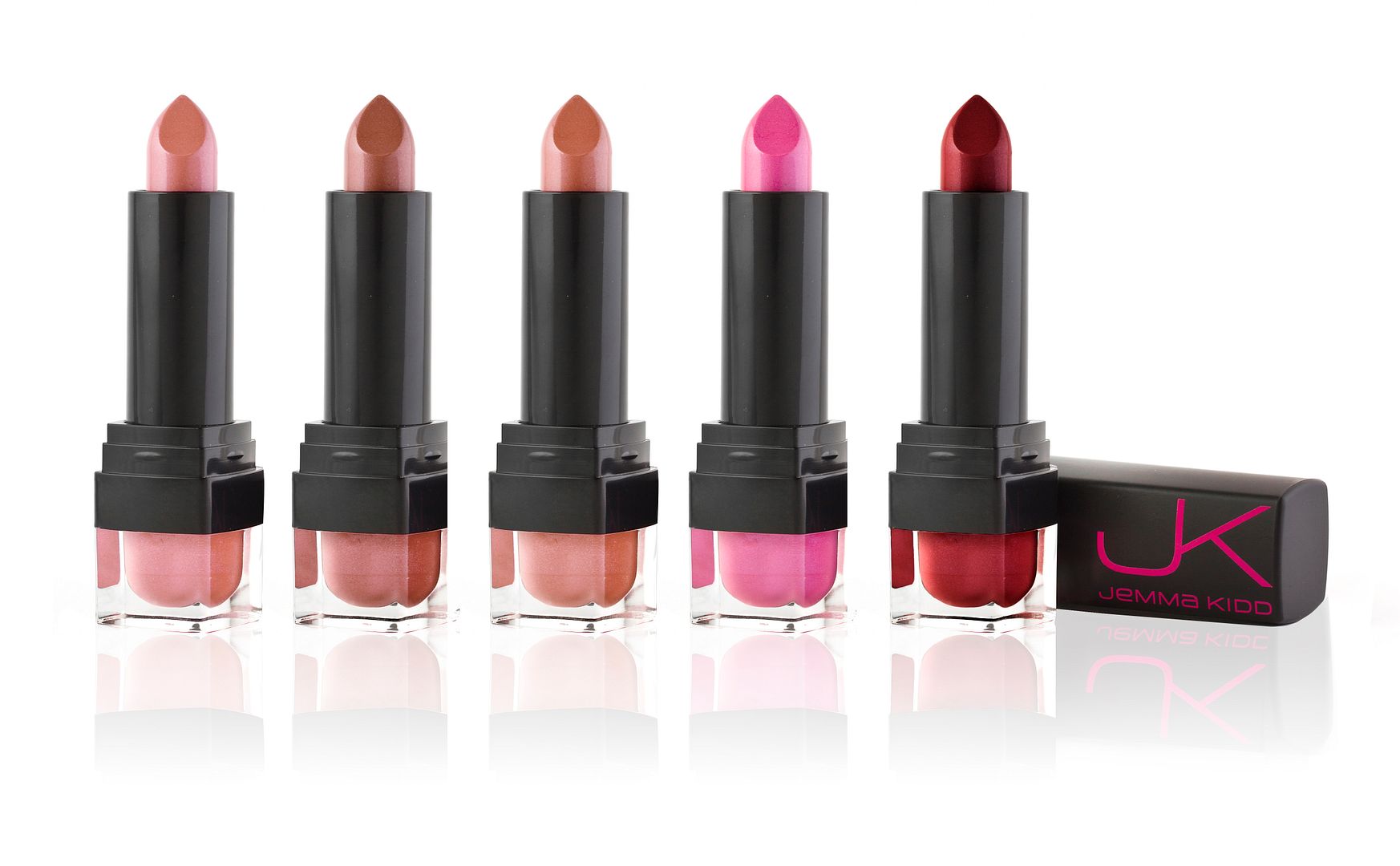 JK Jemma Kidd 24/7 Long Wearing Lip Color
There are 5 new lip shades available for Fall 2012: English Rose, Femme, Temptress, Minx, and Monroe.



JK Jemma Kidd I-Conic Eyes Pencil Eye Liners:
There are 2 new eye liner shades for Fall: Idol and Prima Donna.
The I-Conic Eyes Pencil Liners are long wearing pencil eye liners that have a built-in sharpener. What a cool idea! The little silver metal pen-like top lifts off to reveal a small sharpener housed right in the cap. Just twist the cap and you will have a freshly sharpened pencil every time. It might sound like a no-brainer, but my best tip to easy lining is a well sharpened pencil. How often do you neglect to sharpen your pencil and then struggle to get your liner on right? Me? I do this all the time, lol! Having the sharpener built right in really helps me remember to sharpen it. :) I especially love wearing the purple Prima Donna shade. So pretty! I find these are long-wearing with minimal smudging throughout the day. These retail for $14.00 each.
JK Jemma Kidd I-Design Mineral Shadow Quads:
There are 5 quads available: Headline Act, Director's Cut, Off Duty, Street Style, and Style Hunter. I tested out #04 Director's Cut and #01 Off Duty.
I find that these shadows have a nice medium pigmentation and wear fairly matte (but do contain some shimmer). These are not soft and powdery shadows. They are actually a bit on the hard side. They require a bit of blending as well. I think these neutral shades are great for day-time office or school appropriate looks. You can always deepen the darker shades to take your look from day-to-night with these quads. Each quad seems to contain one very light shade and then 3 darker shades that are about the same intensity. I wish there was a bit more of a varying of intensity within these quads as I usually like a medium shade for the crease. I like how this collection includes just a touch of color too. When I wear color, I usually mix it in with some neutral shades. I found these shadows to be quite long wearing.
These are packaged in a sleek hard acrylic cases. I really like the look of the clear packaging. The
Jemma Kidd I-Design Mineral Shadow Quads
retail for $17.00 each at Target.
All-in-all, some great choices from
JK Jemma Kidd for Fall 2012 at Target
!
Do any of these items catch your eye?
XOXO!