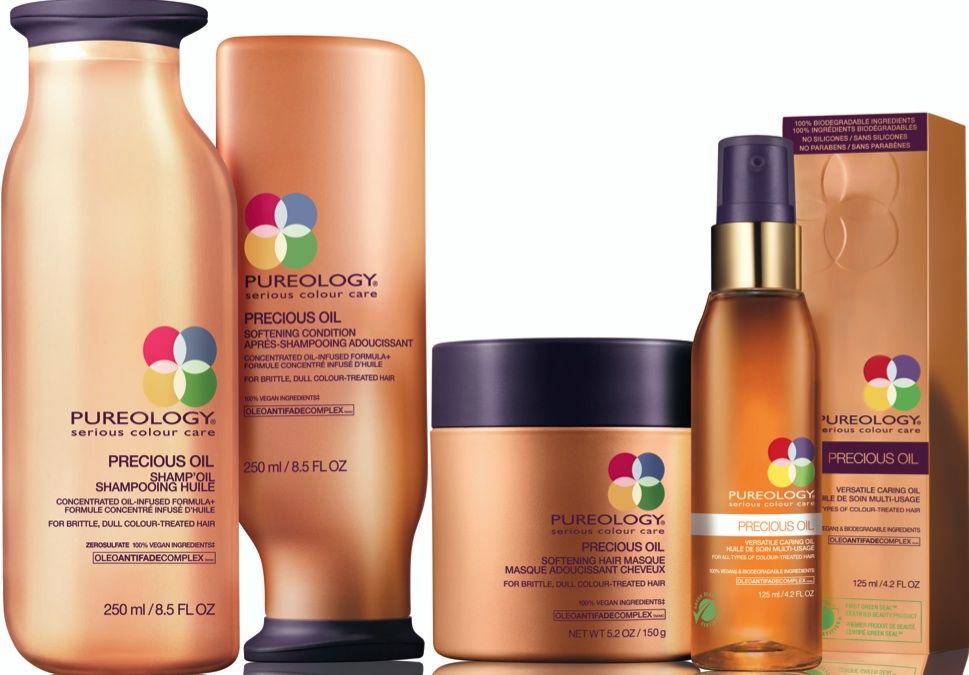 My color-treated hair needs so much help! My product testing of this new Precious Oil line by Pureology was perfect timing!
My Recent Hair Disaster:
A couple weeks ago I switched colorists. My previous girl was amazing and I had been with her for years; but, she is expensive. In an effort to save a bit of money (as a Stay-at-Home Mom with a single income family...we need to make some cut backs), I tried a new girl that worked in the "training" side of the salon. What a mistake! Sure, I saved about 50% of the usual cost but my hair got ruined! The new girl had the same formula that my previous colorist used. However, she must have left me in the foils for too long under the heat. The result? My hair is extremely dry, coarse, and has absolutely no shine. It tangles instantly when it is wet and it is just about impossible to comb out. The texture feels like straw. What a mess!!! The salon gave me a complementary protein treatment; but, I wonder...should I have even paid for this service? I did; but I wonder...should I have? There really is no way to "fix" this damage. It needs to be grown out. The damage goes root to tip. So, a simple trim will not help. The salon protein treatment did not do much to help the situation. My home treatment with Aphogee helped a bit; but, sadly, this damage really does need to be grown out. Needless to say, I am going back to my old colorist next time and will likely never stray again! She may be expensive but now I see that she is totally worth it!
So, with all of that said, I am now testing out hair products with very damaged hair. I need products that are very nourishing, strengthening, and moisturizing. This is a tall order! Well, this new Precious Oil line by Pureology rose to the challenge and performed beautifully in my dry/damaged color treated hair!
The Precious Oil line promises 10x softer hair after just one use. The line contains a blend of Precious Oils ("Caring oil" and "Shamp'Oil") which are free of parabens, sulfates, and silicones. These oils penetrate deeply into the hair to replenish it and smooth it down. Other oils included are Sunflower Seed Oil (for softness), Coconut Oil (for elasticity), Olive Oil (for shine), and Jojoba Seed Oil (for moisture). This sounds like quite a lot of oil, right? Well, the blend works. These products are incredibly moisturizing. Yet, despite the high amount of oils, these products magically do not feel oily nor leave your hair looking oily!
A bit about Pureology: An Eco-Conscious Brand
Have you heard of Pureology? Pureology is a "sister brand" to my all-time favorite brand Redken. So, I am excited to explore this line! Pureology's eco-concious focus reminds me a lot of another favorite of mine, Aveda. Pureology's business practices support a sustainable vision and the Green Seal standard. They strive for minimal environmental impact, keep products free from silicone and parabens, products are biodegradable, packaging is from recycled materials, and use100% vegan ingredients (no ingredients of animal origin).
To find out more about the Precious Oil line by Pureology, keep reading!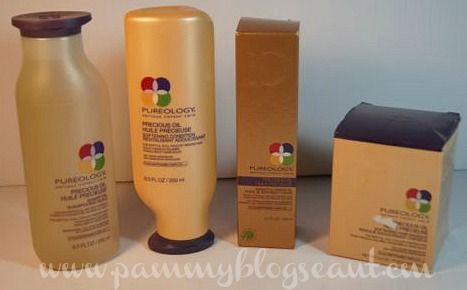 The Precious Oil Line:
I tested out the following products from the Precious Oil line by Pureology: Precious Oil Sham'oil Shampoo, Precious Oil Softening Condition, Precious Oil Softening Hair Masque, and Precious Oil Versatile Caring Oil.
The Philosophy Behind the Pureology Precious Oil Line:
Water can be the biggest enemy of hair color. Healthy/uncolored hair naturally repels water. When your hair has been colored or chemically processed, the hair shaft weakens and attracts water (this might be why my hair takes so long to dry!). This process can fade out your color. The natural oils in the Precious Oil line are designed to penetrate deeply into the hair to repair the hair fibers and fortify and protect the cuticle. When the surface of the cuticle is protected they hair's hydrophobic (repels water) state is restored.
The Amazing Scent:
O.M.G!!! The scent of these products is just heavenly. For real, sooooo good! If you are a fan of the Twilight Woods scent from Bath and Body Works, then you will love the scent of the Pureology Precious Oil line!!! The Precious Oil scent is just so similar to Twilight Woods (which, by-the-way, is one of my all-time fav Bath and Body Works scents!!!). Not only does the Pureology Precious Oil line smell amazing, but also the scent really lingers in your hair....for days! I typically go at least 2 days in-between washing and my hair really retains the amazing Precious Oil scent. Yay!!!
Now, on to the products!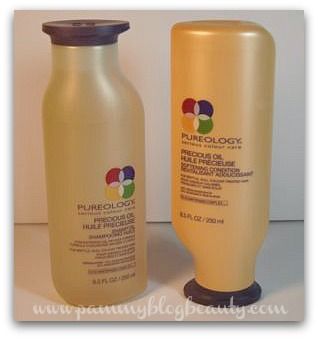 Pureology Precious Oil Shamp'Oil Shampoo:
This is a clear gel-like shampoo that has a light foaming action. It cleanses very gently and leaves your hair feeling nourished (not stripped of moisture). The formula is enriched with Pureology's unique oil delivery system that penetrates the hair fibers. I really like the feel of this shampoo. I use about a 2 quarters size for my entire head (I have very long hair). Retail price: $29.00 for 8.5 fl oz.
Pureology Precious Oil Condition:
This is Pureology's daily conditioner. It is nicely concentrated and feels much more rich than your average daily conditioner. It detangles extremely well (provides some nice slip) and leaves your hair feeling very soft. This conditioner has made my very hard-to-manage damaged hair much easier to comb out! It helps restore softness and shine to my dull hair. I massage a generous amount into my hair going scalp to tip (if your hair is not super damaged, you might not need to apply near your roots. In my case, I do.). I lightly comb it through with a wide toothed shower comb. Then I leave on for the rest of my shower (usually about 10 minutes. The instructions say to leave it on 1-2 minutes). If you want deeper conditioning, you can add 1 pump of
Pureology's Versatile Caring Oil
to the conditioner before massaging into your hair. I love this trick! Retail price: $29.00 for 8.5 fl oz.
Pureology Precious Oil Softening Hair Masque:
I am such a huge fan of hair masks! Especially when my hair is in such a damaged state! This mask has really helped to nurse my hair back to a better condition. Actually, after using this, my hair *almost* feels back to normal. If you can only try one thing from this Pureology Precious Oil Line, then I would recommend that you try this amazing hair mask!!! Pureology suggests using this product weekly. Personally, I deep condition every other shampoo (which works out to being weekly since I go 2-3 days between shampoos). This hair mask penetrates deeply to fortify the hair and to intensify shine. I apply after shampooing. I really apply this very generously and coat every inch of my hair. The directions say to leave on for 2-5 minutes. I leave it on as long as I can. Sometimes (when I have more time), I get out of the shower and put a plastic cap on my head, then a hair wrap (little towel), and let it penetrate for 30 minutes. The longer the better! For deeper conditioning you can add a pump of the
Pureology Versatile Caring Oil
. Like all the Pureology products, this Hair Masque has that delicious Precious Oil "Twilight Woods"-esque scent. The scent seems more apparent in my hair the following days when I use this hair masque (possibly because I let it sit in my hair longer?). Love this mask!!! It is very pricey; but, it really works! Retail price: $50.00 for a 5.2 oz tub.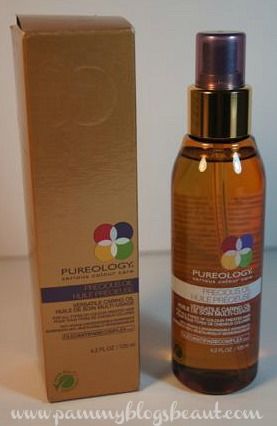 Pureology Precious Oil Versatile Caring Oil:
As the name suggests, this is a very versatile oil that can be used many ways! I am such a HUGE fan of hair oils. Nothing beats em for adding shine and softness to the hair. This oil can be used on wet or dry hair. You can use it as an additive ingredient to your conditioner or hair mask to boost the effectiveness (see Hair Mask and Conditioner sections above). Just add one pump to your conditioner or mask and apply. You can also apply it as a leave in to damp or dry hair. I like adding just a "touch" of this oil to my hair ends when it is almost dry. My hair instantly drinks up this oil! This was the first Pureology product to be "Green Seal" certified! I love how this oil leaves my hair: more shine, increased manageability, and improved softness. Love it!
Overall, I am incredibly impressed with this Precious Oil line by Pureology! These products, used together as a system, have drastically improved the look, feel, and condition of my damaged highlighted hair. My hair is much more manageable and the shine is greatly renewed. My color looks softer now and my hair just feels much more healthy. Also, the frizz is reduced and my hair is much easier to comb out. The results really are phenomenal considering the damage that I am dealing with! If you are looking for products to help with your damaged hair, I highly recommend these! Also, I recommend this line if you are a lover of Eco-conscious brands!
This line gets my "Pammy Seal of Approval!" that I only reserve for my faves! :)
Thanks so much for reading! Those of you with damaged hair, I would love to hear what you are loving and using to repair the damage!