Do you ever get into a makeup rut? Many times, especially when I am in a hurry, I tend to grab the same items over and over again. I will end up with the "same face" for days on end. I am sure that we are all guilty of this from time-to-time (and who can blame us?). We want something that looks good and is quick and easy to apply. As much as I love to "play in my makeup collection", most mornings I really do need to grab something quick. So, no time to dig and search for the products.
The
"Week of Wakeup Makeup" palette by Pixi
solves the" in-a-hurry makeup rut" dilemma! This kit has absolutely everything you need for 7 complete and different looks! That is right, this palette is organized with a "Face of the Day" for each day of the week! Truly a genius idea!!!
For me, how I like a palette is often determined by two primary factors: color selection and palette organization. Well organized palettes guide the user and streamline your application. The color selection is crucial too! Will enough of the colors work for your skin tone? Sure other factors like packaging, quality, and price are important too. But, I find that the determining factor as far as how much I actually *use* a palette is dependent upon color selection and palette organization more than anything else.
My Palette Princess makeup palette review series continues with
Pixi's Week of Wakeup Makeup!
Too see more photos, swatches, etc keep on reading!
Pixi's "Week of Makeup Makeup": All you need for 7 Complete FOTDs!!!
This palette is comprehensive! It contains 21 eye shadows, 7 cheek powders, and 8 lip glosses! That much makeup could potentially be overwhelming. But, not in this kit! The products are organized by day which streamlines the products into complete daily looks.
The fabulous organization of this palette completely won me over immediately! You can literally just grab this palette and have all you will need for a week. There is no excuse for a "makeup rut" with this palette! Each day's look is a bit different and yet still totally wearable and flattering. I will fully admit: I am a bit obsessed with this kit.
Packaging and General Layout:
This kit comes in the traditional Pixi cardboard packaging. The kit is every so slightly on the bulky side; but, it is packed with a ton of products! The top lid opens up to reveal a mirror on the inside and complete looks for Wed/Thurs/Fri. The other days' looks are stored underneath and they slide out of each side.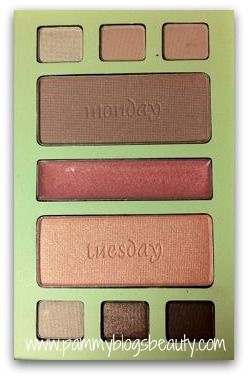 Mon/Tues Swatches: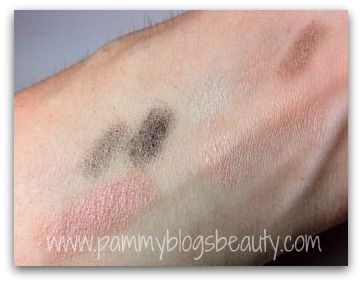 Wed/Thurs/Fri Swatches: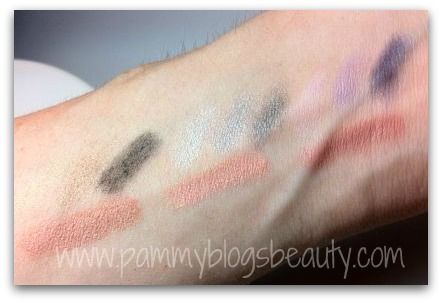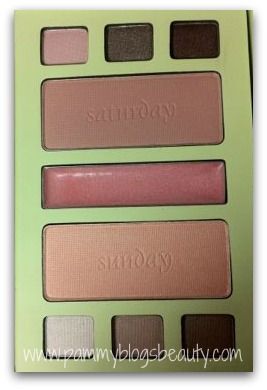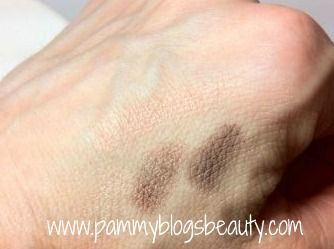 Sat Swatches
Sun Swatches
The beauty of this palette is the days-of-the-week layout!
The palette is organized vertically into "Days of the Week" combinations. The day is imprinted on the blush pan for each day. Monday/Tuesday and Saturday/Sunday slide out on each side. These days share the same lippie; but, each of these days has its own blush and three eye shadows. Wednesday, Thursday, and Friday have their own blush, 3 eye shadows, and 2 lip glosses each.
Eye Shadows:
21 eye shadows in this kit! Wow!!! Pixi really packed a lot of shadow into this kit. The Shadows are paired with their "day of the week" blush in a trio fashion. Each trio generally has a light, medium, and dark color for highlight/lid/crease colors (or could be used as liner). The color combos work great as their own trio for the day. Or, of course, you could obviously mix them up a bit with the other days' shades! The kit gives you a couple true mattes; but, for the most part, the shadows all have a slight degree of shimmer. The shadows are soft and blendable. The pigmentation varies a bit. But, the shadows generally have about a medium pigmentation.
The only downside for this palette for me is that some of the shadows have very, very small pans (Mon/Tues and Sat/Sun)! Ack! My typical eyeshadow brushes are actually just a tad too wide to fit into the small pans. No worries though as I have a few other smaller brushes on had. That said, I can see how this might be a problem for someone with only a regular size eyeshadow brush.
Blush/Cheek Colors:
I think the true stars of this kit are the beautiful assortment of cheek colors!!! "Days of the Week" aside, this kit is an amazing cheek palette with 7 cheek colors! That is more selection than any of my other palettes!!! There is no question that if you travel with this palette, you will have all you need for your cheeks!
My particular favorites are Tuesday's and Thursday's cheek color. Both are beautiful peachy pinks and one has more shimmer than the other. Others shades include a matte bronzer (Wed) and a peachy shimmery highlight (Sun).
The Cheek colors are all very soft and powdery. Actually, they are very powdery. Just the slightest touch of your brush releases a ton of product. So, I need to "tap, tap, tap" my brush before applying. Also, I seem to need to "blow off" the palette after using a blush as the loose powder is visible on the pan.
The shades and assortment all work well with my skin tone. All-in-all, great cheek colors!
Lip glosses:
This palette comes with 8 lip glosses. I did not swatch these for you as many of the shades are somewhat sheer. The lippies are glossy without being too sticky. Also, they felt moisturizing. There is a nice assortment of shades here. You can certainly mix and match these to suit your mood!
If I could change another aspect of this palette and many other palettes that I own (besides making the eye shadows a bit larger), it would be to have removable lip glosses that are in wand form embedded into the palette. Lip gloss, for me, really needs to be portable because I reapply it throughout the day. If these lip glosses were removable, I think that this palette would be *perfect*. But, I do still like the glosses and use them. I just need to make sure to have an additional tube of gloss to take with me each day when I am out and about.
Did the "Days of the Week" Format Work For Me?
Absolutely! I actually really enjoyed challenging myself to create the "Days of the Week" looks! It "forced" me to rotate my look without spending any extra time or effort. The eyeshadow, blush, and gloss color for each day really coordinated well! So, sometimes I wore the looks just as designed per day, and other times I just played around with all the pretty colors and mixed and match.
If you can't tell, I am totally having fun with this cute palette. Love the "Days of the Week" concept. I wish that more palettes out there were organized like this! This palette is going to be my go-to palette whenever I feel that I need to shake myself out of a makeup rut!
This is a great kit for makeup collectors as well as beginners. The "Days of the Week" format can be great if you need help coordinating looks or if you are in a hurry. The colors are all very flattering. Many of the looks are subtle and natural. Therefore, this palette is great for weekday looks and work appropriate makeup.
The Skinny:
Pixi's Week of Wakeup Makeup Kit is available at Target and at Pixi.
This palette retails for $36.00
Do any of you ever get into a Makeup Rut? What do you do to shake out of it?