It is time for my
Monthly Julep Maven box opening
!!! As ya'll know, I totally <3 my Julep Maven monthly nail polish beauty box subscription! Who doesn't love an adorable box of pretty nail polish and nail pampering treats every month? :) Plus, the products are all *full sized*!!!
As I have mentioned before about
Julep
, the great thing about this subscription is that you get to pick your box!!! Julep pre-selects a box for you based on your beauty style profile. You get an email with a graphic (see the picture below) representing your box. My style on Julep is "Boho Glam". If I am not that "into" the Boho Glam box for a particular month, I can easily switch to one of their other boxes! Honestly, it is always hard to choose because I want em all!!! :) This month, I decided to stick with my Boho Glam selections. Funny, the Julep Style Profiles must be pretty spot-on because I almost always stick with Boho Glam.
The other great thing? You can skip a month! If you can't find a box that you like (unlikely, but I guess it happens) or if you just don't feel like spending the $20.00 for a particular month (hey, we are all on budgets, right?), then you can simply opt to skip a month.
It seems that the emails usually come out about a week or so before the box arrives. I love that! You can choose the box you want, get a glimpse of the products, and then anticipate the arrival of your box. Does picking the box ruin the "surprise factor" that I seem to love with my beauty subscriptions? Not really! I just think of the "surprise reveal" as the email. I get sooooo excited when I get my monthly Julep email with the box options. Then, when you get your box, there is also always a "surprise extra" gift in the box. So, there is still plenty of suspense.
Not a Julep Maven subscriber yet?
If you are a Nail Polish lover, you must subscribe!!! What a great way to stay current with Nail Polish trends and try out new Julep spa products?
Subscriptions are $20.00 per month (but remember you can skip a month if you need to).
You get to choose your box! They have a great assortment every month.
Each box contains 2 full-sized Julep Nail Polishes plus one Julep Spa full sized product. Also, there is always one box that has 3-full sized Nail Polishes and no spa product. I have literally loved every spa product that I have gotten! Seriously, I have found some favorites at Julep!
Box Value: The value of the box far exceeds the $20.00 cost! The nail polish normally retails for $15.00 a bottle and the product prices range from $14.00-$38.00.
Ready to subscribe? Here is my referral link: Subscribe to Julep
You can earn credits for referrals!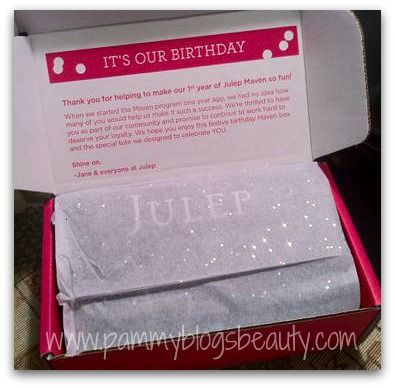 Ready to hear about this month's box? Keep reading!
Happy One-Year Anniversary Julep!
Funny, unlike my other beauty box subscriptions, each month the outer box seems to be totally different! This month, a larger-than-usual pink Julep box arrived! Hey, who doesn't love getting a big hot pink box in their mailbox!!! :) When I opened the box, I saw a message on the inside lid that it is Julep's 1-year anniversary! Here is to many more years!
I really love how they package the Julep Maven boxes. They are always beautifully done. Inside the hot pink box is some pretty white tissue with sparkles in it. Underneath is a very nice mid-sized fabric Julep grocery bag. I find these types of bags to be *so useful*!!! What a great "extra"!!!
The polishes inside Julep's boxes are always so well coordinated. You can mix and match the polishes so well! This month is no exception!
Here is what is in August's Box:
image source
Trending Now: Metallics and Chromes:
The "theme" for this month is
Metallics and Chromes
. I am a huge fan of metallic/chrome polishes. I find that a bit of shine or sparkle on the nails turns your nails into an "accessory" almost like your nails become your jewlery. Does this make sense?
The Polishes:
I immediately painted my nails with Isla! I love, love, love white-based polishes. Even though I am very fair skinned, somehow white polishes always make me look "tan", lol! Plus, I just think white polishes look pretty and fresh in the summer. I love how this looks on my nails. Piper and Isla pair beautifully together with either every other nail done with each color or Isla on nails and Piper on your toes!
The Remover:
Also included in the box is Julep's Nail Polish remover! I am currently almost finished with my bottle of Zoya Remove Plus. As soon as I am, I will be using this! Actually, it is packaged very similarly to Zoya's remover with the flip top lid that allows you to just press your cotton pad to the top and not have to flip the bottle over to get remover on the pad. What a great system! I am thrilled that they included a remover in this month's box. Like I mentioned, I always love their Julep spa products and put them right to use!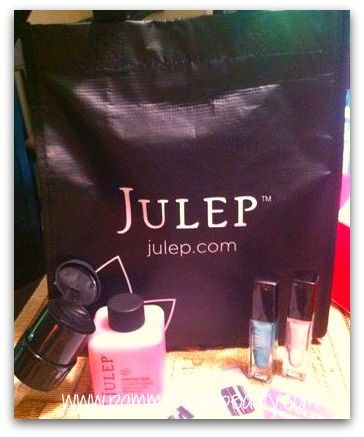 As you can tell, I loved this month's
Julep Maven "Boho Glam" box
!!! My fellow Mavens, what box did you go for this month?
Thanks for reading! Stay beautiful!
XOXO!
Referral links in post.
I can earn credits with referrals
(so can you if you sign up!)