Whoo-hoo! I got my first ever
Klout perk
:
essie's luxeffects topcoat in "stroke of brilliance"
!
I am pretty new to Klout...and I must admit, I am still figuring it out! While I have heard people talking about Klout and Klout perks for awhile, I am just getting started with it. Klout gives you a score and awards you for "influence". Basically, Klout is a site that allows you to earn and award points (or +K) to influential blogs, sites, brands, etc. You are only allowed to award a certain amount of +K a day. Whenever I log on, I try to spread as much +K love as possible! Here is my
Pammy Blogs Beauty Klout profile
.
Once you reach a certain number of +K, you are eligible for perks! The first one that I opted for was this adorable essie polish!
I am just in love with this polish!!! It is a blue glitter topcoat. The glitter is a beautiful shade of medium periwinkle purpley-blue. It is really lovely! Honestly, I have never had a glitter in quite this shade. You may remember that I got a luxeffects silver glitter from one of my Birchboxes? I still love that one too!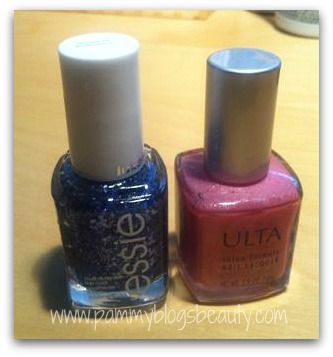 I layered it here with Ulta's Wild Orchid for a whimsical pink and blue look. I used 2 coats of the essie. I can't wait to layer "stroke of brilliance" with some darker shades for Fall and Winter!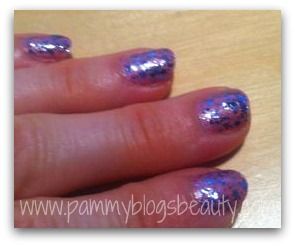 I wish the pictures did this manicure justice. It really is pretty! :)
Are you on Klout? Have you gotten any fun perks yet?
XOXO!!!