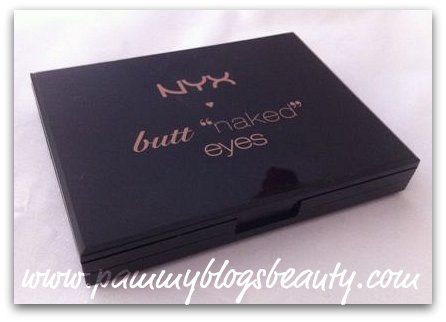 I spy a naked palette. But, no, not the famed UD Naked or Naked 2. This one is by NYX! With the phenomenal success and cult following of the UD Naked palettes, many brands are jumping on the "Naked" "Nude", etc palette bandwagon. The UD Naked palettes have become the gold-standard for what a nude palette can be. I, for one, totally love and adore my UD Naked palettes. But, with my love of neutral eye shadows, I can't resist scoping out all the other nude/naked palettes coming out from other brands! This "naked" trend is great for us girls who heart their neutral eyes!!!
Enter the NYX butt "naked" eyes palette. Actually, this palette almost seems misnamed because, no, its not just for eyes! There are 4 blushers, 1 bronzer, and 2 face illuminators in this palette as well! This palette contains everything you need!
After stalking my various local Ultas in vain search this bad-boy, I finally just ordered it off cherryculure.com (and happened upon a sale as well!). So, this huge palette only cost me about $20.00 total. Not bad considering all that you get! This was my first experience shopping from cherryculture. It shipped quickly and arrived packaged well.
So, whats the scoop on this palette? Will this replace my beloved UD Naked and UD Naked 2 palettes? Keep reading after the jump for more photos, swatches, and my thoughts!
First and foremost, this truely is an excellent deal. For about $20-25 (depending on sales, etc), you get 15 eye shadows, 4 blushers, 1 bronzer, and 2 face illuminators. They really packed a lot of product into this palette and priced it well!
But, how is the quality? It is the same as NYX's single shadows and blushes? Well, yes and no. I find that there really is some variation across the colors in this palette as far as pigmentation and texture. Some seem well pigmented, while others seem to be less so.
The palette itself is pretty sleek and compact considering how much makeup is packed inside. It is a simple black plastic case with a mirror on the inner lid and a drawer that pulls out to reveal the face powders underneath. I find that the drawer is a bit hard to pull out (but that might just be my palette).
The Shadows:
I *love* that these shadows lean towards cool toned. I always wear cool toned shades better as my coloring leans toward the cool-side of neutral. Rather than swatching the entire palette, I swatched an assortment of shades for you below.
This palette gives you a range of finishes: some mattes and some shimmers. I found some of the lighter shades to be a bit on the powdery side. There are a few great shadows in this palette! I especially love that shimmery taupe shade that is right in the middle of this palette! For me, its the perfect crease shade (and its swatched in the middle below as well).
For the most part, these shadows apply pretty sheer. But, the darker colors generally pack on a bit more pigment. Many of the lighter shades blend out to almost nothing on the lid. So, the quality of these shadows doesn't seem to be quite what I am used to from NYX.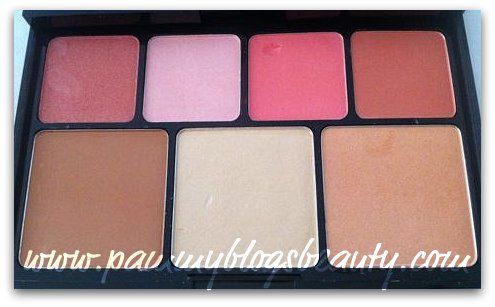 The Blushes/Bronzer/Highlighers:
This is really where this palette differs from UD! This is not, like the name suggests, an "eyes" palette...but a *face* palette! With the inclusion of blush/bronzer/and highlighter, you have everything you need packed into this case! I think that some face powders are really nice. I seem to reach for the soft and shimmery baby pink blush the most. The bright pink blush is nice too (and matte!). The highlighters are quite sparkly: with gold shimmer. So, I really don't wear those. The bronzer is not really working for my coloring either. But, with a light hand, I can make it work.
So, is it comparable to UD's Naked palettes? Well, no. This palette is really totally different with its cool neutral shadow assortment, varying quality across colors, and inclusion of face powders. Really, the only thing similar is the "naked" themed name. But, I honestly wasn't expecting it to compare exactly to UD. I think that, for the price, you get a nice assortment with this palette. No, its not my go-to palette. But, I do enjoy using it. I have even found a few shades in this palette that I really love! Also, this palette might be nice to travel with. It could even be the only thing that you bring (lol, if you are a better packer than me! I always pack way too much makeup!!!). So, for the price, this palette is pretty good. But, no, you are not going to get anything near UD quality with this palette. With all that said, I think this could be a great palette for makeup beginners. The price is affordable and you get a lot of colors to play with.
What do you think? Will you be looking for this palette? What other neutral palettes are you considering. There seem to be so many available now! I will be looking for more and reviewing them for ya'll as I find em!
Thanks for reading lovelies!