Also, I am typically willing to really splurge for a good eye cream. I will save money elsewhere in my skincare routine in order to pay for a good eye cream. Well ladies, I am so thrilled with this new eye cream from Roc. The best part? This is a drugstore eye cream ya'll! Granted, Roc is priced a bit high for the drugstore. But, still!
My Eye Needs:
I often express that my eyes are my "trouble area". No, I am not complaining about wrinkles. I am lucky, at 37 years old, to have fended off wrinkles thus far. But, it is only a matter of time! I do have some very faint fine lines that mostly surface when my skin is dehydrated. My eye issues are that of puffiness from fatigue, dark circles (hereditary, fatigue, lack of sleep-infant at home, and allergies), sensitive eye skin, and sensitive eyes. Also, my eye area is prone to redness. Often, I will like an eye cream, but it will sting my eyes. Or, it will be gentle. But, it won't "do anything" as far as anti-aging. So, what is a girl to do? It seems as if I am always trying out eye creams looking for the "next big thing" or my holy-grail eye cream.
For this review I tested out Roc's Multi Correxion Lift Anti-Gravity Eye Cream. For my previous review of
Roc's Multi Correxion Anti Gravity Moisturizer, please click here
. For my Eye Cream review, keep reading after the page break!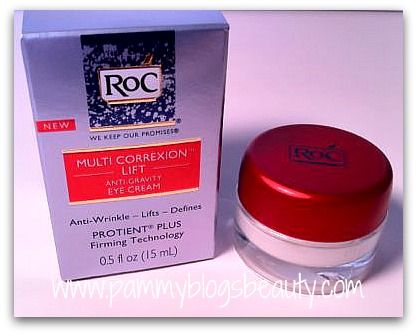 I am going to start out by saying that I absolutely can't believe that this is a drugstore eye cream!!! Everything about it seems high-end to me. From the packaging, to the feel of the product, to the results...nothing but the best here! I test out a lot of high end eye creams. There is no question that this one by Roc can compare to eye creams that are 3x the price!
This eye cream was designed to counteract the effects of gravity. The downward pull of gravity, over time, can contribute to the aging process. The result? A loss in firmness. So, this cream was designed to help correct/prevent this. The
Protient Plus firming technology helps firm and tone the entire eye area for lifted, more awake-looking eyes
.
Roc's Clinical Studies
showed the following:
Immediately:
Skin appears firmed and lifted
Crow's feet lines are visibly reduced
Skin looks softer and more radiant.
After 4 weeks:
Dark circles appear diminished
Under eye wrinkles appear smoother
Overall eye contour appears more defined
The Cream Itself:
This is a balm-like thick and rich eye cream in a screw top glass jar container. While I prefer tube or pump containers for eye cream (I just feel that they are more sanitary rather than dipping your finger into a jar...that's just me though), this jar is cute with its red cap. The packaging looks very high end indeed. The cream is white and unscented. It has a rich buttery-like texture. It just melts right into your skin when you tap it on. It absorbs quickly and does not leave behind a greasy residue.
The Skinny:
Roc's Multi Correxion Lift Anti-Gravity Eye Cream retails for approximately $24.99 in drugstores for a .5 oz jar. Yes, that is pricey for a drugstore eye cream; but, the price is much less than a high end eye cream!
How I use:
I apply this eye cream in the mornings and the evenings after washing my face. I apply a small amount with my fingertips to the entire eye area both under and over the eye and up to the brow bone. As I mentioned, the buttery cream absorbs quickly and leaves no residue. It makes a good base for my sometimes drying concealers as well.
My Results:
I am happy to report that this eye cream did not irritate my sensitive skin or eyes. Even when this eye cream accidentally gets into my eyes it still does not sting (but try not to get it in your eyes anyway. LOL, I am a klutz like that!).
Not only did it not irritate my ultra sensitive eye area, it actually worked to reduce redness! So, I find this eye cream to be a soothing treat to my whole eye area. This is a feat I tell you! I tested this eye cream during the *peak* of the allergy season here in Atlanta. Those of ya'll in the South know how bad Atlanta pollen can get for allergy/asthma sufferers like me!
I feel that my eyes look less puffy when I use this cream. No, my eyes are not crazy puffy normally, but I do have some mild puffiness from time-to-time. This cream almost has a cooling and tightening sensation after you apply it. Also, my eyes have been nice and hydrated from this cream which helps to prevent my occasional fine lines from cropping up. My eye area looks smooth and healthy. In addition, I did not get any milia while testing this. That is always a big plus in my book as I am rather prone to those.
Dark Circles:
While they are still there, I did see a bit of improvement! The surface skin of the entire eye area seems a little bit lighter and brighter. But, honestly, it is hard to tell. The deep dark purple (hereditary?) circles are still there (the ones that look like they come from below the skin). Also, this eye cream seems to reduce redness in the eye area skin. So, the skin being a bit lighter and also less red makes the area brighter overall. But am I giving this eye cream a fair dark circle test? Probably not because my 5-month old baby has started to wake up more during the night (hopefully a short-lived phase). So, I have actually been getting less sleep. So, I don't feel like it is really fair for me to evaluate dark circle reduction when I am actually getting less sleep. Given my reduction in sleep, I am still impressed with this cream's impact on the darkness in my eye area!
I am really pleased with this eye cream. Compared side-by-side to some of my more expensive eye creams, this one is just as good! Will I keep testing eye creams in the future? Well, yes as I write a product review blog. So, I must. But, I will happily return to using this eye cream any time and will use it until I use it up and certainly repurchase! I am thrilled to have found another winner with Roc!