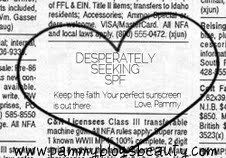 Seeking out great sunscreen is one of my favorite missions of late. So, I was absolutely thrilled to find this daily moisturizer with SPF in my Roc Beauty Ambassador "welcome box"! I immediately began testing it!
If you have not tried Roc products, they are a drugstore line that is first and foremost known for their great Retinol products. Being a nursing mother, I am currently avoiding Retinol (normally I am a huge fan!). But, guess what? Roc has a whole slew of products that do not contain Retinol. Besides Roc being synonymous with Retinol, they are also known for results-based and scientifically researched ingredients. They are expensive for a drugstore line. But, you truely are getting high-end quality and results with Roc products. I mean, this SPF just feels like a luxury cream (but at a drugstore price!).
My Skin Background:
My skin, generally speaking, falls into the normal-dry category. Note: *usually* normal to-dry...since I just had a baby, my hormones are a bit whacked and I have been getting some oily breakthrough too.

I am lucky as my skin rarely breaks out. But, if I am not careful in product selection, I can get a stray breakout here and there. Also, I do get a bit "congested" on the chin area. Not zits per-se, but little bumps/clogged pores.

In addition, my pores are somewhat large throughout my t-zone region. My skin is very sensitive to product ingredients. I do not have any lines or wrinkles. But, I can get some very fine lines (mostly around the eye area) when my skin is dry/dehydrated. So, with all that said, my skin is generally in very good condition. But, I would love to minimize my pores, refine the texture, and decrease "congestion" in my trouble areas.
Roc's Multi Correxion Lift Anti-Gravity Day Moisturizer with SPF30
This day moisturizer is part of Roc's new Multi Correxion Lift Anti-Gravity line of anti-aging products. Like the name suggests, this line is designed to counterbalance the aging effect of gravity. Hmm, this is interesting.
According to the good scientists at Roc, when we age, skin's collagen and elastin structure weaken because of gravity. Also, our cell renewal slows as we age and our skin's hydration is compromised. The result of all of this? A loss in firmness. Roc created the Multi Correxion Lift Anti-Gravity line to battle all of these skin woes. Roc's clinical studies show that skin is visibly "lifted" so that it appears smoother. Also, skin is moisturized and softened.
What did Roc's studies find (after 4 weeks of daily use, women saw the following):
Skin looked visibly lifted and firmer
Lines and wrinkles appear noticably diminished
Facial contouring appears more defined
I will go ahead and state that I do not have sagging skin nor a loss of firmness or wrinkles. So, I can not evaluate these particular claims. What I do have is skin in need of good moisturization and a good SPF. Also, I am interested in preventing signs of aging (a good SPF can do this!).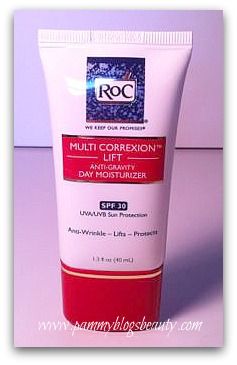 The Skinny:
Available at Drugstores nationwide. Newly available in Feb of 2012.
Retails for $24.99 for a l.3 oz tube. Yes, this tube is very small. Most of my drugstore daily moisturizers are twice the size for 1/2 the price. There is no question that this is a high price for a drugstore price product. But, what you will get is a high-end quality product (with the convenience of shopping in your drugstore). Seriously, if you blindfolded me when I tried this, I would have thought that this was a luxury product. You will go through this tube quickly. So, the price does add up over time.
Contains photostable UVA/UVB protection with SPF 30. Actives: Avobenzone (3%), Homosalate (12%), Octisalate (5%), Octocrylene (1.7%), and Oxybenzone (3%). In the past, I have experienced irritation (an increase in redness and some tingling/stinging after application) with chemical sunscreens. I did not experience any irritation with this particular blend of sunscreens in this product.
Product contains a light and slightly perfume-y scent. I was worried at first that the fragrance might irritate my sensitive skin. But, I am happy to say that it did not experience any major irritation.
The Feel:
This moisturizer is rich!!! It is a very creamy and luxurious moisturizer. I am totally serious when I say that this product looks and feels like a high end cream.

How I use:
I apply daily in the mornings over freshly cleansed skin. I apply about a "2-pea size" amount. The product is very thick and creamy for a tube-style moisturizer. The product leaves your skin looking and feeling dewy. If you are a fan of matte finishes, you might not be happy with the dewy effect. I could go either way with sunscreen finishes.

Results:
My skin is extremely hydrated from using this product! There is no question that this is the only moisturizer that you will need in the mornings. Sometimes sunscreens are not quite moisturizing enough and I have to layer them with a moisturizer. Well, no this one. It is great on its own as far as moisturization! Now, my skin does vary with its moisture need. When I am more on the oily side of normal, this product might be "too moisturizing" for me. But, when I am on the drier side, this product is just perfect. I would recommend this moisturizer for anyone with normal-dry or dry skin. Oily skinned girls, you might want something less hydrating and more mattifying.

Not only is my skin hydrated, but it also looks and seems more "plump". Typically, I occasionally see some very slight fine lines around my eyes when I smile. These are really more apparent when my skin is dehydrated. I found that these fine lines were barely even noticeable (if even existent at all) while testing out this product. I am very pleased with the plump and smooth appearance of my skin. Also, I am not sure if it is an optical illusion or not. But, I swear that my pores appear smaller as well. The slight congestion on my skin around my chin area is about the same after testing this moisturizer (so, not better, but not worse either).

Irritation?
I am thrilled that the product fragrance and chemical sunscreens did not irritate my sensitive skin. I was worried about this. But, so far, so good!
In summary, I am really pleased with this
Multi Correxion Lift Anti-Gravity Day Moisturizer from Roc
! No, I am not in need of "lifting and firming" action of this product. But, I like this product nonetheless! I am curious as to how this moisturizer works for women who do, in fact, need this type of lifting and firming. What I feel that I found is a great everyday moisturizer that plumps my skin nicely and makes fine lines less obvious. I am also pleased with the level of sun protection. Hopefully daily use can help me keep those signs of aging at bay!
So, is this moisturizer "the one"? Not sure, but it certainly is a contender for when my skin is dry! My tube is almost out and I know that I am going to want to replace it! I will continue to test out more sunscreens in the future for this series. But, I would like to keep using this product whenever I am on the dry-side as I am pleased with the super-moisturizing results. For summer, I might need to switch to something a little bit lighter as I get much more oily in the heat.
I am thrilled that I have found some really great sunscreens so far for my
Desperately Seeking SPF series
!