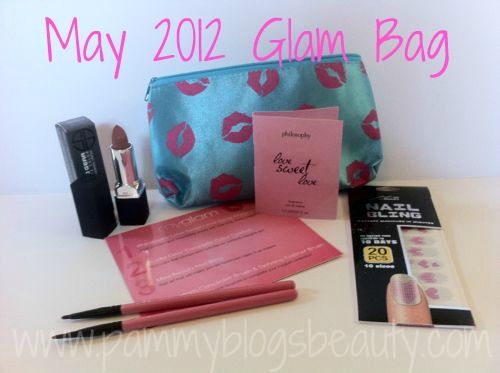 Well ladies, I am officially done with My Glam. This will be my last "Bag Opening" post for My Glam's Glam Bag. Rather than continue to be underwhelmed with this beauty sample subscription, I just decided to cancel.
If you follow my
My Glam Glam Bag "Bag Opening"
posts you know that the Glam Bags have really varied in their quality and contents. Some have been pretty good and others were lacking. But, none of them were spectacular. I subscribed for 4 months:
February Glam Bag
,
March Glam Bag
,
April Glam Bag
, and May.
I must admit, my expectations for beauty sample subscriptions are very high. What can I say? My favorite beauty subscription,
Birchbox
, has set the bar pretty high with their beautiful wrapped Birchboxes (that contain deluxe samples from high end or boutique brands for $10 per month). I am used to beauty subscriptions being worth far more than the $10-$20 cost per month.
Julep
is another good one with pretty boxes and nice nail products. I am still on the fence about subscribing to Beauty Army. I keep getting the invite. But, when I go to look at the samples, I just can't seem to get interested. Their samples are good, I just don't need that much skincare with all the product testing that I do. Since I just cancelled My Glam, I decided to get a subscription to Glossybox! So, ya'll be sure to check out my new Glossybox openings. If you missed their inaugural USA blogger box, be sure to
check out my post here
.
So, what was my issue with My Glam?
Unlike the other beauty subscriptions, I just didn't feel like I was getting that much value for my $10 per month. Many of the products were "no-name" or completely unknown (and cheap looking, made in China stuff-nothing against China, you just know that the item cost only pennies to MyGlam). Also, their packages just weren't "pretty". They lacked the "present aspect" that I love so much with my other subscriptions. Other boxes feel like you are opening a present when you open them up. But, not MyGlam. MyGlams items are stuffed inside of inexpensive (and often stinky) zippered cosmetic bags. That brings me to my last reason for cancelling, the bags are consistently smelly! It started with the fiasco of March's smelly bag. What was the smell? It was an almost gasoline-like chemical smell. With my asthma and sensitivities to chemicals fumes, this just was not good! April's bag was fine. But, when I opened this month's envelope to smell that all-too-familiar Glam Bag chemical smell, I knew it was time to cancel. The smelly bag was the nail in the coffin for me.
Ya'll, I hate to be a negative-nelly here. As a general rule, I mostly write about products that I love! I am a positive person and honestly, I just enjoy taking the time to write about things I love...not the things that I don't. It just isn't as much fun (nor is it inspiring) to write about things that I do not love). Anyways, with that said, my My Glam bag openings have been an ongoing series. So, I really feel that I need to share with you why you won't be seeing those bag openings here anymore. I am sure that many of you still like and subscribe to My Glam. Everyone has a different opinion. I am just sharing mine. My Glam is just not for me.
May Glam Bag:
The Bag Itself:
As I already mentioned, this bag has a chemical-fume type smell. While these smells might not be that strong or bothersome to others, my asthma and chemical sensitivities make the odor intolerable to me. The actual bag is pretty cute. But, not suited for a woman in her late 30's (me!). It looks like something that my adorable Middle School aged niece would like. She is a cute and trendy girl and that is the vibe of the lipstick kiss pattern and bright color of this bag. I think I will try to air out this bag in order to give it to her.
So, what was in this month's Glam Bag?
One of the first things that I noticed was that I was missing an item listed on the card! I have to give MyGlam some credit here. While it was mildly annoying that they forgot to include the Philosophy Love Sweet Love Fragrance sample, they resolved the issue very quickly! I emailed them alerting them to the error and they shipped it out to me immediately.
The Items:
Philosophy Love Sweet Love Spray Fragrance: (see above): Not sure about the "spray"? I got a sample vial with a cap. But, mine was a replacement. Maybe other Glammies got a spray bottle? While I am not in need of any more mini perfume samples, lol, I am curious about Philosophy's Fragrances and their whole product line. So, I will be using this sample. With that said, I do not think this sample adds any value to this bag. We all know that you can get these samples for free at Sephora.
Studio Gear Complete Color Lipstick in Cuddle Up: Full sized! Okay, this lipstick is valued at about $15.00. So, the inclusion of this item more than makes up for the $10 cost of this bag. The shade is a nice and universally flattering my-lips-but-better type shade. I have owned a Studio Gear eyeshadow in the past that I really loved; but, I haven't tried anything else from this line. So, I am happy to have this lipstick (see, not all complaints in this post!).
Miss Beauty Nail Bling: These are nail polish stickers from an "unknown" brand. Is anyone familiar with Miss Beauty? While they are pretty cute, they look pretty cheap. Also, again with the juvenile theme here. I am all about hearts. But, sparkly hearts might just be a tad too young for me.
My Glam Concealer Brush and Defining Eyeliner Brush: Here are the "final" pieces to the brush set they have been sending out in the past few bags. The eyeliner brush looks useful but the concealer brush is very tiny. I think I will send these to my niece as well. These brushes might be nice for someone who is just getting started in makeup or someone with limited brushes. But, for me, these brushes just do not add value to the bag.
So, that's it ya'll! My final Glam Bag Bag opening. Over the course of 4 months, I just wasn't wowed with the items nor did I discover any fun new luxury brands. Opening these bags lacks the "present opening" feel that I crave with my beauty subscriptions. The bags are often "stinky" and they just lack that luxury feel. So, rather that continuing to complain. I just cancelled. Cancelling really wasn't a problem nor hard to do. I just sent them and email and they took care of it. They responded that they were sad to see me go and hope that I will be interested in subscribing again in the future.
Are any of you still subscribed to MyGlam? What are your thoughts on the bags?