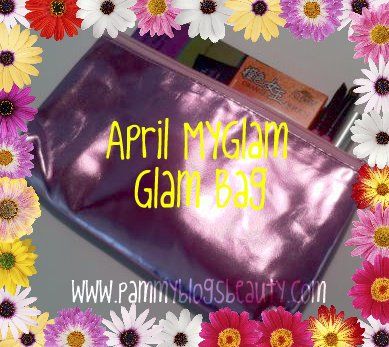 After last month's dissapointing
MyGlam Glam Bag
, I can't say that I was eagerly anticipating this month's Glam Bag delivery. My first
Glam Bag in February
was okay at best and last month's bag literally stunk. I almost cancelled *but* found MyGlam's customer service response to my complaints was satisfactory. Also, I strongly believe that one can best evaluate a sample service subscription over the course of a few bags. I needed to see just "one more bag" to make my final decision. Will I stay with MyGlam? Or move on to a new sample service subscription? It all was going to hinge on how I felt about this month's bag.
If you are not familiar with
MyGlam's Glam Bag
, it is a monthly beauty sample service subscription. The idea is that they send out 4-5 "deluxe" size (or full sized) beauty samples every month in a zippered cosmetic bag. The problems with my previous My Glam bags were that the samples were not deluxe sized and the bag's contents did not seem to be worth the cost of a $10 monthly subscription. Many other sample services out there like
Birchbox
sent out monthly boxes that well exceed the actual cost of the service. For me, it is more than just the value of the items in the bag. When I evaluate a sample service subscription, I am looking for more: good customer service and the "experience" aspect. When I say experience, I mean is this bag or box a "treat"? I certainly am not in "need" of more beauty products. I am looking for the feeling that opening the monthly bag or box is a special treat or surprise...like opening a present. I am looking for something "special". I want beautifully wrapped packages and great presentation. Plus, I am looking to discover fabulous new products.
So, what was in this month's bag? Do the items add up to over a $10 value? Is the bag stinky like last month?
The "Experience" Aspect: Packaging and Presentation:
All the
MyGlam Glam Bags
come in a metallic pink bubble mailer. I must admit, in the mail realm of manila envelopes and cardboard boxes, that metallic pink envelope does stand out and beg to be opened first! Inside that cute bubble mailer is the MyGlam Glam Bag a postcard with product information and the zippered Glam Bag with products inside.
The zippered cosmetic bags are cute...but, I am starting to feel like "how many cosmetics bags could I possibly need"? Lets say I subscribe for a year. Then that is 12 cosmetic bags that all seem to be the same size? What could I possibly do with all of these? I mean, I get it. The whole cosmetic bag thing is the idea. It is a "Glam Bag". But, it would be nice if MyGlam could at least vary the type and size of bag.
Also, while the pink bubble mailer and zippered bag are "cute", somehow opening them just doesn't feel present-like (like some of the other beauty sample services do). I think I am just spoiled by Birchbox's beautiful wrapping and presentation. These little bags just need some tissue paper or something. With that said, this is really isn't a complaint! I don't want to niggle over the wrapping. It is just a personal preference to want the experience to feel like I am un-wrapping something.
The Bag Itself:
So, how is the bag itself this month? Super cute! I love the little light pink metallic zippered bag. Is it stinky? Not like last month, whew!!! But, it is not totally smell-free. It has a very, very light chemical scent. It is not strong at all. It just kinda smells like plastic if that makes sense? I am going to try to find a use for this bag as it is cute. Quality? It is okay. This bag just seems like it was very inexpensive.
Julep
spoiled me this month with a *gorgeous* cosmetic bag. But, then again, Julep is a more expensive sample service.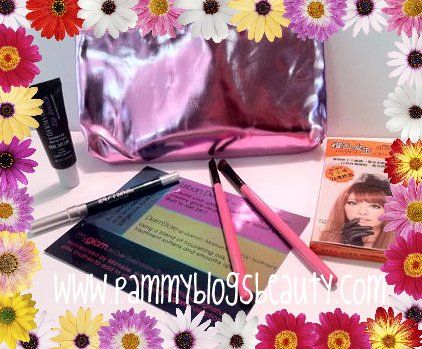 The Items:
Urban Decay 24/7 Glide-On Eye Pencil: Junkie (mini/deluxe sample size, full sized cost: ): Whoo-hoo!!!!!!!!!!!! OMG, I am *thrilled* that MyGlam included this item! UD 24/7 eyeliners are some of my very favorite eye pencils! Seriously, these are fabulous. So, I am thrilled to find one in my Glam Bag. Also, while I do own a few of these eye pencils, I didn't have this shade yet. Sweet! I got Junkie which is a beautiful green glitter/metallic. I totally love it! Value? Yes!!!
Demstore Lip Quench-Moisture Infused Lip Treatment: (.21 oz full sized?, this is a GWP with any Dermstore order...so, not sure of its actual retail value) This product was formulated to give Thin, Dry lips a fuller, smoother, hydrated appearance. Mmm!!! I like this product! I, for one, always am in need of a good lip moisturizer. This lip treatment is like a super-duper moisturizing lip gloss. It has a slightly shimmery appearance too. Pretty! This one is going right into my bag to use! Sweet!!!
All-Belle Eyelashes: (full sized box, 1 pair of lashes...first price listing I found online was a box of 10 pairs for $20.00): This item perplexes me a bit. The box is written in Chinese (I think it is Chinese). This also kinda confirms my suspicion that the MyGlam bags and brushes might be sourced from China. While the lashes look nice, I am hesitant to apply anything to my eyes that I can't read the ingredients of! I am going to email MyGlam to inquire about the materials and ingredients used in these lashes before I ever use them.
MyGlam All-Over Eyeshadow Brush and Eyeliner Brush (2 travel sized brushes, not sure of retail value here either...): Well, this is a cute idea. These brushes are intended to add to the collection started last month with the MyGlam brush case and eye brush. These fit right into that case. The quality of these remains to be seen. The good news is that these ones do not seem to be smelly like the last one was! The hairs are relatively soft and the brush shapes look good for what they were intended to do. I particularly like the thinness of the eyeliner brush. It has great potential for a thin application of gel eyeliner. I am pleased with the addition of these in the Glam Bag. Plus, I do love that they are pink. Cute! While these probably will not be my go-to everyday brushes, these would be great for the purse!
Update
on Last Month's Stinky-bag/brush/brush holder:
In last month's Glam Bag opening post, I mentioned that I contacted the company about the strong chemical smell of last month's cosmetic bag, brush, and brush case. MyGlam handled my complaint well and offered to send me a non-smelly replacement bag, brush, and brush case and also refund me for that month's GlamBag fee. They made good on their promise, *but* the replacements that they sent had the same strong chemical smell!!! I could have emailed them and complained again. But, honestly, at that point, I was just kinda over it. I am still pleased with their customer service as they responded quickly, refunded my money, and sent replacements (but, I do think that their quality-control person needs to get their nose checked ;)
So, this month's
Glam Bag
was a hit! Great products, it arrived on time, and there were no stinky items. It is hard to determine the exact value of the bag since many items do no have prices listed online. But still, I think the value of the items hovers right around the $10 price.
Will I continue to subscribe? Yes...for now. I am still in the process of evaluating just how much I like the MyGlam service. There are so many other beauty box/sample services out there that I want to check out. Right now, I currently subscribe to MyGlam, Birchbox, and Julep. MyGlam is not my favorite of the group. But, this month's bag did redeem them a bit.
My fellow Glammies, did you like this month's bag? What did you get?
referral links in post