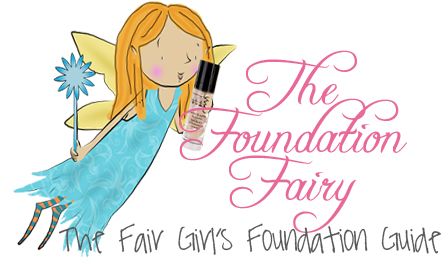 Hello my fair ladies! Tis the start of my new foundation series:
"The Foundation Fairy" The Fair Girl's Foundation Guide
. What is this series all about? Finding great foundations that work for super-duper fair skin.
In a nutshell, my skin is fairer than fair. I have such a hard time finding good color matches in shades light enough for my skin (especially with drugstore products). Join me in my search for great foundations for fairies like me! I am going to be testing out and documenting as many foundations as I can. Plus, I would love to hear from my fellow fair-girls: "What foundations are working for you?" If you missed my
"The Foundation Fairy" The Fair Girl's Foundation Guide Intro post,
be sure to check it out!
To kick off this series, I have a review for
Napoleon Perdis's Foundation stick
.
Napoleon Perdis
is a high end makeup line that is available at Ulta, Nordstroms, Napoleon Perdis concept stores, dermstore.com, and Napoleon Perdis.com. I am a huge fan of Napoleon Perdis makeup. So, I am excited to explore the foundation offerings of this brand. They have a variety of foundations available: a variety of liquids, spray, powder, tinted moisturizer, and stick. So, lets start of with the Foundation Stick!
Have you ever used a foundation stick? Foundation sticks are great because they can do double duty as a concealer! In the past, I have used foundation sticks from Bobbi Brown and Maybelline with good results. I find foundation sticks to be the perfect "purse makeup". You can use them for touch-ups during the day (if needed) and since they are a stick, you don't have to worry about the product leaking in your purse!
Napoleon Perdis's Foundation Stick:
I love this foundation stick by Napoleon Perdis! I tested out the Napoleon Perdis Foundation stick in the two fairest shades: Look 1 and Look B2. Honestly, neither shade is an exact match for my skin. I think I fall somewhere between the colors. The lightness of B1 is close (but it is a bit too yellow). The tone of Look B2 is good. But, it is a tad dark on me. So, yes, I'm somewhere in the middle. Look 1 would be perfect for fair girls with neutral-warm toned skin (So, it is just a touch too warm for me) and B2 is a good option for fair girls with neutral-cool coloring. I am on the cool side of neutral myself, but look B2 is just a slight bit too dark for me. How do I make this foundation work better as far as color? I can somewhat adjust my shade with powder (I like e.l.f.'s Complexion Perfection Powder when trying to tone down/adjust foundation or blush).
Adjust your Coverage:
When you think stick foundation, do you think "heavy" coverage? I know that is what I thought at first. I find that the coverage is totally dependant upon your application method and how much of a "heavy-hand" you have during application. This same product can go from light to heavy coverage!
For heavy coverage of my dark circles under my eyes, I apply this foundation using a concealer brush. I was able to apply quite thickly and *almost* completely cover my dark circles (they are*very* dark, sigh! I blame allergies, heredity, and lack of sleep with a new baby at home: for more on this see my Cover It! Concealer Review Series).
For medium coverage I use it like a stick concealer. I dab/drag my finger across the product and dab and blend onto the areas of my skin needing more coverage. I have had a lot of redness around my nose area with my seasonal allergies and all this pollen in GA. The foundation worked beautifully to conceal this redness.
For light coverage, I use a stiff face brush like Real Techniques buffing face brush and just very lightly "dust" it across the top of the brush. Then I buff and blend it onto my skin using super light strokes.
The result? Flawless skin with a range of coverage using just one product! It is nice to not have to apply heavily all over. Just adjust and apply as needed with your preferred method. Does anyone else apply foundation like this?
The Finish?
After application, this Foundation Stick sets to a matte finish. As much as I love looking dewy, my go-to foundations tend to always be matte.
Coverage:
Varies! Can build from light-medium to heavy. I do not have any major scars or imperfections. But, I could imagine that this foundation stick could work really well on those who have spot areas to cover: one could just build up coverage in that particular area or over that spot...and then sheer out the foundation for the rest of the face with a brush. I found the staying power to be about average.
The Skinny
:
available in 10 shades
Retails for $39.00 for .5 oz of product (this foundation stick should last a long time!)
can use for foundation or concealer!
available at Napoleon Perdis, Ulta, and Norstroms.
I love that you can control the coverage of this foundation stick by varying your application and application tools! Also, this product works great as a concealer too! Even when applied more heavily, it feels weightless on the skin. This foundation will be great for on-the go and will always be a good travel option (no spills!). If you can find a good color match in this foundation, then I totally recommend it! No, I didn't find my perfect match. But, I can still use this product with powder to adjust color. Or, I can use it to spot cover (the B1 which is somewhat yellow toned would work great to cancel out redness around the nose).
Thanks so much for reading! I have more foundation reviews coming soon from a variety of brands. I will also be reviewing China Doll Foundation from Napoleon Perdis!